Welcome to the BRAG's weekly rundown of what's hot in the coming seven days of cinematic releases, AKA The Best Films To Plonk Yourself Down In Front Of As A Means To Overcoming The Encroaching Sense Of Dread Gnawing At Your Very Soul.
But enough despairing and finger-pointing – I get enough from social media. Time to soak up some stories and remind yourself that the world has infinite potential. This week offers a fascinating smorgasbord with everything from blockbuster magic to quiet social realism, local stories to foreign affairs, and two distinctly different forms of juvenile outburst.
So put down your Guardian app for two hours and absorb some quality entertainment!
–
FANTASTIC BEASTS AND WHERE TO FIND THEM
Friends, Romans, fans of Eddie Redmayne, I must admit: I've never joined the Eddie Redtrain. Perhaps it's simply that he filled the freckly ginger twink niche that I had hoped to ride to superstardom; perhaps it's down to his obseqious, twinkly-eyed brand of tic-laden Oscar-bait. Maybe it's just The Danish Girl.
READ our full review of Fantastic Beasts And Where To Find Them here
That withstanding, his portrayal of wizard biologist and social pariah Newt Scamander is decent, and but one element of J.K. Rowling's latest enchanting foray into the Harry Potter universe. The master's touch can be felt in every aspect, from the wondrous beasts brought to life by director David Yates and team, to the tendencies our dear writer exhibits in offing children.
FBAWTFT is a grand wizarding adventure and a satisyfing family blockbuster, but does it warrant another four entries – you read that correctly – into the franchise? Move over Marvel, it's time for J.K. Rowling to milk her creation dry.
tl;dr Ten more years of dealing with Harry Potter fans.

–
I, DANIEL BLAKE
RT: 90%
Alright, kids, let's put the magic aside and bog down into unvarnished social(ist) realism. And bring the tissues with you, because Ken Loach's latest will shatter you.
READ our full review of I, Daniel Blake here
The eponymous Blake (Dave Johns) is Plato's ideal salt-of-the-earth labourer, your quintessential blue-collar bloke, a carpenter put out of work by a heart attack. Whilst battling for recognition from an indifferent welfare system, he meets single mother Katie (Hayley Squires), and the two strike up a friendship.
I'm loathe to join in with the blame-game, but those still pondering over Brexit/Trumpism should bump this up to essential viewing. Systemic disenfranchisement exists, and it can break the best of us.
tl;dr tfw u on hold 2 centrelink
–
MORGAN
RT: 39%
A creepy-looking kid played by Anya Taylor-Joy living with a small group in an isolated forest home begins to question her place there as violent and inexplicable events unfold around her. But enough about The Witch; here's Morgan.
Morgan is a pissed-off lady with superpowers: definitely not trope of the month. But what's this? Look who Morgan brought with her: it's the industry's oldest friend, Nepotism! This is Luke Scott's debut feature, produced by daddy Ridley Scott, who also gave Luke charge of second-unit on both Exodus: Gods And Kings and The Martian.
Thing is, Daddy can't control the critics (see: Exodus) and it looks like Luke may have been watching too much of Ridley's latest output. The response has been savage, signalling an enormous waste of talent in Taylor-Joy and co-stars Kate Mara, Rose Leslie (see: Honeymoon), Paul Giamatti and Brian Cox. I'm not the first to say you're better off renting Ex Machina.
tl;dr Any excuse to re-watch Ex Machina is a good one.
–
WAR ON EVERYONE
First off, let me link to my Sydney Film Festival review of John Michael McDonagh's comic blunder, because you deserve to read it again. It's got one of my better sign-off lines, even if it's a solid indicator of why I haven't yet been picked up by Time (YET).
READ our full review of War On Everyone here
After the excellent Calvary, I had high hopes for McDonagh pulling off something special. Instead, he pulls himself off, bustin' out a flick that appeals almost solely to your racist uncle who claims that political correctness has gone mad and still thinks that midgets are intrinsically hilarious.
It's a movie that claims the mantle of satire, but like Start.Options.Exit, it is simply a movie about dickheads, by dickheads, for dickheads. Even though it surpasses that astonishing excrement by a full star.
tl;dr Oh yeah, that's the other reason for Brexit/Trumpism…
–
ELLA
The first indigenous dancer to join the Australian Ballet, Wiradjuri woman Ella Havelka, has her inspiring story brought to the screen by Brisbane director Douglas Watkin.
It's the second indigenous dance feature in so many years (after Bangarra Dance Theatre's Spear), and comes at a time when stories from First Nations people across Australia are becoming increasingly visible and compelling.
Coincidentally, Havelka performed with Bangarra for four years – it's wonderful to see that both of her dance communities have not only survived but flourished over her career. Oh yeah, and she's 27, so I'm not sure you're ready for this jelly.
tl;dr Hopefully she had an easier time of it than Natalie did.
–
I AM NOT MADAME BOVARY
In the second display of populist direction and working class people fighting for what they're owed this week, Fan Bingbing fights her way through bureaucracy before eventually settling on having everyone in her path slain.
And the trailer does not deceive: director Feng Xiaogang (a leading light in Chinese fiim) delivers much of the narrative in circular framing more commonly seen in Chinese paintings of fables. If that doesn't give you a sense of what he's after, than surely the literary reference in the title is self-explanatory.
Like I, Daniel Blake, the film derives much of its drama from pitting an unstoppably stubborn character against an immovably convoluted system, but where Loach finds despair, Feng finds absurd humour.
tl;dr tfw you've had it with red tape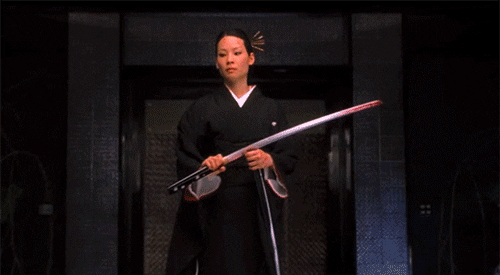 –
And now for THE VERDICT – maybe you only get to see one of these flicks on the big screen, and you don't wanna waste that night out. So, drum roll please…
It's a fascinating week at the cinema, and my dual picks for the week are dictated partly by events beyond the screen. If you're still looking for answers and need faith in your fellow man, then I, Daniel Blake is the profound insight you need. And if you're just looking for a cheeky bit of escapism (with a dash of barely concealed social commentary), then best seek out Fantastic Beasts And Where To Find Them.
Until next week!
Write a Letter to the Editor
Tell Us What You Think