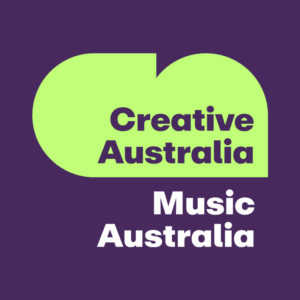 Creative Australia
Creative Australia is the Australian Government's principal arts investment and advisory body. With artists at the heart of what we do, we invest in creative talent and stimulate the market for Australian stories to be told on a national and international scale, sharing our rich culture with the world. We do this because art and creativity define us, recording what we have been and what we might yet become. As a nation, creativity connects us and benefits us all.
Launching Music Australia
The creation of Music Australia is a vital part of Creative Australia. With artists at the heart of all we do, we will work with the commercial sector to extend investment beyond traditional grants funding models. Music Australia will become a policy engine for the industry, building partnerships and expertise that will both support artists directly and benefit Australian audiences.
An exceptional leadership opportunity – Director Music Australia
At the vanguard of this new era, you will bring more than your vast experience. You'll need vision, innovation, tenacity, and an influential network within the contemporary music industry. Reporting to the CEO of Creative Australia, this exciting and demanding role is your ticket to lead impactful change for investment, policy, and artistic development to fuel the growth of the Australian contemporary music industry.
Harmonise Growth
Chart the trajectory for Music Australia's role within Creative Australia, representing and building the brand in the music industry and across government.
Investment masterminding
Aligned with the broader Creative Australia strategy, frame the investment for contemporary Australian music, artistic creation, promotion, discoverability, and touring activity.
Empower Export
Steer the course for Australian music on the global stage, propelling export market development and delivering long-term sustainability.
Champion Industry Partnerships
Forge strategic partnerships which span the spectrum of government, commercial, and the arts and creative industries to support artists and benefit Australian audiences.
Policy Powerhouse
Lead the discussion on investment and development needs for the Australian contemporary music industry, influencing policy and synchronising the interests of stakeholders.
Determine the bass notes
Identify targeted research, propelling evidence-based strategies to tackle obstacles and support an adaptable and thriving Australian music industry.
Ready to take the centre stage?
Join us and make your mark in shaping a flourishing and sustainable contemporary music industry.
Full-time, 3-year contract
Location: Sydney or Melbourne
Flexible and hybrid work arrangements
Salary package negotiable depending on experience
Paid leave between Christmas and New Year
Wellbeing programs and corporate discounts
Holistic employee assistance program for employees, their families, and kin
This highly anticipated leadership opportunity is open for application until Monday 18 September 2023 at 9.30am (AEST).
To apply, submit your resume and a cover letter addressing the job requirements in the position description on https://creative.gov.au/about-us/careers/.
Due to the critical role this position plays in shaping the future of Music Australia, applicants should be prepared to commence on or around 20 November 2023.
If you have any questions, please contact Devage Jegathesan, Human Resources Adviser at 9215 9079 or [email protected].
This is not an Australian Public Service position.