Welcome to the BRAG's weekly rundown of what's hot in the coming seven days of cinematic releases. Normally, we pick five, but I've missed you guys, so I'm throwing in a bonus. Happy New Year!
Two of them may have been spoiled by your friends already, so there's no time to waste! Hop on your segue or hoverboard (if it hasn't already burned your house down) and see what all that fuss was about, with it being 2016 and all.
–
THE REVENANT
Alright, so I'm cheating a little – technically this was released on January 7 – but I'm rather excited about this one. Last year's Best Picture Oscar went to Birdman, and now Alejandro González Iñárritu is back with this brutal tale of survival and revenge.
Fans of Leonardo DiCaprio firmly believe this will be the one to net him a statue, and if the rumours about the Herzog-level dramas on the shoot are to be believed, he must be thinking it damn well better.
tl;dr "I ain't afraid to die anymore. I dun it already."
–
SISTERS
Amy Poehler and Tina Fey are Hollywood's power couple, at least as far as comedians are concerned. Don't let the fact they're not romantically involved make you think otherwise.
With SNL writer Paula Pell and Pitch Perfect director Jason Moore on board, will this be a better platform for their outrageous comic stylings than the Golden Globe stage? UNLIKELY.
tl;dr Watch out for these gals cos…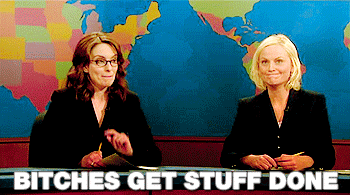 READ our full review of Sisters here.
–
CAROL
Cate Blanchett getting smoochy with Rooney Mara? How could we lose?! Well, we can't, but they can – as the eponymous Carol (Blanchett) happens to be married, and living in a time where her sexual identity and infidelity could cost her dearly.
Sure, Helen Razer's fired shots across its bow already for being "Oscar-bait" (a term I'm rather fond of myself), but that is, after all, her job. Expect grand drama from our star-struck lovers and the husband in question, the excellent Kyle Chandler.
tl;dr Maybe… don't let Rooney near the husband. She can be a little intense.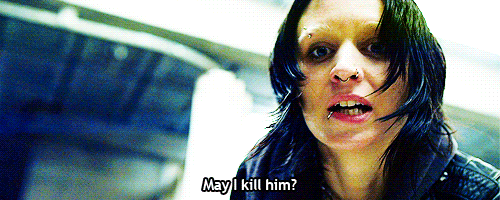 READ our full review of Carol here.
–
GOOSEBUMPS
Now this is nostalgia – R.L. Stine's Goosebumps books were at the core of my childhood reading, and shared by anyone with a penchant for all things spoopy. All of your favourite things that went bump-in-the-'90s are coming roaring back thanks to Jack Black (as Stine) and a couple o' meddling kids.
Sadly, the trailer contains a lot of goofish, unappealing comedy and the gender politics have been lambasted (beware: link contains major spoilers). Critical opinion has been mixed, but what the hell, right?! We're here to laugh… OURSELVES TO DEATH.
tl;dr 2SPOOPY5U
–
THE BIG SHORT
This is an A-list cast (men only, sorry) explaining the Global Financial Crisis and how they can profit from it under the guidance from the director of Anchorman.
That's… really all that can be said. The trailers themselves are vaguely promising, but the Jenga clip distributed is condescending to the point of being a joke. It's even got fourth-wall-breaking to excuse its own racism! Forgive me if this money flick fails to convince me to open my wallet.
tl;dr It's Inside Job with prettier people, dumber writing, and strippers.
–
THE 5TH WAVE
YAY MOAR YOUNG ADULT STUFF. This year, Jennifer Lawrence is out and Chloë Grace Moretz is in, as the wily protagonist of yet another best-selling literary phenomenon you haven't heard of unless you're under 25.
The 5th Wave is the last stage of an alien invasion; the phase that will see them become Earth's dominant species. Moretz, being super plucky and all, teams up with Liev Schreiber and some pretty boy to find her brother, who has been taken hostage by the Others.
tl;dr It's like Independence Day, but replace Will Smith with Hit-Girl.
–
And now for THE VERDICT – maybe you only get the chance to see one of these flicks on the big screen, and you don't wanna waste that night out. So, drum roll please…
Entertaining the young'uns? Goosebumps is the safe bet. If you're not in the mood for drama, Sisters is the go. Personally, I'll be hanging out with the cool kids at a screening of The Revenant.
Until next week!
Write a Letter to the Editor
Tell Us What You Think