"It's an interesting parallel in a way, surf and space," muses Jim Moginie, founding member and guitarist with Midnight Oil and now guitarist with instrumental psychedelic-surf band The Break. Their first album, Church of the Open Sky, indulged the surf-rock sounds of The Atlantics, Dick Dale and Taman Shud; on its follow-up Space Farm, The Break embark on a conceptual journey through space.
"The title of the first record is the phrase surfers use to describe the perfect wave, the perfect set of conditions, and in a way the whole thing is manifesting as the surfer's quest," Moginie says. "I suppose that's in space exploration as well. It's about man's desire to understand who he is, and why we are here. And there's definitely a spiritual and physical element to space exploration – the astronauts who came back were definitely touched by what they experienced."
The Break formed in the aftermath of the break-up of Midnight Oil, when lead singer Peter Garrett decided to pursue a long promised career in politics. Moginie, drummer Rob Hirst and guitarist Martin Rotsey contemplated briefly recruiting a surrogate singer, before realising the inherent risk in such a career move.
"We realised we couldn't have called ourselves Midnight Oil without Peter," Moginie says. "We'd have had a future of going around the traps with a new singer who was under the weight of expectation, and we feared we'd become a club act doing agit-prop '80s rock," he laughs.
With former Violent Femmes bass player Brian Ritchie rounding out the line-up, The Break took as its initial inspiration the surf sounds of the band members' youth on the northern Sydney beaches of the 60s and 70s. On Space Farm, The Break return to another iconic childhood experience, the space race of the 1960s.
"It was a really innocent time," Moginie says. "You started to be able to see the Earth from space, and people could see what was being done to the planet, so it was the beginning of the environmental movement as well," he says. And it isn't just the science of the space era that interests Moginie. "You had pop culture like Barbarella, and I loved watching Lost in Space as well," he says. "And there was also a sense we could solve all of our problems by going into space!" Moginie laughs.
The Break's lineup now includes former Hunters and Collectors trumpet player (and sometime X auxiliary member) Jack Howard. Howard, a long-time acquaintance of Midnight Oil, had previously joined The Break on stage during its Melbourne shows; an ad hoc decision to bring Howard into the studio to record a few songs turned into a permanent recruitment.
"We'd get Jack on stage when we were in Melbourne, and he'd instantly play something great," Moginie says. "So when we were recording the album, we flew him up, and he was perfect straight away. He'd have these great melodies, which would actually enable Martin and I to play less. And by the end of the day we couldn't think of the songs being played in any other way."
Howard's presence on the record, however, isn't as surprising as that of legendary English crooner Engelbert Humperdink, who contributes vocals to a cover of 10 Guitars. "That all happened through Brian [Ritchie]," Moginie explains. "Brian's wife is a huge fan, and they managed to get backstage when Engelbert played in Melbourne, and got to talking with him. I don't think people always realise just how big a star Engelbert is around the world, and 10 Guitars was a huge hit in New Zealand."
Ritchie took the opportunity of his backstage meeting to float the possibility of a re-make of the track. "Usually backstage promises aren't followed up – it's where most of the bullshit goes on," Moginie laughs. "But within a week we'd thrown down a track and sent it off to him – and it came back almost straight away with a vocal track. And we thought 'wow, what a voice!'"
The Break road-tested the songs from the new record earlier this year while touring with Sixto Rodriguez, the enigmatic '60s folk-rock singer. Moginie, Hirst and Rotsey had met Rodriguez originally when he toured Australia in the early 1980s. "We already had a relationship with him from when we shared a stage with him years ago, so when the Oils would tour in the US, we'd always invite him along to our shows when we were playing in Detroit. He'd always come along – he's a really big fan of Australian music, and would always go and see bands like The Hoodoo Gurus when they were in town," Moginie says. "So when we heard he was coming out, we said we'd love to play with him. Just before he came out, we learnt the songs back to front. He sings so quietly, so we had to adapt, and continually watch his hand and foot. He's an amazing musician and a wonderful man."
Moginie laughs when I ask if The Break has any songs left over from Farm, the surf-rock band from which Midnight Oil originally evolved. "Nothing's ever ruled out for this band – and even recording is often spontaneous and live." Having spent the latter years of Midnight Oil boxed in by commercial and popular expectations, The Break has afforded Moginie and his band mates the opportunity to explore and have fun. "We're still digging into it, and we've only just scratched the surface," Moginie says. "It's unimaginably great! We're just having a lot of fun."
BY PATRICK EMERY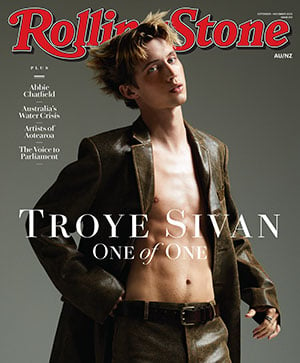 Get unlimited access to the coverage that shapes our culture.
Subscribe
to
Rolling Stone magazine
Subscribe
to
Rolling Stone magazine