Israel Folau has been screaming bloody oppression from the rooftops of one of his investment properties for what feels like an eternity.
Just when it looked like the whole ordeal between the sports player and ARU had been done with, the Australian Christian Lobby revved things back up again. It's now looking like this is going to go on for-ev-er.
The battle of the headlines began some weeks back following an horrific and homophobic post from Folau, in which he deployed some gross, conservative and misinterpreted rules from The Bible to support his belief that homosexuals, drunks, fornicators and others will go to hell.
A cold take on things, for sure, but not only that, it's short-sighted AF as Folau seems to have omitted one key take away from The Bible: "Do not judge, or you too will be judged." (Matthew 7)
In fact, Folau managed to omit several other key takeaways from The Bible; Several silly sins that will also allegedly send someone to hell, if you interpret the Bible the way Folau does. Sins that Folau himself seems to be on the wrong side of.
Those well versed on the ol' Good Book could argue all these are old testament verses, which aren't relevant to the Christian faith, however intellect and relevance don't seem to matter to Folau when interpreting the Bible so we are reading it the way Izzy is reading it.
Folau has been quite keen to judge others of late, so let's see how he stacks up to his own philosophy. Ask not for whom the free speech tolls, Folau, for today it tolls for thee.
1 – Cutting the hair on the sides of your head or clipping of the edges of your beard (Leviticus 19:27).
Shaving the sides of your hair and leaving the top longer is a trendy, albeit sinful hair style that will send you straight to hell. Folau has been rocking this style for some time now, yet failed to mention it in his post of whom hell is waiting for.
2 – You shall not make any cuttings in your flesh for the dead, nor tattoo any marks on you: I am the Lord. (Leviticus 19:28)
Despite The Bible making it clear one must not get tattooed, Folau is fairly tattooed. While he did explain in the past that he wouldn't get any more, he still has tattoos. Straight to hell, Folau, or best get that cheese grater out.
3 – Wearing clothing woven of more than one kind of cloth (Leviticus 19:19)
Rugby jerseys are far more than your average top. The jerseys worn by Australian teams are actually the pinnacle of clothing technology, incorporating IonX technology within the folds.
Jersey's worn by Folau throughout his career have mainly made from the synthetic material polyester and usually with silicon included. Not ok, as it turns out. Straight to hell.
Lycra isn't also just lycra, it's 80% Polyester / 20% Lycra. Forget his suits, street clothes and favourite Chance 3 hat.
4 – Living in a city that failed to surrender to the Israelites (Deuteronomy 20:12-14)
As well as living in Brisbane and Melbourne at various stages of his career, Folau also owns property in Boronia Heights, Kellyville, Stanhope Gardens, Kenthurst, Austral and Little Bay.
A quick google of these places will reveal that they never once surrendered to The Israelites. Not. Once. Straight to hell, Folau, garn.
5 – Performing any work on the Sabbath (Exodus 20:10)
Back in 2016, after another Rugby player was granted permission to sit out of Sunday matches on account of his faith, Folau explained that he won't be be seeking the same treatment, despite his faith. Instead, Folau said he believed playing Rugby on The Sabbath was an expression of his faith. Not allowed, my man – straight to hell.
6 – Eating any meat not killed according to the Kosher practice (Deuteronomy 12:21) / Eating fat (Leviticus 3:17)
In the past, Folau has detailed his post-exercise chow down – a Chicken wrap with avocado. Avocado, being full of healthy fat is a huge no-no, and if that chicken hasn't been been prepared according to the rules of Kosher, that's a-straight to hell for you, Folau.
7 – Eating aquatic creatures lacking fins or scales (Deuteronomy 14:9-10)
The Bible is fairly against eating sea creatures without fins or scales – essentially, no eating of bottom feeders. This may have something to do with hygiene practices, or allergies even, but nonetheless, it's a black and white rule: eat prawns, and you go straight to hell.
As it turns out, a lot of things will send us straight to hell. It's damn near unavoidable at this stage. So, Folau, we look forward to seeing your smiling face down there with us.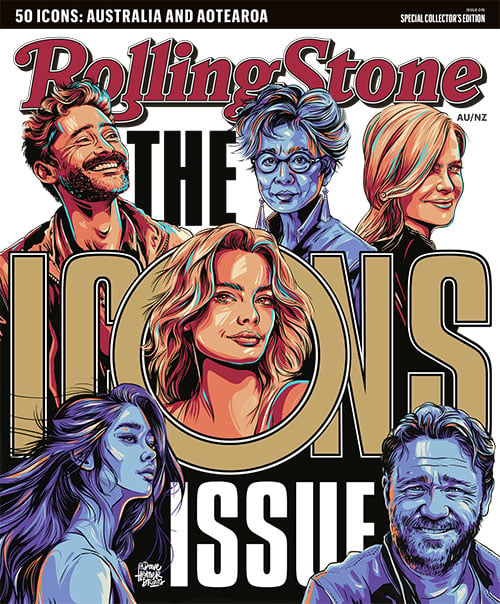 Get unlimited access to the coverage that shapes our culture.
Subscribe
to
Rolling Stone magazine
Subscribe
to
Rolling Stone magazine