"We're not bystanders in our own life. We can write our own history." That's the reminder served by Mongrel Mouth's new immersive theatre pieceThe Age Of Entitlement, according to director Duncan Maurice.
"You don't have to sit down, be told when to clap, be told what you see or when you can see it," Maurice says of the production, which is taking over seven rooms over two stories of a 166-year-old mansion in The Rocks this month. "It's much more empowering for the audience that they can choose their own adventure. We're very much interested in the audience saying what they think and feel, and at times, if they so choose, they almost become another character in the work. And obviously not everyone is thrust into the narrative, the action, and there is the opportunity to just be a voyeur and watch it all go past.
"We invite the audience to do whatever they want, whenever they want," says Maurice. "In that respect, there are no specific rules. We have a structure in place whereby the actors engage them at certain points, but we're very used to audiences being on their own terms. For instance, every room is live with action throughout the whole show, so the audience have an opportunity to affect the narrative, talk to characters, question characters, tell them about other plot events that happen in other places. The only rule is that you don't have to sit down and shut up."
Despite the flexibility of the piece, there is a core narrative. "The central character is Lara, and we see her at two points in her life," Maurice explains. "The Age Of Entitlement is essentially a love story that explores the corruption of idealism. So, what do people have to sacrifice when they come into power? Not only perhaps the people that they love, but also the principles that they love. And why is it such a common story, which is the story of our production, that a young left-wing egalitarian leader 20 years later becomes the leader of a right-wing conservative political party? It's not necessarily about anyone specifically in contemporary life, but definitely making original contemporary theatre we're drawing on a whole series of references in the world, and specifically Australia."
The Age Of Entitlement's exploration of themes like power and wealth comes from a place of passion. "We take something that we're passionate about, angry about, excited about – nationally and then globally – and then we build a narrative around that," Maurice says. "Mongrel Mouth is very interested in looking at economic difference: why in 2014 is the economic divide growing at an alarming rate, why things like access to education and healthcare are becoming further out of reach for the ordinary person. We're very much looking at points of difference and issues like racism, the gender divide, classism, independence, corporatocracy, the oligarchy… How have the masses become disempowered enough to see that economic divide growing? And what is the power of the media in that?"
Altogether, the show features 20 actors who move throughout the rooms, as well as a live singer. "There is a real sense of theatricality. Even though we are exploring those big questions that some people might find difficult, heavy and not particularly entertaining, there's sparkle, there's glitter, there's make-up, there's tunes – so we're using those production elements, I guess, as a vehicle to explore concepts and issues that might otherwise be dry. People come to be entertained, first and foremost, and then through that we are able to explore questions about society."
The Age Of Entitlement is playing atMerchants House, The Rocks until Saturday December 20.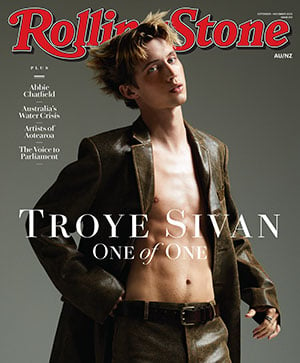 Get unlimited access to the coverage that shapes our culture.
Subscribe
to
Rolling Stone magazine
Subscribe
to
Rolling Stone magazine