Did you hear about the Owen Wilson-starring superhero movie that sounds like an Iron Man ripoff? If you didn't, you're not the only one.
Secret Headquarters follows a group of friends led by Charlie Kincaid, who start to believe Charlie's father (played by Wilson) is a superhero after discovering a secret headquarters hidden under his home. When villains suddenly attack, it's up to them to defend the headquarters and save the world.
While it doesn't sound exactly thrilling – an action movie aimed at families – Wilson, although his career has been on the wane, is still a big name; the cast also features Grey's Anatomy heartthrob Jesse Williams, The Adam Project actor Walker Scobell, and the always reliable Michael Peña.
It's also directed by Henry Joys and Ariel Schulman, two men responsible for several of the Paranormal Activity movies, and produced by Jerry Bruckheimer, who famously brought Pirates of the Caribbean to the big screen.
In other words, that's a lot of decent talent behind and in front of the camera. Yet Secret Headquarters was released on Paramount+ on August 12th with almost no fanfare, as one Twitter user pointed out.
this movie came out 2 days ago apparently pic.twitter.com/f31uQVz4Vy

— Brandon Classic Movies (@Thatoneguy64) August 14, 2022

Love Film & TV?

Get the latest Film & TV news, features, updates and giveaways straight to your inbox Learn more
"This movie came out 2 days ago apparently," @Thatoneguy64 wrote alongside a picture of the movie's official poster. The overall response in the comments was one of befuddlement. "This looks like a generic store brand kids action movie," wrote someone. "This looks like something that would have come out in 2004," noted someone else.
"This doesn't exist," insisted several other Twitter users. "Oh to be a late career movie star getting a giant paycheck to headline a movie you're barely in," @Thatoneguy64 added.
Definitely looks like a poster for a fake movie in Funny People.

— Monkey Island 2: Lechonk's Revenge (@EdwinJDavies) August 14, 2022
this is a question that may go unanswered forever

— Brandon Classic Movies (@Thatoneguy64) August 14, 2022
oh to be a late career movie star getting a giant paycheck to headline a movie you're barely in

— Brandon Classic Movies (@Thatoneguy64) August 14, 2022
Apparently, the secret didn't get out. pic.twitter.com/PkO9dkQa9h

— IYKYK (@IYKYK8675309) August 15, 2022
Maybe there was a reason the movie was buried though, with the reviews backing up what everyone on Twitter was thinking. "Secret Headquarters is as bland and forgettable as its title would suggest. It's so generic, it almost sounds like the name of a better movie translated awkwardly from another language into its simplest terms in English," wrote Christy Lemire on RogerEbert.com.
And it seems like movies receiving very little support from streaming platforms is becoming more prevalent. Just a few days ago, another Twitter post about the upcoming Knives Out sequel went viral. "I've genuinely never understood a studio less than @netflix man. They spent almost 500 million dollars on two Knives Out sequels, the first of which premieres in a MONTH and we've seen one single shot from it. MARKET YOUR FUCKING MOVIES," the tweet blasted.
Secret Headquarters may be one thing, but not properly promoting Knives Out 2? That's probably a glaring error.
For more on this topic, follow the Film & TV Observer.
Check out the trailer for Secret Headquarters: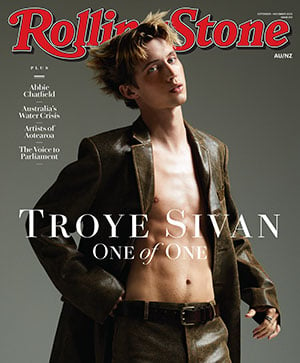 Get unlimited access to the coverage that shapes our culture.
Subscribe
to
Rolling Stone magazine
Subscribe
to
Rolling Stone magazine