It only takes one four-letter word to get Anathema multi-instrumentalist and songwriter Dan Cavanagh fired up. Prog.
"I have no idea what it is, I don't care about it and I don't consider our band to be in it," he says when asked if the genre is in good shape globally. "It really is journalistic spiel to say we are a progressive band, you know what I mean? I do not consider us a progressive rock band, never have. In terms of where it is globally, I don't care and I don't even fucking know. If you're talking about Pink Floyd, Kate Bush or Radiohead, that's something I consider us to be closer to. If they're a bit prog rock, then I'll take that, but we're not into lyrics about elves and we're not into playing the fucking flute. We're not about time signatures and time changes and solos and what prog rock seems to be known for; it's got nothing to do with us. But I'm not knocking it! It's just not for me. Pink Floyd, Radiohead and Kate Bush are for me."
Luckily, the 41-year-old Englishman is in more of a mood to talk about the (not prog) rockers' tenth studio album, Distant Satellites, and why it had the working title of Kid AC/DC.
"We're all fans of Radiohead and AC/DC," he says. "One thing I noticed was those bands strip back their music; it's not over-layered, particularly on Kid A, which is a real difference from OK Computer. AC/DC do the same thing with rock'n'roll. We were tired of over-laying, so this time we took a more mature and considered approach by not doing that. But we were making an album that's considerably more rock-edged than Kid A, so we called it Kid AC/DC."
The album contains tracks called 'The Lost Song' in three parts – it's the result of a minor catastrophe that Cavanagh turned to his advantage.
"In about 2008, I recorded a riff which I considered to be a very good one for us," he says. "I was very excited about it. A few weeks later it had actually disappeared off the recording and I couldn't find it. I tried really hard to find other demos, and if it ever turns up I'll be amazed and interested. Then I started trying and failing to remember that riff and these songs were written. So what I was doing was trying to write a song with a time signature and chord progression that may have been like the one that was lost. All three songs came from that. It drove me crazy, but John [Douglas, drums] said to tell myself the song was crap, and it'll be OK."
Along with Norwegian producer Christer-André Cederberg, the band was able to call on Porcupine Tree's Steven Wilson for additional duties.
"He was involved for just four days, but he made a difference," Cavanagh says. "He mixed two songs on the album and two B-sides. All the production, writing and recording was already done before we asked him, and Christer couldn't mix all the songs in time, so we asked Steven to help and he did a great job as he always does."
Almost unbelievably for a band that has existed since 1990, the six-piece's three-date August tour will be its first trip to Australia. Does Cavanagh know why that's been the case? "Maybe because it's so far away. It's only just recently that we've got a really strong manager in place. We haven't had a strong manager kind of ever, and it's one of the reasons we've underachieved. We're not going to underachieve anymore, but maybe it's just part of our story, I don't know."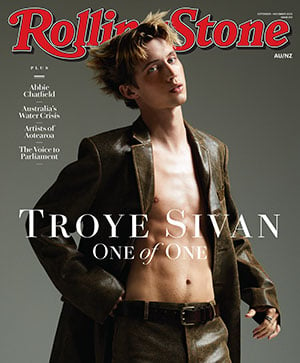 Get unlimited access to the coverage that shapes our culture.
Subscribe
to
Rolling Stone magazine
Subscribe
to
Rolling Stone magazine