Originally established as a support and leasing program for Australian artists, Artbank is at the forefront of the contemporary art sector in this country, providing direct benefits to local talent through the acquisition of their work and promoting the value of homegrown art to the broader public.
Since 1980, Artbank has built a phenomenal collection of Australian artworks, and today it's a crucial (albeit unsung) institution in an otherwise challenging era for the arts.
Director Tony Stephens [below] explains the organisation's goals. "Back in 1980, we were gifted 600 works from the national collection and have now grown to have a collection of 10,000 artworks from around the world," he says. "For works we acquire into our collection, we have a team internally who research and make recommendations for acquisitions, obtaining between 200 and 400 artworks a year.
"Artbank was built on the idea of being a support program and we've gotten a little something of everything – the collection represents every form of visual arts practised, with indigenous art making up 20 per cent of our collection."
Artbank's modus operandi involves acquiring works by living Australian artists, and making those works available to the general public through lease. All fees go back into supporting those artists. In order to spread the word on what Artbank does, it holds an annual event in Sydney; an opportunity to showcase Australian art in an accessible and engaging manner for the artists and the public alike. The festivities also include a food truck, a pop-up bar, a garden party and vintage tunes from Rolling Records.
"Artbank Social Club is our open day," says Stephens. "It's a way to engage people in Australian art, making it accessible – our [Social Club] collection is some of the more democratic. You can come in and see work you like and take it home for as little as $160 a year.
"The Social Club is in its fourth year, and we've been playing with concepts and expanding more to see what its potential is – 32 artists are given a voice in how they're represented, they decided what they're going to display and get people involvedin."
Artbank Social Club's expansion will see the introduction of a new flea market initiative to its program at Waterloo. It's a novel rethinking of the open studio concept, allowing the public to interact directly with emerging Aussie talent, and creating a unique marketplace. "For the flea market, we have curators based in Melbourne and Sydney, so we could get a representative mix, drawing artists from every state and territory," Stephens explains.
Don't be fooled into thinking Artbank Social Club will be another stuffy meet of gin-and-tonic-swilling members of the old boys' club, or of 20-something hipsters finding the chic in the obscure. The Social Club offers art for all, building on Artbank's service of engagement. "We call it a flea market and that's so people understand it's not an event where you're standing around sipping champagne," says Stephens. "This is an event where everyone can come, where artists can engage – some will perform, speak, and offer workshops and such, all while having things from their studios they want to sell."
Indeed, Artbank and its Social Club offer a wonderful opportunity for exposure for artists from around the country. Stephens reaffirms that the eclectic representation of works Artbank has acquired across its history has often led directly to a successful result for the artists in question, some of whom have even made the transition into the mainstream. "Our collection represents every artist that has been in practice for the last 35 years – Del Kathryn Barton, Ben Quilty, they're all in our collection," he says. "Past names include John Brack, all in our collection – over the years we've acquired things early in their careers and we've continued to follow them to acquire work."
The wave of fresh talent at this year's Artbank Social Clubreally will feature the broadest range of mediums and people, with visionary artists like Amala Groom and Nicole Monks, OK Yeah Cool Great (Anna McMahon and Kate Beckingham), Big Ego Books (Emily Hunt and Raquel Caballero), Brad Harkin, Steaphan Paton and Chantal Fraser all set to interact with everyone from art connoisseurs to passers-by. After working with masses of artists over the years, Stephens still anticipates fresh ideas and exciting new things at Artbank events.
"I don't like to pick favourites; I'm excited for all of them," he says. "I think it's a unique opportunity to see artists in a particular way. We're nervously excited about what the results are going to be – it's a little unexpected and a little bit fun as well.
"The Artbank events we do are really for everyone. We want to break down barriers, we want to encourage people to engage in whatever way they want to experience art, in a fresh and equal way."
[Tony Stephens photo by Alana Dimou]
Artbank Social Club 2016 takes place at 222 Young Street, Waterloo on Saturday November 19. Head to eventbrite for more info and RVSP.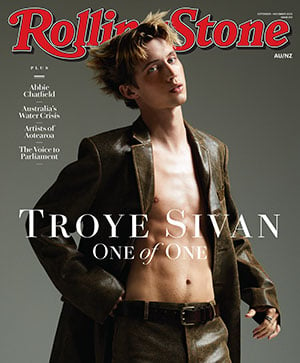 Get unlimited access to the coverage that shapes our culture.
Subscribe
to
Rolling Stone magazine
Subscribe
to
Rolling Stone magazine