He's a Melbourne-based far-right social media personality and gym owner that often makes headlines for all the wrong reasons, but what else is there to know about self-confessed "proud Ozraeli" Avi Yemini? 
Known for his extreme right-wing ideology and controversial comments, including calling Islam a "barbaric ideology" and saying that Muslim countries are "Islamic sh*tholes", Yemini – who once served as a sniper in the Israel Defence Forces and is a proud Zionist – has had quite the checkered past when it comes to political controversy and run-ins with the law.
We take a look at some of the most notable events surrounding Avi Yemini below.
He was sued by his brother for defamation
In 2016 Yemeni was sued by his own brother – Yeshiva Centre child sexual abuse whistleblower Manny Waks – after he publicly accused his family of "harbouring a pedophile" at their home.
The claims came after convicted child sex offender, Rabbi Moshe Keller, stayed at the house of Zephaniah Waks, who is Manny and Yemini's father, for a short period of time in September 2019.
Yemini posted on his Facebook page that Manny and Zephaniah were "harbouring a child sexual offender," adding that "this abuser is being hosted there for Zephaniah Waks' financial gain with what seems to be Manny's full blessing".
Manny later took his brother to court for defamation, saying that his family "was initially unaware that Rabbi Keller would be staying at the home, and as soon as the Waks family was aware of the situation, they asked Rabbi Keller to leave."
In documents lodged with the Supreme Court, Waks says his brother's claims held him up to contempt and ridicule, and seriously injured his credit and reputation.
Yemini later told AJN he would fight the suit, saying: "From what I understand, defamation is when you've said something untrue. I haven't said anything which is untrue."
He was convicted of unlawful assault against his former wife
In March 2016, Avi Yemini threw a chopping board that struck the head of his former wife as she prepared dinner in March 2016, leaving her with a contusion on her forehead.
In a victim impact statement read to Moorabbin Magistrates' Court, Ms Lyford detailed her side of events, explaining she attempted to end the relationship with Yemini eight times.
"It was like I didn't exist as a human being, I was just a vessel for his hatred," Ms Lyford told the court. "He terrorised me. I can't imagine how it will be possible for me to have a relationship in the future."
She continued, "What I will never forget is that he didn't flinch when it happened. He didn't ask if I was okay. He just walked by; I was left to tend to my own injuries and finish making the dinner."
The Herald Sun reported the Israeli-Australian dual national had previously pled guilty to both of the charges, though Yemini's defence lawyer Deborah Mandie, said she believed that her client has already served his time, as he has already been "destroyed" in the media.
"It's become almost a meme, humiliating my client over and over. This is part of the punishment he is wearing for this matter."
Despite that, Magistrate Charles Tan expressed that public discourse did not warrant adequate sentencing, stating "It was offending against a female in her own home, involving her suffering an injury," while thanking Ms Lyford for her moving statement."
Yemini was fined $3,600 and was also convicted of breaching a personal safety order after failing to take down an online video, which did not relate to Ms Lyford, as the court has ordered.
He once called himself "the world's proudest Jewish Nazi"
After revealing on Twitter that he would be taking on the role of spokesperson for far-right, anti-muslim activist Tommy Robinson while he served prison time, Avi caused outrage after he was seen draped in the Australian flag while addressing protestors on a London street.
"No matter what the left call us, I am the world's proudest Jewish Nazi," he told the cheering crowd. "Tommy is my brother, Tommy is my leader," he shouted.
Yemini is a regular contributor to Robinson's TR News website and regularly produces social media content in support of the jailed former leader of the English Defence League (EDL).
He's beefing with Aussie comedian Jim Jeffries
In 2019 as part of The Jim Jeffries show, Australian comedian Jim Jeffries interviewed Avi Yemini as part of an investigation into Australian racism in the wake of the New Zealand massacre, where Yemini appeared to make radical remarks throughout the interview.
However, upon its release, Yemini hit back at with claims that Jeffries and Comedy Central had selectively edited the segment to suit their own narrative, and later uploaded his own hidden camera footage of the interview, showing himself giving different answers to Jeffries than the version that had been aired.
"Now I agreed with two conditions: one, there will be no Neo-Nazis or Nazi sympathisers on the same segment, because I don't want to be aligned to them and I don't want to give them any legitimacy or anything like that. Common sense. The second one was that they don't cut my answers from one question and put it to another," Yemini said.
"Now, to my horror, but not my surprise, they did exactly both. Both those things. But they went even further. They connected me to the Christchurch shooter. To the terrorist. So it's important to remember that this was filmed a few months ago, and not in response to the Christchurch massacre, as they seem to be alluding to here," he added.
He also claimed that Jeffries attempted to coerce him into saying something controversial, including by drawing the Prophet Muhammed and making fun of the Muslim faith. He also accused Jeffries of being a hypocrite, an antisemite, and anti-Islamic.
After Yemini's Facebook account was banned for "hate speech" he claimed it was because he "exposed" Jim Jefferies and Comedy Central.
He later lodged a lawsuit against Jeffries and Comedy Central, with documents stating: "Defendants spliced footage of the interview, changed the sequence of the conversation, and implied Plaintiff said things he did not."
"Specifically, Defendant's portrayed Plaintiff as 'anti-immigrant' and 'anti-Muslim activist' whose YouTube videos may be responsible for the radicalisation of the killer who carried out the Christchurch, New Zealand massacres on March 15, 2019."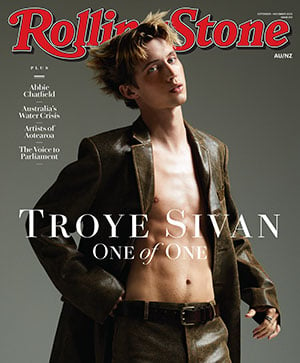 Get unlimited access to the coverage that shapes our culture.
Subscribe
to
Rolling Stone magazine
Subscribe
to
Rolling Stone magazine