Reviewed on Saturday August 6
The night looks like it'll pack a greasy punch as Black Tusk hit town as part of their inaugural Australian tour, the fairly large Sydney stoner crowd out in force donning trucker caps and stubbies, ready to experience swamp metal.
The chill buzz of the venue is stirred up as the impressive two-piece that is Witch Fight take to the stage with a uniform brand of stoner punk. Drummer Boskie has cool skills as a rhythm man and is also impressive as the duo's vocalist, and in spite of guitarist Bone playing with a broken hand, the breakneck pace with which the two guys perform packs as much sound and has as much stage presence as a full five piece band. It's fast fuzz and it's friggin' awesome.
Shirtless and sweaty, Boskie lets Bones take the lead with a deep country-stoner riff in the middle of 'Flowing' that soon breaks into a faster and tighter punk sludge number, touching on that deep, beefy riff in each bridge. They're making awesome music just the two of them – it's tight, infectious, simple and sludge. Epic.
An ominous drone begins to pulsate and smoke fills the room, a distorted commentary seeps through the speakers, and the lights come up as Black Tusk take to the stage. A tide of hair bangs along to the relentless roll of drums cascading through the venue, and, crying out to the crowd, "Will you guys help us bring the darkness?", lead vocalist Andrew Fidler breaks into 'Bring Me Darkness' with a voice that cuts through you as his fingers beat the neck of his guitar into submission.
Following his chime in with powerful chant-like vocals, drummer Jamie May takes a moment to thank the crowd for the warm welcome and reassures us, "Don't worry, we are not Trump supporters!" This remark alone sends the beardy crowd in to an enthusiastic cry of passion. Playing songs like 'Born of Strife' and psychedelic little number 'Enemy of Reason', it's a rampage of music that sees Black Tusk beating everything they touch into a pulp, an awesome show of constructive carnage.
As the set continues, Black Tusk rip up the stage, with each member assuming vocal responsibilities at one point or another in a firm exhibition of showmanship and camaraderie. The show is a great one, with the best ingredients of metal and sludge blended together into a concoction that makes your head spin so much that weirdly, you enjoy the subsequent sick feeling in your gut.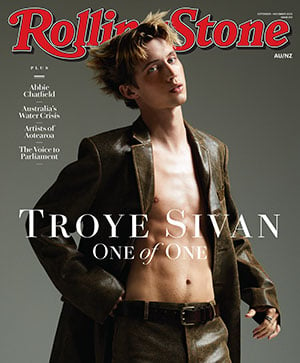 Get unlimited access to the coverage that shapes our culture.
Subscribe
to
Rolling Stone magazine
Subscribe
to
Rolling Stone magazine