It's midday on a Friday, and Georgia Maq has barely slept.
"I had a Tinder date," she enthuses down the line from her home in the western Melbourne suburb of Footscray. "It was the most perfect, ridiculous person I've ever met in my whole life. We did nangs until 5 in the morning … We ate waffles and I was like, 'You need to leave at midday because I've got interviews to do.'"
It's an unusual start to an interview, but it comes as no surprise from Maq, whose candour is exactly what makes her songwriting so personable and invigorating. As the singer and guitarist for Camp Cope, the 23-year-old exemplifies the old saying about the personal being political – she draws from her own life and experiences to create powerful commentary on culture, politics and the world around us.
"I've always been a very strong feminist," she says. "When I was 11, me and my friend had a march, a protest, around our school oval about equal rights. We didn't know what we were talking about, but we knew that women were treated worse than men."
That feminist ethos is central to what Camp Cope is all about. Maq, bassist Kelly-Dawn Hellmrich and drummer Sarah 'Thomo' Thompson – "we're like three sisters, like the Kardashians," the singer laughs – have been playing together since 2015, after years of Maq performing and busking solo.
In 2016, the band released its self-titled debut album, which reached the ARIA top 40. Over 36 minutes, Camp Cope announced themselves with short, sharp folk-punk tracks covering serious topics from homelessness to street harassment.
But if Camp Cope was the introduction, then the band's second album, How To Socialise And Make Friends, is a fully-fledged manifesto. In the last couple of years, Camp Cope's name has become synonymous with unapologetic feminist activism within the Australian music scene – from the #ItTakesOne campaign demanding safety within live music spaces, to a recent debacle at Falls Festival where the band called the festival out for its lack of support for non-male acts.
From now it's up to men to listen, and to be better.
The new record puts these strongly-held beliefs and thoughts to music. Its opening track and lead single, the cleverly-titled 'The Opener' – which landed at 58 in the 2017 triple j Hottest 100 – is a pointed missive to condescending men within the music scene. It includes direct quotes that have been levelled at the band: "Yeah, just get a female opener, that'll fill the quota," Maq snarls. Pulling no punches, it's urgent, it's angry, and it's well overdue.
"We're just complaining, or being bitches, or we should be grateful," Maq recites when asked what the negative reactions have been to the single, the eye-roll audible in her voice. "We should be grateful that triple j even plays us, we should be grateful that we even got put on Falls."
But the haters aren't slowing this trio down, nor shutting them up. How To Socialise And Make Friends is a blistering record, powered by Maq's commanding lyrics and vocals, Hellmrich's distinctive, creative basslines and Thompson's frenetic beats.
The album runs the gamut of emotions, from the scorched-earth fury of 'The Opener' to the raw personal ache of 'The Face Of God' – a song about sexual assault that Maq says is her unintended contribution to the #MeToo movement that has shaken society in recent months.
"I wrote that song after an experience that I had last year, and I was like, 'I don't feel comfortable playing this in front of anyone," she shares. "And then #MeToo happened, and I felt this power, and I felt like it was my duty to release that song."
The remarkable song makes Maq's private pain feel universally relatable, but more than that, it zeroes in on the uncomfortable fact that "nice guys", especially those in positions of cultural power, are often spared with these reckonings. "Couldn't be true, you don't seem like that kind of guy," she sings. "Not you, you've got that one song that I like."
"I'd tell people who are mutual friends about what happened, and it just fell on deaf ears, and you'd still see them at their shows," the singer says.
Yet with the turning of the tide, Maq feels certain that things are changing. "I think men are terrified right now," she muses. "Even if they haven't done something, I think this generation of men will learn and they will reflect and it will pass onto the next generation of boys at shows, and men in the music industry, and men in positions of power.
They'll know that if they do something like that, there's a good chance that the person that they've hurt is going to feel strength, and they're going to publicly call them out and fucking end their fucking careers."
Now that women like Maq have done the emotional labour of calling out men who have wronged them, the singer says the work must be reciprocated to make real systemic change. "I think it's up to men," she says. "From now it's up to men to listen, and to be better."
While How To Socialise And Make Friends takes the patriarchy and the men who benefit from it to task, it also creates a loving homage to a man extremely close to Maq's heart – her late father, musician Hugh McDonald, who passed away from cancer in 2016. The album ends with the emotional solo number 'I've Got You': "I will always hear your voice when I speak; I will always see your face in me," she sings.
"I don't feel like my dad has left me," Maq says quietly. "Of course he's dead, but he's still me because I'm half of him, and he taught me so much. He believed in me and he believed in the band, and never doubted us. He was such a strong supporter."
Both of Camp Cope's albums close with tributes to Maq's lost loved ones – Camp Cope's final track, 'Song For Charlie', was written after her stepfather took his own life in 2014. "Isn't that fucked?" she ponders. "Who's next? Every single man, all two men that I've loved and looked up to in reverence have died in horrible ways."
But despite these heartbreaking circumstances and coincidences, Maq stresses that writing about death is important to her: "I love talking about death. [The songs] are at the ends of the albums because death is a part of life. I think that's something that people often forget or try to hide."
It's just who I am as a person; songwriting has always just been my outlet.
Camp Cope has come a long way since Maq's days as a busker – they played their biggest hometown show in December, packing out the iconic, 2000-capacity Forum Theatre – but the band remains fiercely independent and down to earth. Thompson works a day job at the band's label, Poison City Records, and is the band's manager as well as drummer, an arrangement that the group is adamant to keep, even as their star continues to rise.
And Maq still pulls beers behind the bar at Footscray's Reverence Hotel, her songwriting process remaining the same as it's always been – some of Camp Cope's songs, like the exquisite 'Footscray Station', started out as Maq solo tracks years ago.
"I sit in my bed and I write a song on a guitar and I sing and stuff, and then I'll record it on my phone and send it to Kelly and Thomo, and then we'll just go into a rehearsal space and write it as a band," she reveals.
On the album track 'Anna', Maq croons, "get it all out, put it in a song" – a sentiment that summarises her own relationship with songwriting. "It's how I deal with stuff, I guess," she says. "It's just who I am as a person; songwriting has always just been my outlet. I couldn't ever do a creative writing class in school and I dropped out of music class, but it's the thing I know how to do best in the world, which is kind of weird."
Over on the technical side of things, the second album saw the trio return to the studio with producer Sam Johnson, who they worked with for their debut. The tracks were laid down over two days at South Melbourne's Holes & Corners.
The band much prefers playing live to the recording process – "it's so annoying, if you stuff it up you have to do it again," Maq sighs – but the record perfectly captures their intensity, and was deliberately pared back to let the music speak for itself.
"It's even more stripped back because this time we were like, 'We're not going to have any backup vocals, not going to have any harmonies, nothing,'" the singer says. "It just kind of happened that way. We were listening back to the mixes and being like, 'It doesn't need anything else because that wouldn't be us'."
The album came together quickly – the tracks were put together two weeks after the band returned from its first US tour last winter – but Maq says that for her, songwriting has always been a gradual process.
"I can't write songs in a short time," she admits. "Songs for me take so long. 'Sagan-Indiana' came out of me in like a couple of days, which is huge for me. They all took a very long time, and some I've been sitting on for ages, so it feels really good to finally release them into the world."
Camp Cope's rise to the top has seen the band receive unique opportunities, a recent one of which was Maq's support slot for actor-turned-musician David Duchovny – a huge moment for the self-confessed X-Files tragic.
Yet her career highlight so far was meeting Liam Gallagher at Falls Festival, a pay-off not only for Maq, but also for her thousands of internet followers, who had seen her countless Instagram stories and tweets about the Oasis singer in the lead-up to the event.
"It was huge for me. I was losing my shit and freaking out, like, 'This isn't real, this is my boyfriend, the love of my life'," the singer laughs. "I've always been such a fucking big Oasis fan and it's still blowing my mind that I got to meet Liam Gallagher."
Looking towards the future, Maq says she'd like to further explore her queer identity through the band's music. "I wrote a song about a girl I had a crush on when I was 16," she recalls. "I played it in front of the whole class and she was in the class. It was weird, but it went down pretty well. There's gonna be more of that as time goes on, I reckon."
The conversation turns back to Tinder. On the band's first album, Maq namedropped the dating app on 'Trepidation'. "That was when I hated Tinder," she remembers. "I was like, 'It's just sleazy and everyone wants to sleep with each other'. Then I just embraced it and now I'm like Tinderella."
And as her band becomes more of a household name, Maq is getting recognised more often by hopeful romantics on the app. "I matched with someone and their opening line was "play 'Swinburne'", which is an old song of mine," she laughs. "One guy was like 'Wow, I didn't expect to match with a rockstar,' and I'm just like, 'No!'"
How To Socialise And Make Friends is out now through Poison City Records. Camp Cope play at the Metro Theatre on Friday March 23 with Chastity Belt and Sports Bra. Tickets are sold out.
Header photo by Naomi Beveridge.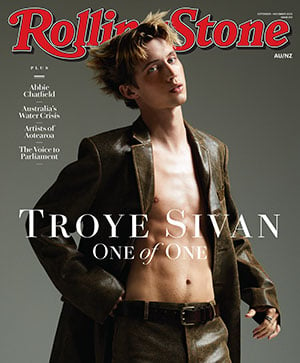 Get unlimited access to the coverage that shapes our culture.
Subscribe
to
Rolling Stone magazine
Subscribe
to
Rolling Stone magazine