The first time I ever read Joan Didion I was 20 years old, picking up a well-worn copy of her 1968 essay collection Slouching Towards Bethlehem from a used bookshop. I was captivated by Didion's ability to capture some of the most disturbing scenes of 1960s America with a kind of candor that I had never come across before when reading journalism.
Didion's writing exists in a field of its own. Her work is unique largely in the way it manages to simultaneously pair frankness with intimacy, necessarily coalescing politic with empathy and translating the deeply personal to something universal.
Whether reporting about the adolescent dysfunction of the Haight-Ashbury hippie scene in the late 1960s, or writing on the death of her husband John Gregory Dunne and the consequential grieving process in her 2005 book The Year of Magical Thinking, Didion's work exists in a liminal zone that refuses to make assumptions or paint things in the black and white dichotomy they are so often presented to us as.
Grief is touched on heavily towards the end of the film, as Didion recounts losing both her husband and daughter within the course of two years.
In The Center Will Not Hold, the recent Netflix documentary about Didion's life and work, the mystique of what is later referred to as "the character of Joan Didion" is pulled back – if only slightly. The film, directed by her nephew Griffin Dunne, consists of archival footage, home movies and interviews with Didion's friends and associates, spliced with narration of her work and an interview conducted between Dunne and Didion. While Dunne is careful not to overstep any boundaries, it is nevertheless an insightful, profoundly intimate look at the woman behind the words.
Throughout the documentary, the way Didion's extraordinary career, character and experiences have co-existed in a kind of symbiotic relationship is explored thoroughly. David Hare, who directed the Broadway adaptation of The Year of Magical Thinking in 2007, talks about how in her early reporting the "horror of disorder" comes through – noting it as a feature shared equally by her writing and her personality.
Dunne, through both interviews and archival footage, captures the unsettling backdrop against which much of her work is set. As literary critic Hilton Als notes while discussing Didion's 1979 book The White Album, you "couldn't make a cohesive narrative of the times because the times weren't cohesive."
Didion's essays reflect, with sincerity and wit, what it means to live in a surreal climate. "The weirdness of America," says Als, "somehow got into this person's bones and came out the other side of a typewriter."
Some of the most compelling moments in the documentary are when Didion discusses what she was feeling at the time of documenting certain events. She describes cooking dinner for former Manson Family member Linda Kasabian and her child as "weirdly normal, and yet it was not normal in any way at all."
Similarly, there is a point at which Dunne asks about an experience that occurred while writing the titular essay in Slouching Towards Bethlehem, Didion's 1967 piece recounting her experiences in the Haight-Ashbury area of San Francisco. Contrary to the counter-cultural utopia that the neighbourhood was positioned as, Didion instead gives a far bleaker document of her time there.
The essay concludes with her recounting an experience with a five-year-old girl who has been given LSD by her mother. When Dunne asks his aunt what it was like to be a journalist in the room at the time, Didion begins with, "It was…" and moves her hands to seek an answer before landing on "gold". She offers that as a journalist you live for moments like that one.
The film also explores the relationship between Didion and her husband, who died in 2003, as well as her daughter Quintana, who passed away two years later. The details of Didion and her late husband's relationship are given light – both in their personal and creative partnership, and how the two intertwined.
In her essay 'In The Islands' – later included in The White Album – Didion opens by explaining that she is in Honolulu with her husband (and a 3-year-old Quintana): "We are here on this island in the middle of the Pacific in lieu of filing for a divorce", states Didion in the essay, plainly as day. When her nephew asks what kind of agreement her and Dunne shared concerning writing about one another, Didion stares blankly before responding. "We didn't have an agreement. We thought generally you wrote what you had. You used your material. That was what I happened to have at that moment".
Grief is touched on heavily towards the end of the film, as Didion recounts losing both her husband and daughter within the course of two years. Her grieving process resulted in the books The Year of Magical Thinking and Blue Nights, and the loss of Dunne affected Didion's entire sense of reality; of hope. As is noted in the film, the way she approached writing about the subject was not dissimilar to how she wrote about other topics. She documented possibly the hardest thing one can write about – the cycles of grief; the way grief can rip apart our internal sense of meaning; how it voids our comprehension of the world around us. "She did it as a reporter," notes Als.
In the interview footage, Didion noticeably talks with her hands when she speaks about her life and her work, accentuating each thread of her history by with expressions of physicality. 
At the same time, Didion considers each word. Pauses are thoughtful, as if she is questioning how much of herself to give away with each coming sentence. The most impactful moments are when she decides the answer is 'everything'.
The Center Will Not Hold is available on Netflix now.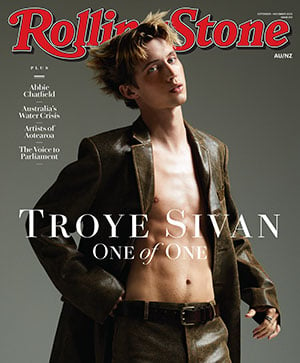 Get unlimited access to the coverage that shapes our culture.
Subscribe
to
Rolling Stone magazine
Subscribe
to
Rolling Stone magazine