Acclaimed Sydney rapper Chillinit has fond memories of playing the basketball video game simulation NBA 2K as he was growing up, but never figured that he would one day be part of the game himself. 
Switch on the game's newest iteration, NBA 2K23, however, and you'll see him performing a bespoke track, 'Big Swish', inspired by the game itself. It's all part of its new cultural platform, Court In Session, which also features new tracks by R&B/hip hop vocalist Sahxl and Barkaa, recently annointed as 'the new matriarch of Australian rap' by GQ Magazine. 
Chillinit collaborated with producer 99 Hertz, and in wanting to create something special, only signed off on the beat they used five days before the track was due. If the pressure was on, they weren't feeling it. 
"We got it done really quickly, and did it really nicely," he says. "We tried to recreate the 2000s ad with all the sounds from the game. I think we've captured it really well and I was really happy to be a part of the game that I grew up playing.
"The younger generation know it as 2K 23 the new game, but obviously a lot of the older people know there's been 2K18, 2K19, 2K20 – the 2K game has been around for years. It was even the original NBA game back on PS2. So I've been a fan for a long time, and I wanted my song to represent and kind of throwback to some of the sounds of the late '90s/early-2000s hip hop. It sounds a little bit different to what you'd normally hear from me, but I think I've captured what I wanted to do for the marketing of the game."
As an avowed fan of NBA 2K, it's quite a turn of events for Chillinit to be featured inside the game. It says a lot about where's he's come from and where he's going, but also about where his heart lies. 
"It is quite surreal," he notes. "I'm actually on a billboard they have running in the game as well. So I'm quite excited to be able to play with my little brothers and go, 'hey that's my face in the background there'.  
Love Gaming?
Get the latest Gaming news, features, updates and giveaways straight to your inbox Learn more
"Obviously money and fame are nic;, but little things with your family and friends, the things you had as achievements as a kid on your bucket list, it's always cool to do those little things in the journey on your way there."
The notion of Chillinit, Sahxl and Barkaa creating tracks sonically influenced by NBA 2K is echoed by the ability of fans to create their own player in the game via authentic, true-to-life gameplay and AI. 
"This is the most interactive 2K because you can probably create yourself the most as a person in the game and really represent yourself in the game." Chillinit explains. "I think they wanted artists to get behind it and do that as well.
"As an artist this was the first time where I was given mandatories, specs and assets I had to follow. So it was kind of like being given a task in a way and it was like a different type of type of writing, but I feel like there was something new for me that actually brought out a new style of writing for me." 
The music videos for each artist were directed by acclaimed ARIA-nominated video/commercial director, Gabriel Gasparinatos, who has previously worked with Adidas, Beats by Dre, Spotify, Google and the A-Leagues. Gasparinatos had previously directed Chillinit's first music video in 2019.
"We had a chat afterwards," he recalls, "it was so good to be full circle. It's nice in this industry, to be doing things like that."
For Chillinit, his involvement in the NBA 2K23 game is also significant because of basketball's importance to the hip hop community. He is thrilled to watch the game continue to grow in Australia. 
"Once there'd be 15 to 20 soccer fields and footy fields and you were lucky to get a basketball court somewhere," he says. "It's nice to see that basketball has come a long way. Basketball as a sport in the Olympics has come a long way. We've got a great team; a lot of the youth are getting involved as well. 
"I think this campaign is only going to help basketball in Australia grow in general, as well as the gaming community. So I think it's all-rounded and I'm just happy to be a part of it."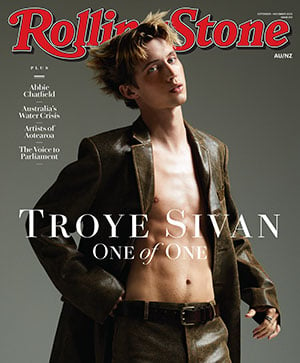 Get unlimited access to the coverage that shapes our culture.
Subscribe
to
Rolling Stone magazine
Subscribe
to
Rolling Stone magazine