Chris Hemsworth has come a long way since his days on the Australian soap opera "Home and Away." Today, he is best known for his iconic portrayal of Thor in the Marvel Cinematic Universe, but his journey to stardom is a fascinating tale of hard work, perseverance, and talent. In this article, we'll explore Hemsworth's rise to fame, his diverse career, and his contributions to philanthropy and environmental advocacy.
Early Days on Home and Away
Chris Hemsworth's journey to stardom began on the beloved Australian soap opera, Home and Away. From 2004 to 2007, Hemsworth portrayed the character Kim Hyde, winning the hearts of viewers with his boyish charm and undeniable talent.
Hollywood Breakthrough: Star Trek and Beyond
Hemsworth's Hollywood breakthrough came in 2009 with a small but memorable role as George Kirk in J.J. Abrams' "Star Trek" reboot. His captivating performance caught the attention of both audiences and casting directors, leading to roles in films such as "A Perfect Getaway" (2009) and "Cabin in the Woods" (2012).
Becoming the God of Thunder: Thor in the Marvel Cinematic Universe
In 2011, Hemsworth took on the role that would change his life forever: Thor, the God of Thunder, in the Marvel Cinematic Universe (MCU). His portrayal of the iconic character has spanned multiple films, including standalone "Thor" movies and ensemble "Avengers" projects. Hemsworth's dedication to the role, including his impressive physical transformation, has made him a fan favourite and cemented his status as a Hollywood A-lister.
Expanding His Horizons: Versatile Roles and Personal Projects
Beyond the MCU, Hemsworth has continued to demonstrate his versatility as an actor, taking on roles in various genres. Some notable performances include playing Formula 1 driver James Hunt in "Rush" (2013) and a heroic whaler in "In the Heart of the Sea" (2015). Additionally, Hemsworth has ventured into producing, with his first credit as a producer on the action thriller "Extraction" (2020).
Giving Back: Philanthropy and Environmental Advocacy
Hemsworth's success has not only transformed his career but also allowed him to give back to the community. He is an active philanthropist and environmental advocate, supporting causes such as conservation, mental health, and children's welfare.
In conclusion, Chris Hemsworth's journey from Australian soap star to Marvel superhero is a testament to his talent, hard work, and dedication. As he continues to expand his career and use his platform for good, Hemsworth remains an inspiring figure for fans and aspiring actors alike.
Love Film & TV?
Get the latest Film & TV news, features, updates and giveaways straight to your inbox Learn more
The writer used AI tools to publish part of this article. The Brag Media relies on journalists to fact check & edit all articles regardless of any AI tools used.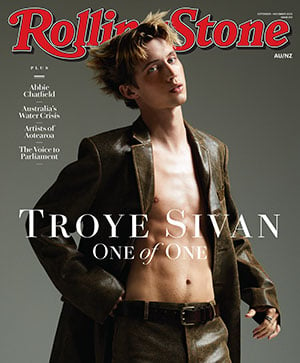 Get unlimited access to the coverage that shapes our culture.
Subscribe
to
Rolling Stone magazine
Subscribe
to
Rolling Stone magazine