Chris Rock and Dave Chappelle have both spoken out following the latter being tackled on stage during his set at the Hollywood Bowl earlier this week.
In case you missed the insane news, Chappelle was performing his set that was a part of the Netflix Is A Joke special, when a man in the audience seemed to lunge at the star, sending him to the ground.
Although attendees had their phones confiscated upon entry, social media exploded with posts about the event, including some from the actual event and many from the aftermath, with one video showing a man, believed to be Chappelle, being body-slammed by someone who appears out of nowhere. He is cut off mid-sentence with an audible grunt from the force of the attack. Following the shocking attack, videos posted by attendees after the event appeared to show the man being loaded into an ambulance with what looked to be a dislocated arm.
Amid the brawl, Chris Rock and actor Jamie Foxx reportedly came to the aid of Chappelle, with Rock, who performed earlier for the same festival, came on stage with him and joked: "Was that Will Smith?"
Of course, Rock was referencing the infamous moment that will go down in Oscars history in which he was slapped by Will Smith for making a joke about his wife during his hosting gig at the prestigious event.
Following the incident, Dave made his way back to the stage where he poked fun at the incident to the delight of the cheering crowd.
"I don't know if that was part of the show," Dave said.
Love Comedians?
Get the latest Comedians news, features, updates and giveaways straight to your inbox Learn more
"I grabbed the back of that n****s head, his hair was spongy, absorbent."
"Listen, I just want to say I've had an incredible time," he added.
Foxx also appeared to address the crowd, telling them that Chappelle is an "absolute genius", adding: "We've got to make sure we protect him at all times… For every comedian who comes out here, this means everything. You're a genius. You're a legend, and we're not going to let nothing happen to you."
"This man is an absolute genius – we got to make sure we protect him at all times man – this is what it's about…" Foxx replied.
The assailant was revealed to be 23-year-old Isaiah Lee, with his brother, Aaron Lee, revealing to Rolling Stone that the man had been living in shelters in California for much of the last decade and "does have a history of mental health issues."
Aaron continued: "He does take medicine. Maybe he missed out on taking his prescription. But he's not the type to just lash out. I don't understand."
On Thursday night, Dave Chappelle returned to the stage for the first time since being attacked, with Chris Rock joining the star to joke about the event, with Rock using the opportunity to take aim at Will Smith one month after being slapped by the King Richard star at the Oscars.
"At least you got smacked by someone of repute," Chappelle reportedly told Rock on stage. "I got smacked by a homeless guy with leaves in his hair."
Rock reportedly responded, "I got smacked by the softest n****a that ever rapped."
Following his attack on Chappelle, Isaiah Lee was charged with four misdemeanours: battery, possessing a deadly weapon with intent to assault, unlawfully crossing from a spectator area onto a stage, and interfering with or delaying such an event with unlawful conduct.
According to TMZ, Dave convinced Bowl security to let him speak to Isaiah Lee before he was taken away, saying he "needed to talk to him" to find out why he attacked. Chappelle says Lee told him this was all about getting attention for his grandmother who had been forced out of her neighbourhood because of gentrification.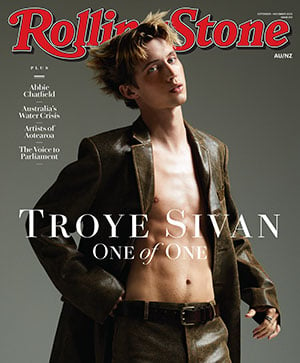 Get unlimited access to the coverage that shapes our culture.
Subscribe
to
Rolling Stone magazine
Subscribe
to
Rolling Stone magazine