Picture this –  it's December 2019, you're sitting around the board of an unnamed fashion magazine, predicting the hottest trends for the coming year, and some bold intern has the audacity to mention designer masks. Enter Culture Kings.
After all, they say Billie Eilish has been making use of the face mask in her stage show and it's popped up in hip-hop and metal aesthetics with the fad pendulum seems to be swinging generally towards the more 'aggressive' brand of streetwear. Not the worst idea, no?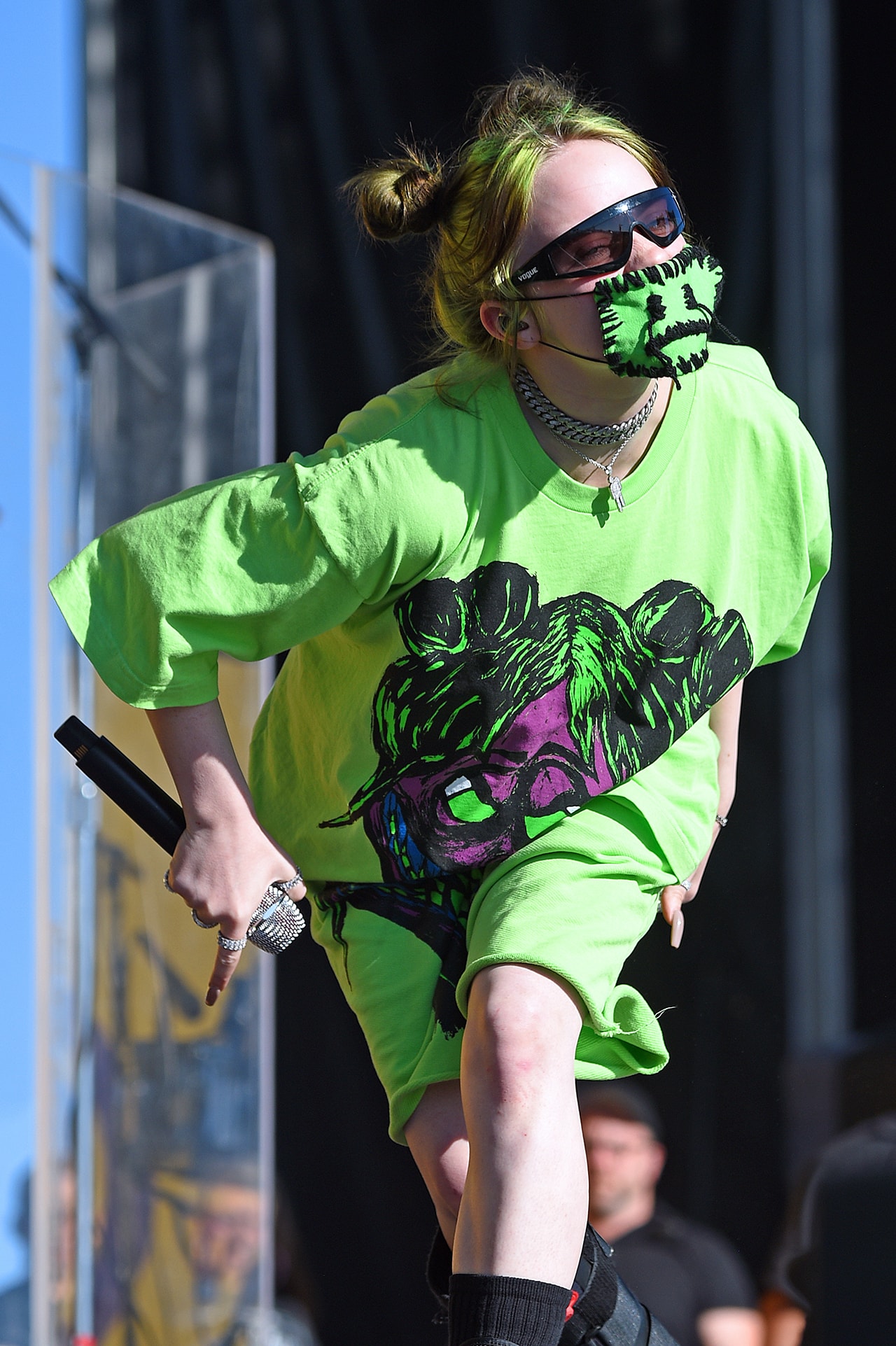 Eilish rocking a mask pre-mandatory wearing
Fast forward six months, and masks have not only become commonplace in society but have been mandated in some parts of the world, and highly recommended in others in the fight against the COVID-19 pandemic.
Thinking of a way to make a piece of protective equipment trendy might seem like a crass idea on paper – but when masks become the norm, what's the harm in making them stylish and enjoyable to wear?
Enter Culture Kings, the streetwear retailer that has constantly thought outside the box and been ahead of the curve when it comes to affordable yet stylish and 'dangerous' fashion – and their new range of masks is no exception.
With over 200 options to choose from, all at a dead affordable price, they're the obvious go-to if you want to add a sense of style to your iso-look.
We understand that you might not have the time to browse the full catalogue, so we've taken that liberty and picked out five of the best masks that you can rock this spring (don't expect them to protect you from any magpie attacks though).
1) Bandana Snood
Wearing a bandana around the face might make some feel like they've stepped into a spaghetti western a la 1965, but there's nothing dated about these wraparounds with added psychedelic embroidery to really make you feel like you're at a generator desert rock gig watching Kyuss throw down some riffs.
2) Staple Masque
The option for all the Joe Rogan/Bear Grylls (remember him?) enthusiasts out there. No matter how old or responsible you get, nothing beats the seriousness of a good camo print – especially when it's on your face, transforming you into a SAS lookalike. Also, can we agree to always use the spelling 'masque' from now on?
3) Rose Face Mask
If swordsman and Princess Bride hero Inigo Montoya wanted to disguise his identity, there is no way in hell he wouldn't choose this mask. Plain black but for the off-centred rose, this would be perfect for a COVID Valentine's (socially distanced) date. 
4) Crystal Tie-Dye
No matter how hard the world tries, tie-dye will never not be cool. This particular sample is no exception, with Culture Kings opting for a more monochrome palette to give this mask a futuristic look. Nothing like a splash of sci-fi to make your outfit really pop. Speaking of sci-fi….
5) Future Aesthetic Face Mask
To be fair, this one might be a bridge too far for even the most open-minded mask wearer, but there's no denying the bold statement that comes from this accessory. Looking like it could belong on stage with Slipknot, you'll be sure to stand out from the crowd with this on your face. Truly one for the future books.
Please note that all masks are not medically certified and don't claim to be.