Over the last two decades, Sydney's Declan Kelly has made a name for himself both as a drummer – working with artists such as Katie Noonan, Alex Lloyd and Bondi Cigars – and a songwriting bandleader, most recently with the reggae/Afrobeat group The Rising Sun. Kelly's latest releaseDiesel N'Dubis the boldest collaborative venture of his career.
Each track features a different lead vocalist, including Noonan and Lloyd, as well as Emma Donovan, Frank Yamma and King Tide's Tony Hughes. While this is an impressive list of guests, the album content is of even greater note. Put simply, Diesel N'Dub takes ten classic Midnight Oil songs and gives them a dub-reggae makeover.
"Some of the songs just feel like a natural fit for turning them into reggae style," Kelly says. "Also the sentiment – the Jamaican reggae music has always been a platform for social commentary. Especially after hearing the Easy Dub All-Stars doing Dub Side Of The Moon and Radiodread – those albums inspired me to do one for our own heroes here."
Though the title Diesel N'Dub is a direct nod to Midnight Oil's 1987 LP Diesel And Dust, the record includes songs from various stages in the band's history. The earliest composition is 1981's 'Armistice Day' and the most recent is the 1993 single 'Truganini'.
Throughout their career, Midnight Oil's lyrics frequently addressed matters of contemporary political relevance, but the songs haven't aged poorly as a result. "There's a few bands that are deeply embedded in the Australian subconscious and Midnight Oil are one of them," Kelly says. "Their songs written, some of them over 30 years ago, still ring true today."
It wasn't just the material's sustained significance that encouraged Kelly to put this project into action early last year. Even though his own music bears little semblance to Midnight Oil's, the band played a crucial role in his musical education.
"I think one of the first vinyl records I ever heard was 10, 9, 8, 7, 6, 5, 4, 3, 2, 1, and before that it was just whatever was on Countdown and Rage at the time. Hearing the music for the first time was like hearing progressive rock and having my mind blown without even realising it."
The Oils' original recordings blew minds and burrowed into the hearts of countless listeners all over the world, which inevitably applied pressure during the construction of Diesel N'Dub. "It was just more of a forethought of what their hardcore fans would feel about us changing the songs or interpreting the songs," Kelly says. "Also, it was not sort of a fear, but more of a fascination to know what the band would think about these versions.
"Consequently we got to meet Peter Garrett, and I already knew Rob Hirst. It was met with curiosity on their behalf. They're fans of the project. Not sure about big fans, but they're fans."
The first two singles taken from the record, 'The Dead Heart' (featuring Donovan) and 'Beds Are Burning' (featuring Yamma and Pat Powell), were both immediately picked up by radio stations all around the country. Kelly believes the recording and forthcoming tour will not only emphasise the undying strength of Midnight Oil's songwriting, but also introduce these songs to a new listenership.
"Hearing the songs done in a more Afro-centric form is going to definitely open Midnight Oil's music up to a different demographic," he says. "And also some of the younger generation that didn't get to feel the power of their music will get to link back to some of the older recordings they put out. They're timeless, I think."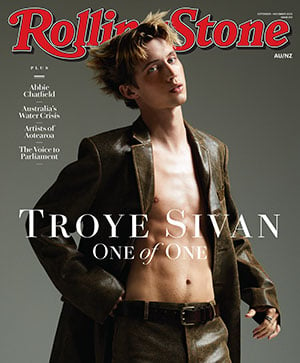 Get unlimited access to the coverage that shapes our culture.
Subscribe
to
Rolling Stone magazine
Subscribe
to
Rolling Stone magazine