Punks For West Papuadeals with the ongoing West Papuan genocide. Can you give a brief rundown of the conflict for those who might not be aware of the tragedy?
After WWII, Indonesia and Papua, or the Dutch East Indies as it was known, was still a colony of the Netherlands. Indonesia officially claimed independence in 1949 after declaring war on the Dutch colonisers. President Sukarno had his eyes firmly set on West Papua as it's full of resources, including the world's largest gold and silver deposits. Over the last 50 years, it is estimated that over half a million West Papuans have been murdered. Waving a West Papuan flag, or any act of nationalism, is punishable by 15 years' prison. The genocide is ongoing, as the Indonesian government forbids journalists or human aid workers into West Papua.
The documentary focuses on Jody Bartolo and his attempts to raise money and awareness for the Free West Papua cause. How did you become involved with him?
Neil Kellington, bass player for the Diggers With Attitude, is a long-time friend of mine. It was Neil that first contacted me regarding the first Punks for West Papua (P4WP) gig that the band had set up. He just asked me if I would be interested in shooting DWA perform at P4WP in June at the Town & Country Hotel in St Peters. Two weeks after that phone call, Jody called me to say Free West Papua campaign leader Benny Wenda was in town and offered us an interview to promo the P4WP gigs. Within that 30-minute interview, my life was turned on its head. Benny told us things that I didn't think were possible in this part of the world. That one gig at the Town & Country Hotel grew to 51 bands in seven cities around the country. In 2016, P4WP is now a global event.
Given its content, was the documentary difficult to make?
I never thought about making a documentary until after I spoke to Benny Wenda. Even then I had no real plan. I have worked in television for over 25 years and am quite handy with a camera and edit software, as well as producing. So I figured it would just come together. The main issue I had was footage from West Papua. I obviously wasn't going there, but I needed the rights for footage to tell my story. West Papua media and local West Papuan filmmakers helped me out with some great footage and it saved the day. Despite what most people may think, I did go easy on using footage that was too horrific. The pictures and video coming out of the place are just horrific.
Do you remain optimistic about the future of the West Papuan cause?
Indigenous West Papuans make up less than 50 per cent of the population. The Indonesian government opened up all the land for Indonesian citizens as free settlers. Even if another 'act of free choice' was held, the population on numbers would ensure Indonesia would continue its rule.
Indonesia is an associate member of the Melanesian Spearhead Group. As an associate member, it has the power to vote down West Papua's observer status, so their voices will never be heard. Thirdly, for West Papua to have any chance of self-determination, it needs the support of Australia. Unfortunately, successive governments on both sides of politics have publicly supported Indonesia's sovereignty over West Papua.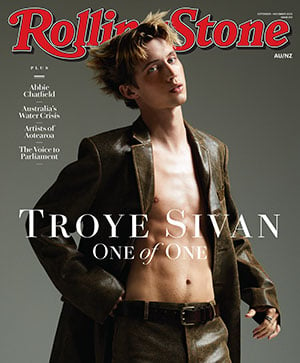 Get unlimited access to the coverage that shapes our culture.
Subscribe
to
Rolling Stone magazine
Subscribe
to
Rolling Stone magazine