Dancing, I am about as graceful as a bear with its head stuck in a bucket. Blundering into walls, stepping on toes, incapable of catching salmon. I admire those who can, however, even if I lack the terminology or context to string their movements into sentences. It has led me to seek out several Sydney Dance Company productions under the celebrated tenure of Rafael Bonachela, whose minimalist, evocative productions conjure storylines as vivid as any theatre show. As it turns out, my ignorant appreciation of contemporary dance makes me part of Bonachela's ideal audience.
"I'm one of those choreographers who believe as soon as a body enters a space, and a second body then enters that same space, we are building narratives," Bonachela explains in his rapid, accented voice. "It's always a very open-ended narrative, and what it means to you might mean something very different to the person sitting next door, and it certainly means something different again for me. Although my dance is always very physical, and is told via the movement, there is always an idea or a concept behind it all that gives some kind of meaning.
"I can never commit or control what people will feel from the work, but it's nice when an audience member gets the wrong story out of it, or their own sensation. You mention you are not a connoisseur of dance yourself, and for me that really matters. It's very powerful for me when people who may not have been involved in dance come to see Sydney Dance and get something out of it. We make the show for everyone, so when people tell me that they didn't think they would understand or enjoy it, but end up loving it, that is always amazing."
Bonachela's latest production, Frame Of Mind, will feature alongside the much-fêtedWilliam Forsythe piece,Quintett. Hailed as a masterpiece of modern dance, Forsythe's work is very rarely performed without the seminal choreographer's direct supervision, so the opportunity to stage it for the first time in Australia is a tremendous personal achievement for not only Bonachela himself, but for our entire national dance landscape.
"Every decision that I made for Frame Of Mind was in relation to Quintett. When I first saw it 15 years ago, I thought it was a masterpiece, so when we were able to license the work for the first time…" He happily sighs. "It is a very rare privilege. Forsythe is one of the most important choreographers alive and someone I have admired all throughout my career. I dreamed of one day being a choreographer when I saw his work. And now, God, what have I done? I've taken one of the most recognised and celebrated works, and I'm putting my own dance beside it!
"But from the very early days, I was very conscious of giving mine a different flavour. I wanted something that was going to be as impactful, but in a different fashion. Both pieces should be seen as different works, obviously, but I also wanted to offer audiences something that was going to be a journey, something that they would find different. So the presence of Quintett influenced every decision that I made. It has only five dancers, [whereas] I wanted to use everybody available to me, and use them as often as I could as a way of contrast. Having this work here is a milestone for us, and it makes me want to improve what I'm doing every day that I'm here. That's a rare and wonderful feeling to get out of somebody else's work."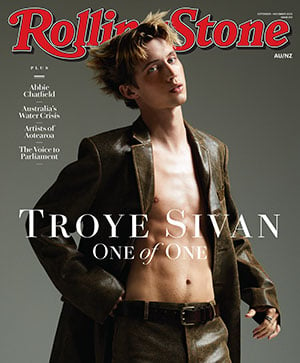 Get unlimited access to the coverage that shapes our culture.
Subscribe
to
Rolling Stone magazine
Subscribe
to
Rolling Stone magazine