Reviewed on Thursday March 20 (photo by Prudence Upton)
You could travel far and not see a performance as remarkable, nor a performer so appealing. I have raved of Glen Hansard in the past, but this was the first time I had the fortune of catching him headline his own show (one couple here had seen Hansard five times on this tour alone), and I feel the only way the night might have been improved was if he started shooting lasers from his eyes and granting wishes.
From the moment he took the stage, performing an unamplified version of 'Say It To Me Now', to the closing a capella duet of 'The Parting Glass' with surprise guest Damien Dempsey (though for the best version of that song, check out The Wailin' Jennys), there was not a moment that Hansard did not deliver some of the most electrifying vocals you're likely to see this or any other year. Vocals of such intensity; songs that make you feel, however briefly, that the world has fresh potential.
For the most part the audience was captivated, but – as with every live show you're ever going to see – there are inevitable moments when the behaviour of your fellow man seems entirely incomprehensible. When the band first joined Hansard to stand at the front of stage and perform an unamplified song, their performance was punctuated with multiple people loudly commenting on how amazing it was that you could hear them without microphones (presumably addressing these observations to their deaf-mute dates) and one particularly exuberant individual repeatedly addressing to the indifferent ceiling that he was from Brazil.
Towards the end of the evening the invitation was extended for a member of the audience to join Hansard onstage – and as luck would have it, watching from the front row was the incredibly talented April Smallwood. They performed the Oscar-winning duet, 'Falling Slowly', and man, can that girl sing. It was a touching moment, as was so much of the night. A particular highlight was the storytelling that preceded many songs, in particular the history of the achingly beautiful 'McCormack's Wall (On Black River)'. Played solo by Hansard on piano, it was so moving you could have heard a tear drop.
However – wherever – you can see Hansard, go out of your way to be there. His is a performance you will not forget in a hurry. I doubt strongly you will forget it at all.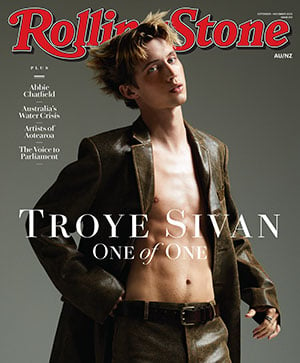 Get unlimited access to the coverage that shapes our culture.
Subscribe
to
Rolling Stone magazine
Subscribe
to
Rolling Stone magazine