Matt Groening will be forever known as the guy who created The Simpsons. Maybe if you want to be a cool contrarian, you'll say he's the guy who created Futurama. But did you know that before he created his animated empire, he was a cartoonist? Not only that, but he consistently worked on a comic series for over three decades?
Flashback to 1977: Matt Groening had recently moved from his home in Portland to Los Angeles in the hopes of becoming a writer. While working a bunch of dead-end jobs and living in a crappy apartment, Matt Groening began drawing a comic-book. It had a simple art-style in the vein of newspaper cartoons. Some pages were a single panel strip. Some had 16 panels jammed into the same amount of space – sometimes even more.
It was an outlet for Matt Groening to scream at the chaos of modern life, a place for him to express his angst, self-loathing and cynicism about relationships, work, life and death. It was appropriately titled Life In Hell.
He'd send photocopies of Life In Hell back to friends in Portland and sell them for $2 at the record store he worked in. Before long the comic was picked up and published in WET, the "Magazine of Gourmet Bathing."
Groening also got a job delivering newspapers for the Los Angeles Reader, working there for six years and cycling his way through the paper's ranks: typesetter, paste-up artist, critic and editor. Eventually they offered to run Life In Hell, which ran for six years. The Reader replaced it after Groening wrote an angry letter to the editor after a writer was sacked.
In a fittingly Life In Hell way, Groening only found out when he read the paper and saw his comic was missing. It was also running in a few alternative weeklies, and was later picked up by the L.A. Weekly. At its peak, Life in Hell ran in over 250 newspapers, most of them alt-weeklies. (38 by the time Groening turned in his final strip.)
Life In Hell was a pitch-black version of The Simpsons' satire and humour. It usually focused on Blinky, a cartoon rabbit who served as a mouthpiece for Groening's neuroses, appearing in comics like, "The 9-Types of Relationships", "How To Be An Artist In Torment" and "Your Working-Day Emotion Checklist." (10:04AM, Momentary Panic Attack; 2:30PM Urge to Murder Boss; 3:36PM, Emotional Deadness.) Other regulars include Akbar and Jeff, an identical fez wearing couple, who are constantly arguing with one another, usually about their relationship.
Bongo, Blinky's illegitimate one-eared son, was usually seen locked in an empty room. In one comic, a hand puppet juts through a slightly ajar door and tells Bongo, "I may just be a little puppet, but I were you, I'd cooperate with the authorities." In another, a pair of eyes pokes through the door's viewing slip. "How can we have a unified country if you don't believe what we tell you?" they ask the restrained rabbit.
Groening's comics were at his most critical and caustic when it came to politics. "Street Smarts for Republicans" reminds you to step over the homeless, not on them. A strip published after Operation Desert Storm, shows rows and rows of tombstones, while Akbar and Jeff stand in front of them, celebrating; "We won! We won!" Bongo questions a politician about why they aren't planning for the future generations, to which he responds: "Don't worry. By the time you and your little buddies drop out of high school, we'll have your prison cells built and ready to go!"
Life In Hell is also directly responsible for Groening creating The Simpsons. A copy of his strip, "The Los Angeles Way of Death" – a list of nine ways LA will kill you (gun, car, drug, cop, failure, success) – was given to producer James L. Brooks. He liked what he saw and asked Groening to pitch some animated shorts for The Tracey Ullman Show. Not wanting to lose the ownership rights to his Life In Hell character, Groening pitched something new. In 1987, he debuted a four-fingered, yellow-skinned family. You know the rest of the story.
Even with his growing animation empire and mounting responsibilities, Groening never stopped making Life In Hell. "The Simpsons came along to preoccupy me, and I decided to see how long I could keep the comic strip going" Groening explained in an interview with Rolling Stone after announcing the strip's end, in 2012 "I also liked the idea of having one slice of my creative output being completely solo, unlike TV animation. It's very satisfying to sit down at a drawing table by yourself and solve a puzzle with a deadline."
Bizarrely, the collected editions of Life In Hell are out of print, but you can find second-hand copies floating around and a few poor quality scans. (I am willing to throw an indefinite amount of money at the first publisher to announce a complete series collection).
It's unfortunate that it's hard to come by, because its punk attitude of not accepting the mundane complacency of modern life is still meaningful today. (It's a shame Groening has seemingly grown out of that attitude recently.) There's a sense of solidarity that comes from reading Life In Hell; a strange kind of comfort that you aren't the only one who thinks everything sucks. Life might be hell, but at least there are other people in hell with you.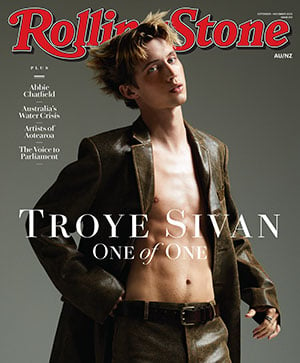 Get unlimited access to the coverage that shapes our culture.
Subscribe
to
Rolling Stone magazine
Subscribe
to
Rolling Stone magazine