The last time I was in the desert, it wasn't really the desert. In fact, we didn't venture far past Broken Hill, but the release of open landscape was still a refreshing thing.
Exploring the great unknown can help you find a place for pared-back reflection and inspiration.If you're lucky, maybe even a spirit animal – though in Australia, it will likely turn out to be poisonous. When Lost Ragas frontman Matt Walker decided to clear his mind prior to the band's next national tour, however, he really didn't skimp on space.
"This is a step up in the adventure stakes, I've got to say," he says. "I'll be hiking through the Flinders Ranges for a week before the tour. I'm going semi-desert, sleeping beneath the stars, in caves. Hiking around trying to find The Lost Sound, something like that. I'm definitely thinking of the next Ragas album, so it may be a little bit like that Mighty Boosh episode, wandering around looking for wisdom. One of the mates I'm going with has a portable recorder; I'll have a few instruments with me. I think we'll definitely do some recording out there, but what it leads to, who knows? We're doing it all cowboy-style, sleeping with no tents. There's one night in the cave on the side of a mountain, so you hope it's going to be inspiring out there."
There's always the chance Walker might come across some kind of human subspecies that's been living in the caves undisturbed for centuries and is now baying for blood, but that's always the gamble with creative exploration. While this hike will cover new ground, Walker has had the opportunity to visit vast swathes of Australia over the years. He is a seasoned solo performer, but has also earned great acclaim with The Necessary Few, Ashley Davies, Tex Perkins, Archie Roach – the list goes on. Suffice to say, he has had a front-row view of the shifting Australian music scene.
"The whole Americana renaissance is something I've definitely noticed," he says. "Festivals we've been getting picked up for are getting more aligned with this movement, like Dashville Skyline in the Hunter Valley and Out On The Weekend in Melbourne. But I think Australian music has always had a strong country scene. There are so many artists, and if you look back there's a really strong Aboriginal scene aligned with it too. There's a whole culture of great country singer-songwriters in the Aboriginal community, all over Australia.
"Maybe I've noticed a change here just because I'm Melbourne-based, but it feels bigger now then it used to be. Someone told me that Northcote, just out of the CBD in Melbourne, has the biggest number of country singers in all Australia. Which is a strange place for it; you'd feel they'd be all up north. I think in regional and outback Australia, it's probably one of the biggest styles of music for the last hundred years. I've been around a while now, and I've seen different scenes, different subgenres in the roots scene, bubble to the surface. Whether it's garage rock or blues, your John Butler and Ash Grunwald types, it's always interesting to see how it's all growing, but it doesn't really affect what you're doing yourself. There's so much work going on inside your own head to make music, it's more a sideline interest to see what the local scene is actually doing."
While Walker certainly brings a great amount of experience to Lost Ragas, he is quick to emphasise that he is hardly the life and soul of this party – it is very much a group concern. "It's not just Matt Walker and band. We all contribute, and the guys do fucking amazing harmonies, switching around instruments. It's a real collective."
Their most recent release, Trans Atlantic Highway, has already met with a great critical reception and will likely introduce Walker and co. to a whole new set of fans. Happy as they are to find themselves with the attention, these dark horsemen of the alt-roots scene are pretty detached from accolades, and remain quite conscious of keeping the integrity of their songwriting intact.
"You don't want to sound too confident in your own sound, which I'm not at all. I've always been a believer in…" he pauses to consider. "I really play music for myself. It's a contradiction, of course, because then you record it, you play live shows and hope people like it, but my main drive to pick up a guitar is kind of selfish. It's just something I need to do. I think a lot of musicians are like that, though some musicians maybe have too many idols. I've certainly got them, but I almost put them on a pedestal where I would never, ever try and emulate them. They're too out of reach. If I try and write anything, it's the essence of the honesty that the artists I most admire have.
"Dylan once said when he was starting out, watching the old blues guys, it wasn't really the notes they played or the words they sang; it was about the look in their eyes that was the inspiration for him. That has kind of rung true for me, too. I like artists who boil their words down. Sometimes, one or two lines can leave enough out that the listener or reader can make up the missing part. It creates something that I don't think you can do otherwise. Something that resonates."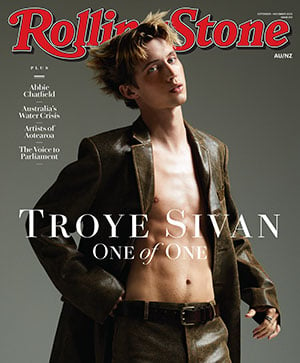 Get unlimited access to the coverage that shapes our culture.
Subscribe
to
Rolling Stone magazine
Subscribe
to
Rolling Stone magazine