Lukas Gage has shown us all an example of how not to conduct a Zoom call after he posted his very awkward movie audition.
The American actor posted the unfortunate video to his Twitter earlier today, November 21th, and be warned: the secondhand embarrassment will be intense.
The American Vandal star offered us a look at movie auditions in the time of corona with an unnamed director. Things soon got uncomfortable.
"PSA: if you're a s**t-talking director make sure to mute your s**t on Zoom meetings," Gage captioned the video.
psa if youre a shit talking director make sure to mute ur shit on zoom mtgings pic.twitter.com/PTgMZcRhEw

— lukas gage (@lukasgage) November 20, 2020
The unseen director begins talking to someone else offscreen, saying "These poor people live in these tiny apartments," referring to Gage's home."Like I'm looking at his background and he's got his TV…" he continues before Gage interrupts, "Ummm, you're not muted."
Gage handled it with aplomb and confidence though. "I know it's a sh**ty apartment. That's why I need you to give me this job so I can get a better one," he added. Fair play mate. That's how you guilt-trip!
The director was quick to profusely apologise and Gage had no choice but to laugh it off: "Listen, I'm living in a 4×4 box… it's fine. Just give me the job and we'll be fine."
Speculation has already started as to just who the director is. He sounds like a caricature of a pretentious, snobbish English Hollywood schmooze. That narrows the list down to about 5,000 people.
Someone guessed Matthew Vaughn, the director of Kingsman: The Secret Service and its sequel. Perhaps we'll never know.
It's unclear just what role and movie Gage was auditioning for but we think his career should be fine though. His breakout role came in HBO's huge drama show Euphoria last year. He followed that up in 2020 with a role in Hulu's teen drama Love, Victor.
Check out the trailer for Gage's show Euphoria: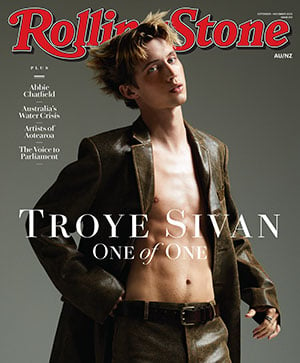 Get unlimited access to the coverage that shapes our culture.
Subscribe
to
Rolling Stone magazine
Subscribe
to
Rolling Stone magazine