Reviewed onSaturday March 20 (photo by Ashley Mar)
Preparing to watch Madonna's performance from a seat that cost nearly two weeks' rent, you would probably question whether you were getting value for money. But the two-and-a-half-hour performance (which surprisingly started on time) lived up to the hype.
Lowered down from the ceiling in a metal cage, the Queen of Pop made her dramatic entrance to 'Iconic'. Dancers emerged onstage as if from inside a music video. From heavy religious imagery with pole-dancing nuns for 'Holy Water', to the Latin carnival of 'La Isla Bonita', the costume changes were like watching her entire career on fast-forward.
Each song was partnered with choreography that would rival a Broadway musical or Cirque du Soleil. No part of the stage and heart-shaped runway was left untouched. But all the theatrics faded into the background compared to Madonna's commanding vocal and dancing talents.
You have not heard the Rebel Heart album until you have seen it live. With a setlist heavy on her newer material, an intense 'Heartbreak City' instantly became a highlight. Even the songs not considered standouts, like 'Body Shop', became unforgettable high-octane performances.
Madonna's ability to connect with her audience made the Allphones Arena an intimate room. Her renditions of 'True Blue' and Edith Piaf's 'La Vie En Rose' on ukulele revealed a side of Madonna that gets lost in superstardom.
Indeed, controversy has followed Madge throughout her entire career – and it was no different on this tour. Even if you didn't have a ticket, you knew about her highly publicised struggles both on and offstage. "I don't want be accused of having a meltdown. God forbid a mother should miss her son, it's a goddamn sin,"she said in reference to her ongoing child custody battle.
Elsewhere, bending a backup dancer over her knee, she asked: "Are you 15? Or 16? … I'm doing well with minors these days," before spanking her. There was no hiding from the most recent headline-making mishap when Madonna pulled down the top of an underage girl at her Brisbane show. She remarked, "I'm glad you all have a sense of humour, because if I didn't have one I wouldn't survive."
'Material Girl', 'Like A Prayer' and 'Vogue' were sprinkled into the set and received with ecstatic delight. They came as a bonus, rather than an expected sing-along, for this was not a 'greatest hits' show. But it all proved that Madonna's relevance should never be a debate. She holds up a mirror to our own musical expectations, and then takes them a step further.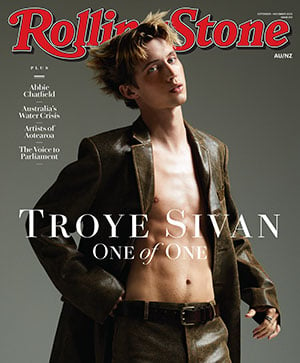 Get unlimited access to the coverage that shapes our culture.
Subscribe
to
Rolling Stone magazine
Subscribe
to
Rolling Stone magazine