Seemingly not content with his time in the Australian reality limelight, Nasser Sultan – who starred on season five of MAFS –  has weighed in on the ongoing feud between TV brides Domenica and Olivia.
Nasser aired his thoughts about the bitter battle between the women live on radio this morning during a segment on Kyle and Jackie O. The 52-year-old spoke vehemently in Olivia's defence, telling the radio hosts that Domenica "whinged and complained" and played the "victim". His attack went so far that Domenica took it upon herself to call into the show and stick up for herself.
If you're not up to date with the recent drama on MAFS, Domenica and Olivia are embroiled in a bitter feud that kicked off when the women exchanged words on a group getaway. Olivia criticised Domenica's voice and the way she spoke, and the latter smashed a wine glass at the table in frustration, before storming off.
Olivia then relayed the story to the group of reality participants and told them that Domenica "smashed a glass in her face" and used it like a "weapon". Olivia went as far as to call the incident "assault".
Social media users have jumped to Domenica's defence, and labelled Olivia the "worst villain the show has ever seen". However, it appears that Nasser doesn't share their opinion.
"The problem is here right, she broke a glass, looked at Olivia and that's a threat to me. If I did that at a pub I'd be kicked out, if you did that at a party, you'd be thrown out. But she did it and got away with it," Nasser told Kyle and Jackie-O in a lengthy rant.
"All (Olivia) did was, her friend has gone and looked up the OnlyFans or whatever, found these photos and said to her 'Look, I just found Domenica's photo, look at this' … Olivia went and told the girls and the producers knew damn well that this was going to happen," he continued before claiming Domenica was actually behind it all to get the heat off her glass-smashing incident.
Love Film & TV?
Get the latest Film & TV news, features, updates and giveaways straight to your inbox Learn more
"Domenica whinged and complained about 'OMG I broke a glass what do I do' and I can tell you now that Olivia sought legal advice. Olivia asked for legal advice on this whole thing," he said.
Jackie O asked Nasser what he meant by the comment, and to explain why Domenica would exaggerate her actions.
"(Domenica) didn't mind using it … I know that … otherwise it wouldn't happen, I'm telling you," he said, indicating that Domenica milked the event for future exposure.
"How would she get on to that 'One Hundred'?" he added in reference of Dom's recent appearance on The Hundred with Andy Lee.
"She went on the 'One Hundred Show'! That Andy (Lee) show straight after Married At First Sight and Married At First Sight didn't even finish!"
"I believe that it was all set up, and I can tell you now and I've got fans that know it was all set up, she knew about it … She's hiding behind this whole thing. 'It's me, it's me, feel sorry for me'," he ranted.
Around fifteen minutes into Nasser's rant, Domenica called the show to say she found the MAFS alum's comments "very hurtful".
"Listen, listen, listen, stop playing the victim!" Nasser yelled at her in response.
Nasser went on to accuse Domenica of letting producers manipulate the situation.
"You could have stopped it Domenica, you knew, you let it go … they would have talked you into it, don't sit here and deny anything."
Although Domenica asked Nasser to "stop being so aggressive" he continued his attack on the current reality star.
"Get over it, your OnlyFans should be shut down before you go on the show," he said, adding: "No one's interested in this photo, get over the photo, we're interested in you smashing that glass and looking at this girl and getting in everyone's business."
For more on this topic, follow the Film & TV Observer.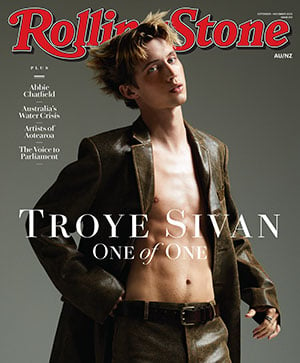 Get unlimited access to the coverage that shapes our culture.
Subscribe
to
Rolling Stone magazine
Subscribe
to
Rolling Stone magazine