Self-proclaimed "freak in the sheets" Married at First Sight bride Melissa has won over viewers for her brazen openness about her sexuality.
The mum-of-one had social media buzzing with lols over Melissa's outrageous antics on the series, which saw her married to the (much more reserved), Josh in Sunday night's ep.
In what appears to be another strategically-mismatched couple paired for our enjoyment, viewers were quick to notice the major difference in personalities between the newlyweds.
Even Melissa's mates immediately deemed the relationship futile, with one declaring after the wedding, "She'll eat him alive!"
This is gonna be rough #mafsau #MAFS pic.twitter.com/ZFTY1eLpZm

— Amber Erin 🧸 (@ambiibambi24) February 5, 2023
Everyone join a prayer circle for Josh, he won't survive#MAFS #MAFSAU pic.twitter.com/4Kw89a8UmD

Love Film & TV?

Get the latest Film & TV news, features, updates and giveaways straight to your inbox Learn more

— 𝐃𝐲𝐥𝐚𝐧 𝐌𝐚𝐭𝐭𝐡𝐞𝐰𝐬 (@DylanMatthews91) February 5, 2023
Josh is valium personified #MAFSAU pic.twitter.com/RaELXJddwv

— Sir_Baden 🏳️‍🌈 (@badenchalmers) February 5, 2023
Fans also couldn't help but comment on the MAFS bride's seemingly insatiable appetite for getting down and dirty, with one social media user comparing her to the iconic character Kath Day-Knight of Kath N Kim.
The level of hornbag Melissa is aspiring to: #mafs #mafsau pic.twitter.com/a0e0AVqey6

— Beggy Williams (@BIGNECKBECKS) February 5, 2023
Drinking game: Take a shot every time Melissa mentions sex or makes a sexual reference.#MAFSAU #MAFS pic.twitter.com/v5RnUCohnF

— Married At First Sight Experts (@mafsexperts) February 5, 2023
Melissa is frothing for the wedding night #MAFS #MAFSAU pic.twitter.com/YJpLJoyCxb

— 𝐃𝐲𝐥𝐚𝐧 𝐌𝐚𝐭𝐭𝐡𝐞𝐰𝐬 (@DylanMatthews91) February 5, 2023
Melissa this whole ep: "I'm a freak in the sheets"
All of Australia: #mafsau #mafs pic.twitter.com/OiUgemo8m5

— Beggy Williams (@BIGNECKBECKS) February 5, 2023
https://twitter.com/pjk27779/status/1622145819620298752
https://twitter.com/BIGNECKBECKS/status/1622147055413239808
We previously got a taste of Melissa's thirst during the Hens' party in the premiere episode, where she revealed that she had been busy prior to coming on the show. "Younger [guys]…that's who I've been f**king on a weekly basis.
"They're my f**k boys. I'm actually quite a sexual person. I got multiple men. Multiple!" she exclaimed.
Speaking in a recent interview with 9Entertainment, Melissa explained had no qualms over her portrayal on the show, saying she hopes to be "a voice" for those too afraid to discuss topics such as sex.
"If I could leave anything with all the women in the world, it's to own your sexuality and embrace it," the hairdresser said.
"I want to take the taboo away that you can't talk about sex.
She added, "I'm sure there are many husbands that are going to be high-fiving me, saying: 'Yes! We love her!' and many women who will be like, 'Yes! I'm just like her.'
For more on this topic, follow the Film & TV Observer.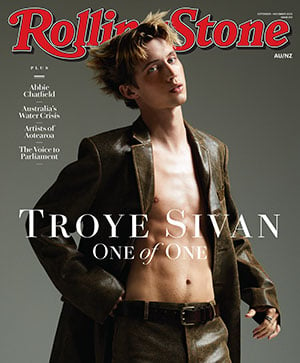 Get unlimited access to the coverage that shapes our culture.
Subscribe
to
Rolling Stone magazine
Subscribe
to
Rolling Stone magazine