Over the last couple years something wonderful has happened for lovers of the sweet, icy nectar we call slushies.
Seemingly tapping into young Aussie's need for something to cool down with at the beach, brands have been in a slush trade war that has seen prices plummet to $1 for a figurative bucket of frozen soft drink.
It's a fleeting pleasure however, as the best deal in modern fast food tends to drop off come the colder months.
Ladies and gentlemen, it's with great pleasure we announce that summer slushie season has begun.
Arguably, 7-Eleven have been front runners over the past few seasons for their eclectic rotating roster of flavours (lemon, lime & bitters, anyone? How about salted caramel?).
Now, McDonalds are coming after the convenience store's crown by announcing their '36 Flavours Frozen Fanta' promotion just in time for the change of seasons.
Don't go thinking that Maccas around the country are going to be installing thirty-plus nozzles to their slushie dispensers.
Love Food & Drink?
Get the latest Food & Drink news, features, updates and giveaways straight to your inbox Learn more
The '36' actually refers to how many combinations you can make with the eight new flavours they're bringing in, in addition to their stock standard Frozen Coke.
The new flavours include Raspberry (bit of a cop out as this is a mainstay of McDonalds' regular fare), Pineapple, Lime, Sour (ominous), Blueberry, Grape, Mango and Vanilla.
Slushie slurpers are invited to try any of the flavours by themselves or combine two to make the most delicious/disturbing (please, someone mix Sour and Vanilla) combination they can think of.
Frozen slush connoisseurs in New South Wales, South Australia, Queensland and ACT can nab themselves a sip right now, with the promotion rolling out to Victoria, Western Australia and Tasmania from December 7.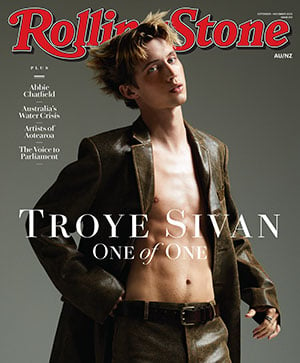 Get unlimited access to the coverage that shapes our culture.
Subscribe
to
Rolling Stone magazine
Subscribe
to
Rolling Stone magazine