Any YouTube star revealing their face for the first time is a big deal; when it's someone with over 30 million subscribers who's a bit of a Minecraft legend, it's an even bigger moment. 
Dream, Minecraft streamer extraordinaire, finally revealed his real face to his many fans, after having previously hidden behind a simple but iconic smiley face.
With 30.4 million YouTube subscribers, over five million Twitter followers, and over three million Instagram followers, it's a moment a lot of people have been eagerly awaiting.
Dream, or Clay to give him his real name, really indulged in the buildup to his face unveiling, FaceTiming many of his gaming mates for the very first time to capture their amazed reactions. Some of these people had seemingly known the YouTuber for years.
"I FaceTimed Dream," one lucky mate, Karl Jacobs, said. "Here's my reaction to finally seeing one of my best friends' faces for the first time!"
His fans were last to discover what was lurking behind that smiley face symbol, with a whopping 1.2 million people tuning in for the premiere. Welcome to the world of modern celebrities, where you can become a beloved superstar without even showing your face.
"Hi, I'm Dream and this is what I look like," Dream's unveiling video explained. "After years of being completely faceless online, I finally decided to do a face reveal." He then went on to say "thank you all from the bottom of my heart. I appreciate you all more than you could ever know."
Dream (Clay) rose to online prominence mainly for his Minecraft content. He started the hugely popular series Minecraft Manhunt in 2019, and has since built up a YouTube empire consisting of seven channels and billions of views. He won Streamy Awards in both 2020 and 2021.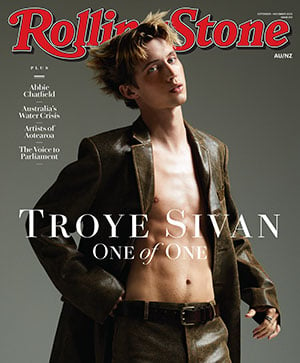 Get unlimited access to the coverage that shapes our culture.
Subscribe
to
Rolling Stone magazine
Subscribe
to
Rolling Stone magazine