Shameem's new album,The Second City, is an uplifting and contemplative soul-pop record brimming with rich vocals, infectious R&B rhythms, jazz-infused melodies and spiritual undertones. It's also filled with beautiful messages. For instance, her new single 'Under One Sun' is a heartfelt cry for unity between people of different races, ethnicities and religions.
"Being a person of mixed backgrounds, people do want to treat you as the 'other', but they're not sure which 'other' to treat you as," says Shameem, who was born in Perth to an Iranian mother and Chinese-Malaysian father. "They look at you and they don't know where you come from. So in a way, I was a little immune from being stereotyped or boxed, but at the same time people would ask, 'Where do you come from?' as if I don't come from Australia. I thought about this more when thinking about my school friends who came from different Asian countries and also towards Aboriginal people who I was friends with.
"It was nothing ever overt, and I think that's what prejudice is in Australia – it's not overt, it's not that people go out of their way to be unkind to somebody, but it doesn't occur to them to be kind to them in the same way that they would with someone who they're more familiar with."
A deeply spiritual person, Shameem's Baha'i faith is at the core of who she is. "It's basically the thing that gives me a sense of a moral compass in my life and a purpose, and that purpose it gives me is to try and improve not only myself every day and become a better person, but also to try and contribute to making the world a better place. Everyone can do that; if everyone did their own small, little thing, then it would really transform the world. So I think it's given me a lot of sense of purpose in that way and I guess that comes through in all the music that I write as well."
The title of Shameem's second album, The Second City, comes from a Persian book, The Seven Valleys, by Bah'u'llh – the founder of the Baha'i faith – which talks about the seven stages that a seeker of God journeys through.
"It's such a beautiful book and it really uses imagery – poetic imagery – to describe the journey of the soul," Shameem explains. "I guess being an artistic person, I find the imagery really moving and really stirring and evocative. And it makes me think of my own spiritual journey, and the ups and downs that you go through in life when you're trying to reach your goals. I really love that book for that reason."
Baha'i music is, of course, markedly different to the pop music that a young Shameem and her mother also enjoyed. "I remember that the music I listened to was either Baha'i music, which is all about trying to perfect one's inner spiritual condition and it was all about beautiful things like the unity of mankind, and then you listen to pop music, which was infectious, and I love the music of Michael Jackson myself, but it didn't necessarily lyrically speak of anything very meaningful. I remember every now and then I would discover an artist who would be able to beautifully marry the two and I thought, 'I want to become that kind of artist who can marry meaningful lyrics with really infectious, amazing music.'"
Inspired by soulful singers and great storytellers, Shameem has been greatly influenced by songwriters such as Sting, Alicia Keys and Jewel. "I've been working on my songwriting and how to write more well-structured songs, and how to really get a message across in the short space of time that you have in a song," she says. "I feel that the songs I've written on this album are stronger songs in terms of my songwriting."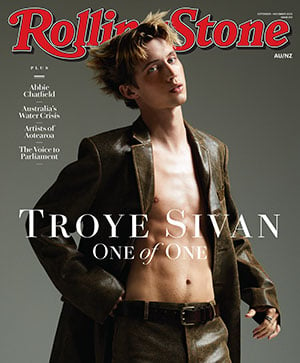 Get unlimited access to the coverage that shapes our culture.
Subscribe
to
Rolling Stone magazine
Subscribe
to
Rolling Stone magazine