Once again I must stress that this is not part of an Amazon Prime campaign, although I would love a free subscription if anyone in Bezos' inner circle finds themselves reading this article.
I am doing this on behalf of those that spend more time making their way through listicles trying to find the perfect film to watch instead of actually watching a film. This isn't a list of films I deem the greatest, just a bunch of good films that won't make you feel like you've pissed an hour and a half of your life down the drain.
Here are five great films to watch on Amazon Prime this April.
Sound of Metal dir. Darius Marder
Riz Ahmed is the hottest anybody has ever looked in a movie. If you, like I, are sceptical of films with Oscar Award clout (The Trial of the Chicago 7 was quite simply, diarrhoea), quash those fears. Sound of Metal rocks. It doesn't rely on hackneyed narratives of addiction recovery, or hammy, dramatic climaxes. It is a good, intelligent film — one that respects its audience and its material. Also Riz Ahmed, again, so fucking hot.
Drugstore Cowboy dir. Gus Van Sant
Based on James Fogle's memoir, Drugstore Cowboy is one of the greatest ever one-screen depictions of addiction. It toes the line between hilarious and heartbreaking. Matt Dillon is a total heartthrob. Gus Van Sant forever.
Love Film & TV?
Get the latest Film & TV news, features, updates and giveaways straight to your inbox Learn more
Changeling dir. Clint Eastwood 
I'm hot and cold with Clint Eastwood, Mystic River is an all-timer but I'd rather individually remove all my toenails than sit through the snore that was American Sniper again. I liked Changeling, it's not life-altering, but it is good and will make you feel a spectrum of emotions.
Based on true events, Angelina Jolie is magnetic as Christine Collins, a woman looking for her 9-year-old son Walter went missing in 1928.
Bad Boy Bubby dir. Rolf de Heer
Us Australians are sick little freaks. Bad Boy Bunny is all the grit and grime we love about Australian cinema. If you were the kind of teenager that spent their youth with clenched teeth sitting through A Serbian Film after reading "Most Disturbing Movies Of All Time" articles, this is for you.
Bubby (played by an excellent Nicholas Hope) has spent all of his 35 years locked in one room with a mother that feeds and washes him like a baby, and also uses him for sex. It's twisted and deliriously fun.
Peterloo dir. Mike Leigh
Mike Leigh's Peterloo is a deliciously brutal retelling of the mass pro-democracy protest that ravaged Manchester in 1819. The director has had a singular career, carving out a legacy as a true auteur with his staunchly populist, slice-of-life dramas. Peterloo is his largest work yet — and the second film he's shot digitally. It's a visual feast that'll leave you feeling so very angry.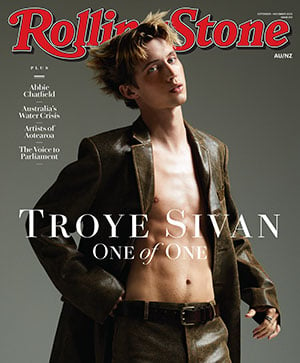 Get unlimited access to the coverage that shapes our culture.
Subscribe
to
Rolling Stone magazine
Subscribe
to
Rolling Stone magazine