We dig into the brand new Google Pixel 8 and 8 Pro devices, then check out Sonic Superstars and the party-friendly Jackbox Party Pack 10.
When it comes to Android devices, Google's Pixel line-up has long been the top dog in my eyes thanks to its incredibly strong software suite and photographic chops. Now, after having spent some time with the Google Pixel 8 and Pixel 8 Pro, it seems that the tech giant has another winner on its hands.
The first thing you'll notice about the Pixel 8 and 8 Pro is the device's change-up in visual aesthetic. Gone, for example is the boxier shape in favour of much more rounded corners. Likewise, the screen now embraces a flat design, which will likely please the majority of users (especially when it comes to getting a proper fit with a screen protector), but I'll personally admit to being a fan of the older design which just made everything pop a little more.
Flip things around and even the Pixel 7's glass back panel has been swapped out for a matte finish this time around, but it's surprising that such a small change has lead to so many benefits. The biggest boon is that the Pixel 8 and 8 Pro are both just a whole lot easier to hold thanks to a surface that's nowhere near as slippery. On top of that though, the device as a whole becomes way less of a fingerprint magnet, which is a big deal if you're one of those loose cannons who uses their phone without a case.
We were able to test out the Charcoal-like Obsidian colourway, and it's incredibly sleek to look at (even if you do throw on one of official cases) but Google is especially touting the Blue 'Bay' colourway which will does well to showcase a large pop of colour, but unfortunately is only available for the Pro model.
But forget about how the Pixel 8 looks, because this new kid on the block also makes some decent strides on the gaming front as well. From rounds of Call of Duty mobile to continuing my obsession with Marvel Snap, both Pixel devices handled my demands capably, although you'll likely want to gravitate towards the Pro thanks to its 12GB of ram (verses the base model's 8) and higher peak brightness that helps it shine both indoors and outdoors. Call of Duty mobile could run at some of its highest settings without sacrificing framerates, however you should be warned that the phone will run a little warm if you do that.
Love Gaming?
Get the latest Gaming news, features, updates and giveaways straight to your inbox Learn more
Even with Google's Tensor G3 behind it though, the 8 Pro isn't able to quite outshine the iPhone 15 Pro just yet, however the biggest impediment to gaming on the Pixel 8 line-up is perhaps the Android platform itself, which simply isn't as robust as Apple's offering. Where the iPhone 15 Pro is touting its ability to capably handle the likes of Resident Evil Village, the Pixel just isn't able to match those high-end offerings. But boot up your Netflix subscription, though, and you'll still have plenty to sink your teeth into.
Where the Pixel 8 and 8 Pro does excel as always though is with its camera suite and that's no different here. The now infamous Pixel camera visor houses a 50 MP Octa PD wide camera and 12 MP ultrawide for the 8, while the Pro swaps out the latter for a 48 MP Quad PD ultrawide and 48 MP Quad PD telephoto camera. Naturally that means the 8 Pro is capable of pumping out much sharper, more detailed images, but rest assured if you're a casual user you'll likely be thoroughly impressed with the results all the same, especially with improvements to evening shots.
But while I've always been a fan of the Pixel's photographic output, it's the software updates under the shell that help the whole process shine. Best Take is the prime example of that: allowing you to retrospectively craft the optimal group photo but combing various faces from different takes into one single photo. If you have a father who has a penchant for closing his eyes at the worst time, or a sibling who can't help but occasionally look away, it's a bloody great feature that hits way more than it misses.
All in all, the Google Pixel 8 and Pixel 8 Pro are both incredibly appealing devices, especially when you factor Google's beefy promise of 7 years of updates. This jump is a huge boon for Pixel users and means you should be able to confidently keep using the device into the next decade should you be so inclined. Throw in extra features like Audio Magic Eraser, Live Translate and a temperature sensor and there's a hell of a lot to take advantage of here.
Starting at $1,199 for the Pixel 8 and $1,699 for the Pixel Pro, Google continues to deliver a quality device that is markedly cheaper than some of its biggest competitors. If you're in the market for a new Android device that balances software, gaming and stellar photos, you'd be hard pressed to find a better deal.
You can pick up a Google Pixel 8 or Pixel 8 Pro from the Google Store here.
Also out now…
Sonic Superstars (PS5, Xbox Series X/S, PS4, XBO, PC)
After years of disappointments, it seems Sonic fans have a lot to cheer about of late, and Sonic Superstars does well to continue that momentum. The levels harken back to the classic momentum-focused gameplay that cemented the blue blur's popularity, even if that does occasionally mean you'll have to fail a few times before eventually striking upon the perfect path to follow. Still, I appreciated much of the 2D design and the bright visual palate that will bring a smile to your face.
Playing solo, there's a hell of a lot to love with Sonic Superstars nostalgic-inspired adventure. Testing out the new co-op mode, on the other hand, and thing are less successful.
Due to the sheer speedy nature that Sonic and friends possess, it means that you and your friends will likely zip around all over levels, forcing all sorts of proximity-based respawns that will quickly irritate. I'm optimistic the idea can work in the future, but it's going to take a bit of refinement to get there.
Don't let that dissuade you though. Sonic fans will still get plenty out of Superstars, and at least as a solitary experience, it's worth checking out.
Hot Wheels Unleashed 2 (PS5, Xbox Series X/S, PS4, XBO, PC)
I'll come out and say it: the original Hot Wheels Unleashed does not get nearly as much recognition as it deserves. The 2021 arcade racer was fast, furious, chaotic and whole lot of fun. Thankfully, a couple of years later we have the follow up, and while Hot Wheels Unleashed 2: Turbocharged may not completely reinvent the wheel, it will certainly reignite your need for speed.
Yes, there's a brand new campaign to tuck into, drawing on the series' classic history, but more interesting is the switch-up in the game's actual mechanics. That's because Turbocharged introduces a double-jump and dash to the mix, and both do a great job at expanding the flexibility present within racers. The dash for, example, can be used as an offensive manuover by side-swiping unsuspecting foes, or taking more passively to quickly jut off the beaten path to make use of a potential shortcut.
Throw a smorgasbord of new vehicles, the return of multiplayer and that same charm that made its predecessor a surprise gem and Hot Wheels Unleashed 2: Turbocharged is yet another shiny new toy worth ripping out of its packaging.
Jackbox Party Pack 10 (PS5, Xbox Series X/S, Switch, PS4, XBO, PC)
With the Jackbox series continuing to dominate game nights across the country, it's no surprise that we are now met with Jackbox Party Pack 10. What is surprising though is that this latest entry is actually one of the stronger releases in quite some time – helped largely along by Tee K.O. 2.
A follow-up to the original Tee K.O, a game first introduced way back in Party Pack 3 (and a personal series favourite), this refresh will let you create a whole new range of twisted apparel thanks to brand new drawing tools and more clothing options. And yes, you can still totally purchase the finished product for all your friends.
Meanwhile, Dodo Re Mi is perhaps one of the series' most traditional games as you partake in a Guitar Hero knock-off in an attempt to avoid being eaten by a carnivorous plant while Fixytext has you completing half-written text messages and whatever ludicrous way your brain can imagine.
All 5 games feel dramatically different from each other, and while some mightn't jive with every party guest, there's no total dud in this package. It helps make Jackbox Party Pack 10 a worthy investment to almost any game night repertoire.
Gargoyles Remastered (PS5, Xbox Series X/S, Switch, PS4, XBO, PC)
As a child of the '90s I have quite the affection for Disney's Gargoyles. Here was a cartoon that struck a different path with its darker tone and gothic aesthetic, and although the series itself didn't get enough time to shine, it still managed to snag a SEGA Mega Drive game that was… kind of okay.
Jump to 2023 and we have the remaster of that sidescrolling action platformer, and although the brutal game design still might not gel with every gamer, it's still a commendable package. A large part of that is thanks to the completely rehauled visuals which do a remarkable job at being more faithful to the Saturday morning cartoon's style. You can flip between the modern iteration and the classic 16-bit performance at the press of a button, and it's a real marvel to see just how far the developers managed to build upon the original foundations.
Likewise the ridiculous challenge has also been mercifully addressed, not only with more difficulty options to choose from, but the inclusion of a rewind button that does well to get you out of a pinch that would otherwise see your Switch get launched outside your nearest window.
Yes, the core game itself has problems – namely it's pixel-perfect platforming and occasionally frustrating combat, but Gargoyles Remastered is still worth a shot for those wanting to take a trip back down memory lane.
For more on this topic, follow the Gaming Observer and Tech Observer.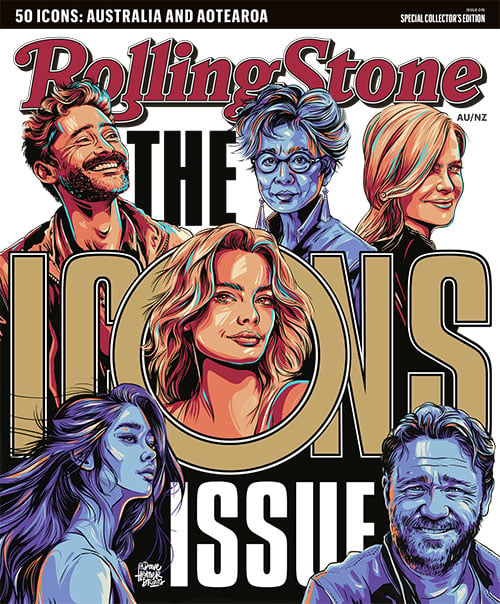 Get unlimited access to the coverage that shapes our culture.
Subscribe
to
Rolling Stone magazine
Subscribe
to
Rolling Stone magazine