The Royal Wedding was psychedelic, magic and subversive. It was all things I didn't expect it to be: spiritual, beautiful, emotional and spooky.
I had no real intention to watch Prince Harry wed Meghan Markle, but yesterday things really spiralled out of control. I sat on my friend's couch for six hours and watched coverage across two channels. By the end of it, I was a fervent mess and totally enthralled. It was a rollercoaster for me of celebrity spotting, emotional regulation and fascination at the bizarre (and beautiful) sacred Christian marriage rites.
For emotional people, weddings are pornographic. The intimacy is so extreme, the emotions so bare faced, the display so public. There is something about two people standing in front of everybody they know and professing their undying love until death do them part that is too much for me. It feels so good and beautiful to me that I become deeply affected and have thus bawled my eyes out at every wedding I've attended, including weddings where I really didn't know the bride or groom very well at all.
While I am in no way negative on the British royal family, I would happily describe my attitude towards them as healthily Australian. I am aware of them, and vaguely dismissive without really caring. But I quickly found the loving sorcery of the event intoxicating.
The coverage was psychedelic and detailed and strange, the presenters given free reign to be gossipy and sugared up, giving updates from news desks adorned with cupcakes and scones, while they held champagne flutes and uttered phrases like 'Fergie is ebullient as always.' It was truly awesome. We sat on the couch for, I don't know? Six hours?
It occurs to me that a royal wedding is deeply invasive. I am very surprised that there are cameras in the church, and that we are allowed to watch the entire ceremony, including close up reaction shots from George Clooney and the Queen. This is, of course, the price you pay for generation upon generation of inherited and unquestioned public funding of your royal lifestyle.
Prince Philip, is, of course, still alive, and a wonderment to me. He is so wild, he truly looks like the personification of inherited wealth. I imagine him sitting in a shed in the remotest parts of the rolling hills of Windsor Castle, chain smoking, getting shitfaced on scotch and rolling out every now and then in his wellies to shoot a white rabbit in the face. My friend tells me there is a tribe in remote Vanuatu who worships Prince Philip and believe him to be a divine being.
I look at all the most wealthy and powerful people in the world walking into St George's Chapel in Windsor Castle, in their anachronistic hats and suits, and I realise this doesn't really look like any wedding I've been to. It looks a bit like the 1972 Rothschild's Surrealist Dinner Party, which is, of course, often cited as an Illuminati Sacred Ritual of Sex Magick (Orgy). The men wore suits and the women wore freaky hats, while models lounged around naked, and the table centrepieces were dismembered baby dolls, burning eggs, headless birds and overripe fruit.
I have read magick books which describe the second most powerful magick ritual, still in common practice today, to be marriage. The first most powerful ritual is uncontestedly considered to be the creation and rearing of children. But I digress. The marriage ritual is ancient and complex and lengthy, with strange mini rituals like sex segregated hens and bucks parties (which often involve sexually charged rituals within them, like strippers, or drinking from cock straws); bridal magick seals like the still popular something old, something new, etc; the white dress; the bouquet of flowers, like a bound up witch garland; and the arguably more outdated assurances of a bride's virginity.
Magick priests and ordained Christian priests
The priests are all in robes, and strange hats, with very tall jewel adorned canes. It's a look that I suppose has been adapted by Thelemic Knights, like Aleister Crowley's disciples. Aleister Crowley is often referred to as 'The Most Wicked Man in the World,' who allegedly consorted with Jack the Ripper and found his power while deep inside the tomb of a deceased Pharaoh inside a pyramid in Egypt. A neighbour once told of him using his mind to dismember a house from the roof downward, first peeling all the paint off the walls in small quinnelled pieces. His sex magick 'Do What Thou Wilt' practices are still popular among celebrities – Peaches Geldof got a magick seal tattooed on her arm and tweeted about her spiritual beliefs back in 2013.
At the start of the wedding I heard the Archbishop of Canterbury say to Harry and Meghan (and around 1.9 billion viewers watching at home) that they would honour each other 'sexually.' Hello. I will admit that being raised Catholic is a shame stain that is hard to remove – but there is something about hearing a Priest or Bishop talk about sex that just seems so wild to me.
The end of a marriage ritual is of course sealed with, ahem, consummation, much like Thelemic and pagan (magick) partner rituals which are just widely referred to as sex magick. Aleister Crowley spoke of marriage thusly:
It seems as if the fact of Marriage destroys every natural characteristic, and has a set of rules of its own diametrically opposed in spirit and letter to those which govern Love.
I found these words, though, so anachronistic, as I felt the spell of the Royal Wedding settle over me. I find them anachronistic in the same way I find the idea of gay marriage not being legal anachronistic. Or the way that only white people could give a sermon inside of Windsor castle.
Suddenly Bishop Michael curry was preaching at me, emphatically, about the power of love. 'Love is the way.' My friend, an atheist, tried to interject and be cynical, and I slapped him on the hand and said, 'You are ruining this for me!' I'm sure my eyes were wide, like a cherub on a chapel wall. He was emphatic, soulful and best of all, fearless.
When love is the way — unselfish, sacrificial, redemptive, when love is the way. Then no child would go to bed hungry in this world ever again. When love is the way. We will let justice roll down like a mighty stream and righteousness like an ever flowing brook. When love is the way poverty will become history. When love is the way the earth will become a sanctuary. When love is the way we will lay down our swords and shields down by the riverside to study war no more.
By the end of the coverage I looked around at the scene, which I had created with my friend: two pizza boxes in front of us, and tea cups, soda water bottles, blankets, cardigans, ashtrays, books in piles on every available surface. The scene is like a rumpus room taken over by two delinquent teenagers who are unhealthily binge watching a Netflix series, or also maybe like the carnage of some kind of sacred celebrity worshipping ritual.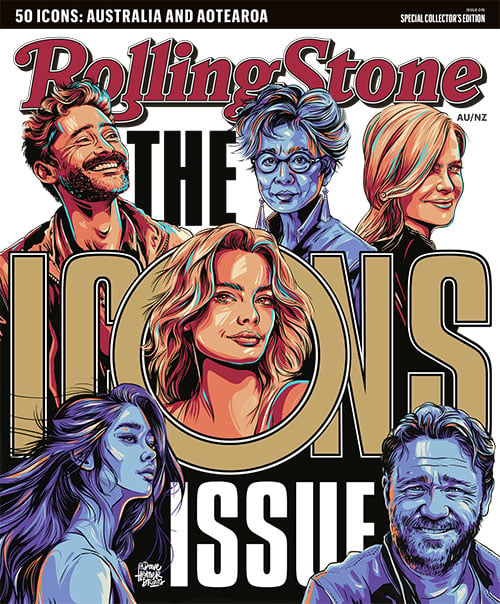 Get unlimited access to the coverage that shapes our culture.
Subscribe
to
Rolling Stone magazine
Subscribe
to
Rolling Stone magazine