Welcome to the BRAG's weekly rundown on what's hot in the coming seven days of cinematic releases. Naturally, I must make some comment on the absurdly expensive spectacle that is the Oscars, but we must also pay tribute to the late, great Bill Paxton.
Bill was unstoppable, a product of trashy genre output that managed to get his mug onto award-winning fare, to which he brought cheek and originality. He will be sorely missed. Game over, man – well played.
As for the Oscars… yes, an (alleged)sexual predator won Best Actor, adivisiveand racist war film by a notorious bigot picked up trophies and, yes, Hollywood once again chose celebrating itself over true innovation and representation (five times)… but HOT DAMN THAT ENDING. A mix-up in the cards meant the wrong film was announced for Best Picture, and the gloating honestly warms my cold, dead heart.
On to the week that is!
I thought well of Alone In Berlin, a sombre character piece set in Nazi Germany – while it is quiet, restrained and morose, it is a timely meditation on small acts of rebellion. Sadly, it looks like I'm alone in that thinking.
READ our full review of Alone In Berlin here
Vincent Perez's gentle anti-war film is buoyed, naturally, by its leads –Brendan Gleeson, in typically stoic fashion, and Emma Thompson, the living portrait of aggrieved motherhood. After the death of their son, the two begin distributing anti-Nazi postcards, raising the ire of the party and a local inspector (the understated Daniel Brühl).

Take in the right expectations – of an unvarnished, simple drama that plays out great historic events in microcosm – and you may be as satisfied as I was. Perhaps even more hopeful about your small role to play.
tl;drEmotional staring.
–
BEFORE I FALL
It's junior drama Groundhog Day! Zoey Deutch stars in another adaptation of a best-selling novel in which history repeats itsahahah- sorry, couldn't finish that with a straight face.
Deutch was enjoyable in Everybody Wants Some!!, but the material here is tired. Time loop dramas almost inevitably have the same moral outcomes (though there are exceptions), and the same structure.
That's doubly true when your protagonist is in the high school bitch clique, who single out and torment one hapless girl. Before I Fall is ultimately about the stages of grief, but there's better explorations of the same theme.
tl;dr"It's based on a best-selling young adult novel and – "
–
JASPER JONES
First a successful book, then a successful stage play – now Jasper Joneshas made it to the big screen, and it's unsurprising why: it fits the exact mould of every other Australian film ever made.
READ our full review of Jasper Jones here
Don't get me wrong,Jasper Jones is a thought-provoking story told with visual panache – but it's also a male coming-of-age tale set in rural Australia that focuses on the landscape of the bush and features Toni Collette as someone's mum.
More surprising is that director Rachel Perkins would not foreground the indigenous struggle at the story's heart, or showcase her usual flair. Instead, she teams young stars Levi Miller and Aaron L. McGrath with Hugo Weaving to deliver something the Sydney Theatre Company subscriber base will lap right up.
tl;drtfw funding bodies only back films that look like other successful films
–
LOGAN
RT: 95%
Holy cow, that critical score. On a superhero movie!Logan is (allegedly) the last we'll see of the Wolverine, and Hugh Jackman's going all out in this gritty finale. Presumably it's the end because they've run out of names.
READ our full review of Logan here
This closing act is said to defy genre conventions, and Patrick Stewart is on top form in the promotional material. Logan's last stand may just be his finest. I mean, the second trailer is BADASS, featuring a mini-Wolvo kid who slices and dices with the best of 'em.
Then again, it wouldn't really be that hard to outdo efforts like this. Will the Wolverine finally know some peace? I'm just terrified that Professor X may be on his last legs…
Sorry, that was inappropriate.
tl;dr tbh it's probably "the last time" in the John Farnham sense.
–
MISS SLOANE
RT: 70%
Power-dresser Jessica Chastain could not be a better fit for Elizabeth Sloane, a formidable lobbyist in Washington, D.C. and self-described "gold medalist in ethical limbo", whose passion for powerbroking makes her a formidable opponent. She looks like she's channeling Samantha Power, but on a different moral plane.
In this timely tale, Sloane leaves her successful firm in order to face off against the American gun lobby, in an attempt to pass gun control legislation. A foe of such immense influence naturally proves dangerous for the careers (and lives) of Sloane and her allies.
It's said that the ending works hard to undo much of the pros of Jonathan Perera's Black List-ed script, but seeing Chastain square off against John Lithgow in a verbal sparring is worth the price of admission for me.
tl;drIt's all about the poker face.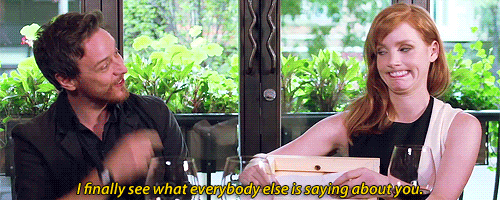 –
And now forTHE VERDICT– maybe you only get to see one of these flicks on the big screen, and you don't wanna waste that night out. So, drum roll please…
This is a solid week of cinema, folks, and while I want to say defy the critics and ponder your capacity for heroism withAlone In Berlin, the combo of entertainment factor and critical acclaim make Logan the obvious choice.
Until next week!
Tell Us What You Think