Welcome to the BRAG's weekly rundown on what's hot in the coming seven days of cinematic releases. Oscar season is in full swing – I hope you've tuned your heart strings, 'cause they're about to get a hecka workout.
This week, Denzel directs a heavy-hitter, two tales aim straight for the tear ducts, fathers tussle with sons and one ditzy lass fails to notice the key difference between kinky sex and actual assault.
If these releases prove anything, it's that regardless of where you came from and where you live, the one thing that unites sons everywhere is their difficulty in dealing with their dads.
–
FENCES
Along withMoonlight, this film is leading the charge against last year's #OscarsSoWhite controversy, and thank god for it. Denzel Washington directing and starring opposite the phenomenal Viola Davis, adapted from a Pulitzer Prize-winning play by the late playwright August Wilson himself? GIMME.
Troy Maxson (Washington) dreamed of a baseball career, but lived in a time when black players were not hired. As he and his wife Rose (Davis) struggle to make a life for themselves and their son, Cory (Jovan Adepo), Troy's actions threaten to destroy everything they've built.
This is theatre on screen – expect linguistic prowess, exceptional acting and hecka feelins.
tl;dr Two acting Oscars, noms for Best Picture and Best Actor on a film he directed and starred in, and still humble.
–
A STREET CAT NAMED BOB
RT: 76%
It's the heartwarming tale of a man at the bottom whose life is saved/changed by the arrival of an unexpected animal companion. I'm taking bets now – this cat's a goner.
READ our full review of A Street Cat Named Bob here
Harry Treadaway (of the excellent Honeymoon and Penny Dreadful) is the down-and-outer, a homeless busker whose chance meeting with a street cat (guess who?) leads him to seek a second (ninth?) chance in life. It's like a homeless version ofOnce, if Markéta Irglová were a cat.
While this kind of unabashed emotion-milking is not strictly my cup of tea, I'll back any film that champions the work of The Big Issue and the difference it makes to the lives of the disadvantaged. Hopefully some of the box office will go the publication's way.
tl;drI'm telling you man, it's coming…
–
FIFTY SHADES DARKER
To the sounds of a thousand repressed housewives' panties tearing off, the Fifty Shades saga gets its second entry, and brain cells around the world die. I'm not opposed to erotic fiction, or fantasy fulfilment, or even fetish – my issue lies in just how horribly, dangerously wrongFifty Shades interprets its origins.
If you haven't read Katrina Passa Lumsden's phenomenal takedowns on the book series, please do so now. (Her formatting actually inspired TL;DR, wouldja believe.) She's said as much as need be said about the books, but it's terrifying to see how successful this genuinely toxic representation of fetish continues to be.
Ladies, you deserve better. Abusive sociopaths do not good lovers make. If kink (or even just good, healthy sex) interest you at all, the illiterate E.L. Jamesand her producers should not be your go-to for titillation.
tl;dr Fuck this movie. Learn more about kink. Watch Secretary.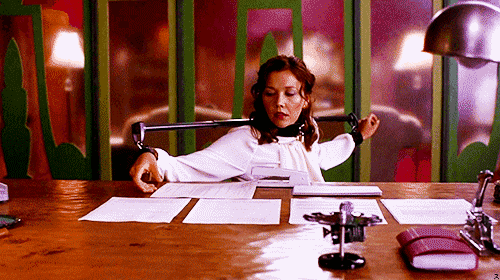 –
TONI ERDMANN
RT: 92%
A senior dude badly disguises himself in order to rekindle his bond with his daughter – that's right, it's the foreign language drama version of Miss Doubtfire, from the producer of the colossal Arabian Nights.
It's also a critical smash and such an enticing prospect that it's lured Jack Nicholson out of retirement to reprise Peter Simonischek's dual performance as Winfriend and alias Toni Erdmann. The false identity is that of a bold life-coach, created to keep practical joker Winfried close to his daughter Ines (Sandra Hüller), a career-minded strategist.
Some critical circles tout it as 'arthouse' cinema, but they're wankers who assume anything subtitled is high art. It's just an oddball German film about a goofy dad who craves his daughter's affection. Fall in love before the Yanks ruin it.
tl;dr Only a great actor can truly camouflage themselves.

–
DUCKWEED
This Chinese drama follows a young man estranged from his father, whom he believes does not understand his life or work. Through a twist of fate (I'm guessing time travel), he experiences his father's past firsthand.
According to a Variety review, it's a bit below standard for directorHan Han but still a fascinating insight into the generational relationship between millenials and their parents in China, dissimilar to that of second/third-gen Aussies.
FYI a duckweed is an aquatic plant that bears no roots – PRETTY CLEVER YOU GUYS.
tl;drBoohoo my parents don't get me.
–
And now forTHE VERDICT– maybe you only get to see one of these flicks on the big screen, and you don't wanna waste that night out. So, drum roll please…
Swing for the Fences, dear readers. Then hope and pray that Denzel knocks all dem other nominees out the park, ESPECIALLY scumbag Casey. And Viola, too – LOOK AT THIS OSCAR SNOT.
Until next week!
Tell Us What You Think