With cinemas having reopened across Australia (and hopefully reopening soon in Victoria), we thought it was about time we ranked some of the greatest movie snacks.
Both HOYTS and Event Cinemas have opened their doors to the public recently, and while studios might not be releasing a stack of new films, there's still plenty to go and see (including some old classics).
No cinema experience is complete without a trip to the Candy Bar, with something salty a necessity to get things started (often followed by something sweet).
For the sake of this list, we've included both food and drink options as "snacks".
And if you're unhappy with our picks, well, that's tough luck, but hopefully there are no arguments about #1.
Now you may also be wondering what authority I have to be choosing this list. Seven years as a cinema worker. That's what!
Here we go:
Love Food & Drink?
Get the latest Food & Drink news, features, updates and giveaways straight to your inbox Learn more
#10 – Twisties/Burgers Rings
The two are pretty much the same consistency, so we've grouped them together on this list. Both are great options, and Twisties are obviously doing pretty well because there've been some pretty wacky flavours come out over the years. Burgers Rings are massively underrated in my opinion as well.
Facebook/Woolworths
#9 – Mars Pods
It's pretty incredible to think that Pods is a brand of Mars products that was launched in Australia, and has gone from not existing to being a staple of the confectionary market. Mars-flavoured Pods are a pretty solid choice of movie snack.
Facebook/Pods
#8 – Peanut M&Ms
This is certain to ignite the Peanut vs Crispy debate (because really, who goes for regular old M&Ms these days?). Peanut M&Ms are pretty fantastic, but from my time working at the cinema, Crispy were regularly the more popular snack.
Facebook/Mars
#7 – Snickers Pods
The pinnacle of Pods, combining biscuity goodness with chocolate and a beautiful Snickers inside. A pack of Snickers Pods is guaranteed to enhance any cinema experience (sorry Twix Pods lovers).
Facebook/Pods
#6 – Salt & Vinegar Chips
This could be a controversial choice this high on the list, but Salt & Vinegar chips are one of those underrated movie snacks that you'll never regret getting your hands on. Just make sure you're trying to limit crunching during quiet scenes!
Facebook/Smiths
#5 – Crispy M&Ms
The superior Crispy M&Ms are a party favourite, and also perfect for any cinema sesh. Just make sure you've got a bag to yourself and ignore the joke of a 'portions per packet' advice on the site.
Facebook/Mars
#4 – Frozone/Frozen Coke
The humble Frozen Coke, otherwise known as a Frozone, is a versatile yet fantastic movie supplement. The beauty lies in the fact that you get to sip throughout pretty much the whole film, as the frozen goodness melts along the way.
Facebook/Event Cinemas
#3 – Maltesers
'Ya jokin' should've been higher!' I hear you cry. To be honest, this could probably have been in 1st or 2nd spot, but Maltesers have probably suffered from their versatility here. The top two spots have been reserved for the most traditional of movie snacks.
Facebook/Maltesers
#2 – Choc Tops
There's no shame in coming second on this list, and also it would have been impossible to break out all the new flavours of Choc Tops these days. Perfect no matter whether it's a hot or cold day at the flicks, or whether you're a classic Vanilla flavour or more adventurous with a Salted Caramel flavour.
Facebook/Bulla
#1 – Cinema Popcorn
While many items on this list can be replicated at home for a good old *insert streaming service here* and chill, there's nothing that compares to popcorn fresh from the popper.
The perfect amount of salt, popped en masse, straight into a tub and into your hands. It's the perfect way to start or finish any movie.
Plus, it's so versatile. Some like to add Maltesers, some dip their choc-tops in. I'm not one to judge. You do you!
Facebook/HOYTS Australia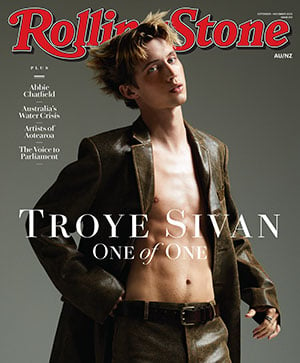 Get unlimited access to the coverage that shapes our culture.
Subscribe
to
Rolling Stone magazine
Subscribe
to
Rolling Stone magazine