Ugly Phil and Jackie O Henderson rose to fame together in the early 90s when they co-hosted "Phil O'Neil's Hot 30". The couple continued to work on various radio shows together and got married in 1995 but split four years later.
Ugly Phil, real name Phillip Surridge, has had an accomplished radio career across Australia and the UK, however, his ex-wife Jackie-O's success largely trumped his. And, Ugly Phil has now revealed that he hates being referred to as "Jackie-O's ex-husband".
"That's my claim to fame, my pub quiz answer: 'Who's the ex-husband of Jackie O?'" he told host Jess Rowe on the latest episode of LiSTNR's The Jess Rowe Big Talk Show.
He added, "I was at a pub in Glebe, and that question was asked, phrased 'What ex-famous person used to be married to Jackie O?' The worst thing was, nobody knew the answer!"
Speaking of Jackie-O's successful career – which really began to thrive when she teamed up with Kyle Sandilands in 2005 – Ugly Phil sang her praises.
"She's been very, very successful at what she does. She has a great show and she's worked very hard to get where she is. But our on-air period was a long time ago," he said.
During the interview, he opened up about continuing to work alongside Jackie O while they were going through a divorce.
"It was difficult – whenever two people part who were married, there's a rocky period. To continue doing a radio show in the middle of that, especially when people didn't know we were married, was difficult – but we worked our way through it," he said.
Both Jackie O and Ugly Phil have remarried. Ugly Phil to iHeartRadio producer Samantha Clarke and Jackie O to Lee Henderson – who she divorced in 2018.
Sadly, Ugly Phil was diagnosed with multiple sclerosis six year ago and he opened up about his battle with the degenerative disease.
"I broke down [when I was diagnosed]. I cried. Sam cried. For about 10 hours. The following morning I woke up and went, 'Well, this is day one, I'm going to see my neurologist.'"
"When you initially get diagnosed you worry about other things, like how will your friends act, how will people judge me. You don't want to be the guy with MS. I have MS, but MS doesn't have me," he said.
For more on this topic, follow the Internet Culture Observer.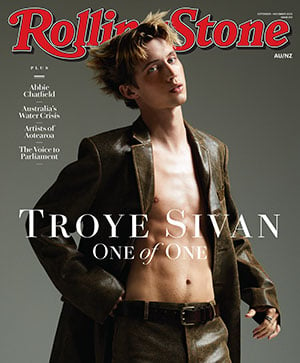 Get unlimited access to the coverage that shapes our culture.
Subscribe
to
Rolling Stone magazine
Subscribe
to
Rolling Stone magazine