Orange County punk band The Vandals have been releasing music since 1980, with the most recent of their 11 studio albums being 2004'sHollywood Potato Chip(a title that comes from a euphemism for a semen stain on a casting couch).
However, the band's name stretches even further back into history. As we understand it, a vandal is one who wilfully or maliciously defaces or destroys public or private property. But the root of the word lies in the actions of an East Germanic tribe from around the fifth century AD, the Vandals, who sacked Rome in 455AD. From then on, the name has been associated with the concept of trashing the establishment.
Fans of The Vandals (the band) are frothing with anticipation for the group's forthcoming Soundwave tour, and the feeling is mutual. Australian audiences hold special significance for guitarist Warren Fitzgerald, who says unlike Americans, fans Down Under tend not to take themselves too seriously. In fact, the whole point of The Vandals has been to issue a wake-up call to an overly self-important society. "And not just Americans," Fitzgerald says, "but also bands, punk rock bands – why are you guys such pussies? Why take things so seriously? You're a punk band, come on guys, lighten up!"
Fitzgerald prefers to follow in the footsteps of a band like British three-piece Gang Of Four, who take a staunch political stance in their lyrics without losing their sense of humour. "There's a subtle wit to that band," says Fitzgerald, "and I love Gang Of Four because they were interesting musically, they were taking themselves seriously in making music but doing it with their own voice, as opposed to: 'We got to sell to be a popular band right now, right now, it's really important that people like us otherwise no-one will ever have sex with me!'"
It was not only The Vandals' commitment to punk ideals that allowed the band to withstand a rocky first eight years in existence from 1980-88 – including multiple lineup changes – but also the strength of the punk scene around Huntington Beach in California's Orange County. However, as well as being the birthplace of an influential music community, Orange County is one of the most bourgeois parts of the state.
"I didn't realise how conservative Orange County was," says Fitzgerald, "until Facebook came around and all these assholes I went to high school with are born-again Christians who are super conservative and I'm like, to myself, 'What?! You were a heroin addict when I knew you!' I was oblivious to it when I grew up in it because I felt like a weirdo, but I thought I'd feel like a weirdo anywhere."
Fitzgerald is supremely busy outside the band these days, serving as head of The Vandals' own imprint, KungFu Records. The label released what many regard as The Vandals' breakthrough record, Fear Of A Punk Planet, and was partly responsible for launching the career of pop-punk act The Ataris. According to Fitzgerald, it's the band members' outside pursuits that have allowed the band to last so long.
"Part of the way that we manage to stay together and do what we do is [the idea] that if you're taking it too seriously, trying to be professional, then what the fuck are you doing in a punk rock band? We always treat it like our joke – the day we have a band meeting is the day we're breaking up because we are having band meetings."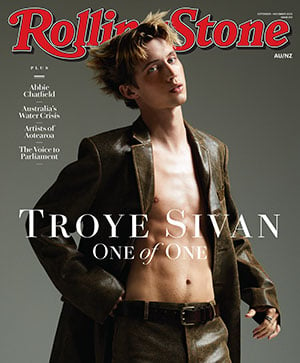 Get unlimited access to the coverage that shapes our culture.
Subscribe
to
Rolling Stone magazine
Subscribe
to
Rolling Stone magazine