Although hip hop in Australia has been a part of the underground music scene since at least the '80s, it wasn't until the 2000s that the genre started to gain momentum. First came a top 40 hit in 2002, the unfathomably catchy 'Karma' from Melbourne's 1200 Techniques. It would take another four years for Adelaide trio Hilltop Hoods to score the first number one album for the genre in The Hard Road – an album that, it should be stressed, was Hilltops' fourth and came nearly 15 years after the group initially formed.
Over the course of the 2000s, hip hop in Australia went from being a carved-in niche to a national phenomenon. In 2017, the game has changed once again. The genre is evolving, adapting and progressing on multiple fronts – which is not to say it's perfect by any means, but there unquestionably are a lot more positives to its current state than negatives.
Hau Latukefu, also known as Hauie Beast, is a Canberra-raised and Sydney-based MC of Tongan descent. He is one half of ARIA-winning hip hop duo Koolism, a solo artist in his own right, and has been the host of The Hip Hop Show on triple j since 2008, when he took over the role from Maya Jupiter.
Latukefu has been a part of the Australian hip hop scene for around 25 years, and he notes some significant differences in both sound and the culture surrounding it since he took the reins of The Hip Hop Show.
"When I first started on the show, there was a certain sound hip hop had in Australia," he says. "A lot of artists felt the need to try and pinpoint a sound triple j would pick up – this was a time when acts like Hilltop Hoods and Bliss N Eso were really hitting their straps, so as a result there were a lot of artists trying to sound like that. At that point, it was very white too. Unfortunately, that led to a redneck element creeping into the scene – not so much in the artists, but in the listeners. It's not what I had envisioned at all."
Seth Marton, a Melbourne-based MC who performs under the name of Seth Sentry, also recalls the late-2000s stagnation in local hip hop. "I think for a while there, people in Australian hip hop were stuck just solely listening to one another," he said in an interview with the BRAG around the release of his second studio album, Strange New Past. "It was that whole 'support Australian hip hop' movement, with the stickers and stuff.
"Australian hip hop is definitely a grassroots movement, and I think supporting one another is an important aspect of it. I just feel as though we were too caught up in that whole thing for a while. It kind of held us back a bit."
In that same interview, Marton expressed a generally positive outlook on where the genre was headed. "I like where it's at now," he said. "I like that there are more people pushing the envelope. There was a period there where things were quite stagnant – I don't know if that was to do with a comfort zone or maybe it was to do with fear of breaking out of a certain mould. I think, now, people are doing whatever the fuck they want. That appeals a lot to me."
Another group of artists who have noted key changes from their inception to the present day are Thundamentals, who recently scored their highest chart success yet with their fourth LP, Everyone We Know. In an interview with Wil Wagner of The Smith Street Band for a Tone Deaf feature, Jesse Ferris – better known as MC Jeswon – spoke highly of the evolution hip hop has undergone in Australia.
"When we started out, it was impossible to fathom that hip hop in Australia could grow into the thriving industry that it is today," he said. "It used to really be a clandestine movement, supported largely by the participants within the culture. There was little to no airplay for hip hop artists, with the exception of specialist community radio shows. The thought of hip hop artists being invited to perform at music festivals was laughable.
"We never would have predicted that Australian hip hop would go on to be regarded as a respected genre within the wider Australian music landscape. There is such a wide diversity of artists, sounds and stories now within the scene. We just feel blessed to be able to contribute our voice to the conversation."
That [multicultural] representation has been in the hip hop demographic of Australia since the early '90s – maybe even before. It just seems to be getting the coverage that it deserves now.
So, what exactly makes Australian hip hop great in its current form? For one thing, it's fearless. Many of the best hip hop albums produced in this country over the last few years have been bold and uncompromising in their depiction of institutionalised and structural racism, as well as inequalities and injustices for marginalised communities.
Perhaps the biggest Australian hip hop release of 2016, after all, was the AMP-winning Reclaim Australia – the debut LP from A.B. Original, comprising indigenous MCs Trials and Briggs. Consider, also, albums such as Last Of Kin, the 2011 LP from Deadly Award winners The Last Kinection, and Phoenix, the crucially underrated 2013 album from Adelaide's Jimblah. As reflections of both the solidarity and power of this nation's First Peoples – as well as a glimpse into the ugly side of how they are routinely treated and depicted by society at large – albums like this are essential listening.
One can also look to individual singles, which stand as some of the few real protest songs in contemporary Australian music, like Horrorshow's 2015 effort 'Any Other Name', which features the aforementioned Jimblah as well as veteran MC Urthboy and indigenous singer-songwriter Thelma Plum; and 'Change The Date', the NITV-developed posse cut that brings together artists such as Birdz, Nooky, Tuka and Kaylah Truth to protest the use of January 26 as Australia Day.
That's not even to mention the grassroots campaign to get the aforementioned A.B. Original into the triple j Hottest 100 with their similarly themed track 'January 26', featuring Dan Sultan. In a countdown that garnered over two million votes, the song made an impressive dent by arriving at number 16, while the group's reworking of Paul Kelly's 'Dumb Things' alongside the man himself also entered the top half of the list.
For Sukhdeep Singh – a Western Sydney MC of Punjabi descent who has released two acclaimed LPs under the moniker of L-Fresh The Lion – talking about personal issues through something as intrinsically linked as music is now second nature. Speaking to the BRAG in November 2015, Singh explained that the medium and his message are one and the same.
"It's interesting when you're discussing something like the issues of racism with other people," he said. "For me, it's something that I have experienced my entire life. It's one of those things where people can respond by either listening to what it is that I have to say, or by talking over me – making their mind up about me before I've even said a word. Some folk just have that immediate agenda. That's when you get people responding in a really harsh way. I don't come from a place of anger or hatred – I come from a place of genuine love for community and for the country that I was born and raised in."
Singh is representative of another key aspect of hip hop's newer wave: the pride it takes in its multiculturalism. More backgrounds, more countries and more sonic elements are now part of the melting pot than ever before. One of the most popular hip hop acts in the country, for instance, is Melbourne duo Remi, who sold out national tours last year on the back of their widely acclaimed second album, Divas & Demons. The band is comprised of Remi Kolawole, born to a Nigerian father and raised in Moorabbin, and drummer/producer Justin 'Sensible J' Smith, whose parents migrated from South Africa. In a recent interview with the BRAG, Smith said this level of visibility for the diversity of the genre was – while entirely welcome – also well overdue.
"It really shouldn't come as a surprise – [people from different cultures] have been a part of this the entire time," he said. "Still, it's getting more attention and more time in the media. It's taking over festival bills. It's so great to see. That representation has been in the hip hop demographic of Australia since the early '90s – maybe even before. It just seems to be getting the coverage that it deserves now."
It's a notion that is being deftly observed by those on the outskirts of mainstream Australian hip hop, too. In what is already an excellent series, Acclaim writer Kish Lal is currently speaking with women and non-binary people of colour involved with hip hop whom she feels are "overlooked, spoken over and ignored". Lal, while noting an imbalance as far as successful Australian hip hop acts are concerned, is still positive about what the genre is doing for folk who are oft-maligned in the bigger picture.
"Once you delve beyond our mainstream charts," she writes, "there is a rich and deeply interconnected community of artists creating hip hop that isn't serving lyrics about popping pills at Pyramid Rock. It's political; it dives into race issues, queer issues, trans issues, stories of anger and of joy."
If you look at the history of hip hop in Australia and around the world, there have always been successful women.
Along with this cultural diversity comes a considerably important step forward in genre diversity. More and more, young women and girls are able to see themselves in key figures of Australian hip hop. Among them are the prodigious teenage MC Mallrat, who recently sold out a run of dates with little more than an EP to her name, as well as the ferocious, poetic Sampa The Great and the boundlessly energetic Tkay Maidza. For Sally Coleman – one half of Sydney hip hop duo Coda Conduct – the rise of women in terms of visibility is a significant one, but not always for positive reasons.
"What's really interesting to look at is the waves that we've seen before," she says. "If you look at the history of hip hop in Australia and around the world, there have always been successful women. In Australia, it was MCs like Maya Jupiter and MC Trey back in the '90s and early 2000s. Obviously, back then, hip hop wasn't making radio – especially Australian hip hop – but as far as the scene was concerned, women like them were doing big things.
"What we've seen is a drop-off of sorts as hip hop in Australia has arrived commercially – the long-serving artists like Hilltop Hoods ended up getting played on Nova, whereas the women of the time disappeared. It's important to keep in context that, for women in hip hop, this isn't a new thing. We need to be aware it has every potential to drop off again. We can't be complacent and just think that we've fixed that problem. Keeping a level of representation is a constant battle. It needs to be continually addressed, or else we will face the same problem in ten years' time."
Maidza, in particular, has been focused on by local press as one of the new faces of Australian hip hop, and her praises have been sung by the likes of Killer Mike, Mark Ronson and Charli XCX. It's not something that's lost on Maidza, who expressed to FasterLouder in 2015 that she doesn't take her position for granted whatsoever. For her, it's about following in the footsteps of her own inspirations – a tradition she hopes continues with future generations.
"When I started, there was a rapper called Miracle who was getting signed to Sony," she said. "He's Ghanaian, and I thought that if he could do it, so could I. Azealia Banks, too – I saw someone who loved dance music just as much as they loved hip hop. That's what inspired me to start making music. It was that simple. It's the same in any situation when you're young, really – you see someone doing something; someone like you. It connects with you – you feel the need to want to do it yourself. There's always going to be waves of those people, especially in music. If I'm that person to any young girl or any young black kid – or both – I think that's really amazing, and really cool."
Another proud advocate of women in Australian hip hop is Brisbane rapper Kaylah Tyson, who performs under the moniker Kaylah Truth. Having toured nationally and performed with acts like TLC and Lupe Fiasco, Tyson has unquestionably paid her dues – and with her latest single, 'Wave', she is currently in the top 20 on the triple j Unearthed hip hop charts. Tyson notes a considerable shift in the scene's attitude towards women and non-binary people – one that she perceives as being a positive step forward.
"It has been harder for some women to be taken seriously in the past," she says. "There was a time when the sound from artists like Mallrat and Tkay would never have been called hip hop, because it doesn't emulate the boom-bap or skip hop sound. The beauty of the new wave of artists is that there seems to be an appreciation for those that don't box themselves in. As we slowly multiply, and the new generation begin to experiment with their sound, we see a wider audience showing interest in artists that display elements of hip hop in the mix of their craft.
"In Brisbane alone, there is a greater plight for inclusivity of artists of varying gender, sexuality, musical influences and so forth. In general, there just seems to be more interest in hearing different voices now – hence the increase in the number of women being truly acknowledged in the scene."
Both Maidza and Tyson are the type of artists who stand boldly and proudly on their own. That may seem like an odd thing to comment on, but it's worth taking into consideration that a lot of Australian hip hop's boom was brought about by collectives, crews and labels. Elefant Traks, Big Village and Obese Records were just some of the key names that made up the building blocks of the country's hip hop scene – who you represented was a crucial matter in determining your own identity as a performer.
Although labels like Elefant Traks are still proudly running to this day, the focus has shifted more onto the individual acts themselves, with many choosing to go their own way, so to speak, and not be defined by the crew around them.
One such artist is Tom Gaynor – a rapper, singer and songwriter originally from Adelaide who moved to Melbourne to pursue music under the name of Allday. Now based in Los Angeles and having just released his second studio album, Speeding, Gaynor has commented in the past about feeling somewhat of an outlier as far as Australian hip hop is concerned. For him, forging his own path was the only thing that made sense.
"The weird thing is that I was at hip hop shows and battles in Adelaide when I was around 12 or 13," he says. "I was at all the historic events of that era – I was definitely a little Aussie hip hop kid, catching CDs all the time. I feel like, by the time I was old enough to make my own music, I no longer related to that subculture as a whole. I didn't want to be bound by living up to the expectations of a bunch of old dudes that were living in a bygone era. I didn't see anyone whose life I wanted to replicate.
"I'm glad I did my own thing. There was no-one I had to suck up to or bow down to. It's never been a big deal – it's just the way things unfolded."
Gaynor is quick to point out, however, that he holds no ill will against the scene at large. "I love so much music that's coming out of Australia," he says. "I just did a song with Erik Sanders ['In The Air']. I love Gill Bates. I love Tkay – of course, she's from Adelaide too.
"I may like to poke and prod when I talk about it in interviews, but Australian hip hop has a really good history. There's been a lot of good music, and it took a lot of their music to exist in order for artists like me to exist. I'm on Twitter, I'm on Facebook – if anyone wants a list of great Australian hip hop albums to dig into from its history, message me."
Tyson backs the notion of making your own way in Aussie hip hop. "I believe the change in mentality that we are witnessing is actually a result of artists moving away from the crew mentality," she says. "Repping your label doesn't seem to be as much of a thing, as more of us are doing it independently. Having more creative control over your own craft is empowering, and you're less likely to tear others down when you're happy within yourself."
For an artist like Latukefu, who came up through hip hop at a time where cliques and crews were a package deal within Australian hip hop, he is able to see the points made by artists like Gaynor and Tyson. He does feel, however, that perhaps the proverbial baby is being thrown out with the bathwater.
"I think it's a generational thing," he says. "Millennials have the confidence in themselves to get out there and achieve whatever they set out to do. When I was coming up, we didn't have the internet. Phones weren't really a thing. We had to go out to record stores, and we'd meet people that way. There were hubs where you would meet like-minded people at that record shop or at a gig. I really feel for the generations coming through that never had that. It might not feel like a big deal to them, but it was a really beautiful thing.
"There are definitely still some awesome collectives around, but there's definitely a focus more on independence now. I feel like it breeds healthy competition, and there's definitely room for everyone to succeed."
There's no gatekeepers any more. All the ones that were there before are at home with their kids.
With acts like Gaynor and Maidza making inroads over in US, not to mention artists like Remi finding a surefire following in Europe, the crucial question is thus: what will it take for Australian hip hop – long thought to be too far carved into a niche to succeed internationally – to break out on a global scale?
For Tyson, the vision is simple – keep making noise until the higher-ups can hear it. "Major record labels, radio stations and festival organisers need to come to terms with the fact that the scene in Australia is evolving," she says.
"They need to open their eyes to the diverse talent we have in our own backyard and support their local artists. Until then, we'll just keep using technology as our strongest tool to push ourselves, or we do what other talent has done and go straight to the overseas market, bypassing Australia altogether. Let's be real, though – it would be a crying shame for our own country to miss out on what we've got to offer."
Coleman believes there is definitely a place for Australian hip hop to succeed overseas – all it will take is the right artist. "Look at an artist like Stormzy, for instance," she says. "That's maybe the first time a non-American hip hop artist has made it that big in the States. He's never felt pressure to change his music to fit a wider audience. He uses his local slang, he raps in his own accent, he makes music that is relatable to his peers but is also honest enough to relate to a wider audience.
"Hip hop has always been about a sense of place – it's about representing where you're from, grounded in specifics like the names of streets or stores. Intentionally trying to make your music more accessible to a wider audience is paradoxical. People want to hear about you and your experience, which they may not have encountered themselves. If an Australian hip hop artist comes along and achieves that success, it won't be someone who is inauthentic. It will be someone who does it the way that it's always been done – relaying their own stories.
"There will be an artist that will open doors. Tkay is in a great position to do something like that. She's not a traditional hip hop artist, but that's what I feel it takes to break overseas. You can't just be regurgitating what's happening in American hip hop. It needs to be highly original. We've seen artists from different genres in Australia manage to make the crossover, but hip hop is such an American thing that it needs a truly unique spin on it for people to truly take notice."
Whether solo or within a group, black or white, and regardless of gender or sexual orientation, there is one hard and fast rule about Australian hip hop in its clear and present evolution. There are no rules. Collaborations with artists as diverse as Japanese Wallpaper, Gurrumul and Caitlin Park are not only entirely plausible, they produce excellent results. A beat can shuffle, submerge, boom, blip or float. A hook can come in from left-field, from the heart or not at all. There is less and less of a grid to latch onto as the genre moves forward.
"There's no gatekeepers any more," declares Gaynor. "All the ones that were there before are at home with their kids. We're the new gatekeepers. We decide what goes on, and there's so many great rappers that are influencing the way things are going. Genres are just blurring more and more. More popular rappers now sing, as well – definitely more than those who don't."
For Tyson, the widening of hip hop's immediate spectrum has worked wonders on not only her music, but her confidence in it as well. "One particular bit of feedback I got when I released my debut single in 2014 was that I was rapping – so it was kinda hip hop – but the beat wasn't hip hop enough," she says.
"I just created the song ['Oh Diva Me'] without a thought to categorisation, because that's what I was feeling at the time. The whole need for other people to categorise you can rub off and block your creativity, but if you let go and ride the new wave mentality, you might create some next-level stuff that you didn't even know you were capable of."
As for Latukefu, he's going to keep rallying behind the next wave of Australian hip hop over on The Hip Hop Show for as long as triple j will let him. In his eyes, we're in a truly exciting time for the genre.
"I feel like the last few years in Australian hip hop have been really amazing," he says. "I've seen a lot of artists come into their own that are expanding what we're used to perceiving as Australian hip hop. Look at acts like Remi, Sampa, Manu Crook$ and Midas.Gold. We're seeing a lot more stuff coming from Western Sydney and South-East Melbourne, and parts of Perth as well.
"I really feel like we're starting to see the start of the next golden era. There's no rules. It's an open slate. People are making the music they feel like making, as opposed to the music that might get them airplay or whatever.
"For me, it's one of the most exciting times for hip hop since I started out."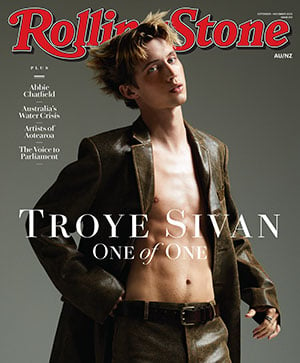 Get unlimited access to the coverage that shapes our culture.
Subscribe
to
Rolling Stone magazine
Subscribe
to
Rolling Stone magazine