Welcome to the BRAG's weekly rundown of what's hot in the coming seven days of cinematic releases. This week sees a bumper crop of big-name releases across the genre spectrum, and more Aussie faces than you'd find in a British pub.
Whatever you're hunting for – whales, truth, a Christmas miracle, a new high or a new inspiration – there's something for you on the big screen this week.
IN THE HEART OF THE SEA
I'm of the impression that the easiest thing in the world is being Chris Hemsworth. Not that I dislike him, I just think his life must be an absolute doddle. He's here and he's soaking wet for 90 per cent of the film, so it doesn't matter what you think of Ron Howard's new epic – it's box office success is guaranteed.
In The Heart Of The Sea is uber-masculine and as grandiose as one expects from Howard, but it's also littered with thrilling experimental (read: GoPro) camera work and a heart that's surprisingly modern. It treats the prospect of whale hunting with the requisite level of disgust that your average post-Blackfish audience demands.
Also, sidenote: the cast list reads like the casualty list from Game Of Thrones.
tl;dr There's something else in the lake…
–
KRAMPUS
Now THIS is my kind of Christmas movie. OK, yes, commence your Grinch accusations, but I'm sure we all agree that the Christmas movie season is the least wonderful time of the year. Trick 'r Treat helmsman Michael Dougherty could not be a more welcome addition, here to balance out the saccharine with some good old-fashioned black comedy.
It's copped an M-rating, so it definitely won't be one for the gorehounds, but for those whose families aren't interested in the standard sentimental deck-the-halls garbage, it may prove a winner. Also, it has Ben (Adam Scott) from Parks & Rec! And Toni Collette!
tl;dr The perfect film for that special holiday feeling…
[Alright, I've referenced it enough times now to reveal that Invader Zim: The Most Horrible Xmas Ever is my favourite Xmas-related thing. Consume it, filthy stink children.]
–
THE END OF THE TOUR
To the readers of the world, David Foster Wallace is a source of great inspiration and frustration. His gargantuan 1000+ page Infinite Jest is listed among Time Magazine's greatest English-language novels, and yet this man of great intellect and pathos died by his own hand in 2008.
It was to wide dismay that lovable freak/geek Jason Segel was cast in the role, but the response has been glowing for this Oscar-bait road trip wherein the author is paired with Mark Zuck- sorry, Jesse Eisenberg.
tl;dr Segel is a serious actor who can do all the emotions.
–
THE NIGHT BEFORE
Yaaaay, it's another film about how Seth Rogen is a man-baby who does drugs.
I honestly don't see the appeal. Rogen's brand of tired gross-out jokes and 4:20-worshipping attitude don't shock, surprise or amuse anymore. It's profoundly less edgy now that weed is legal in much of the States.
This new film about the fear of responsibility and growing up (read: most of Rogen's films) sees him and his schtick feel like those of a tired old man. Even Joseph Gordon-Levitt looks bored.
tl;dr That face when the real Freaks & Geeks success story ends up being Jason Segel.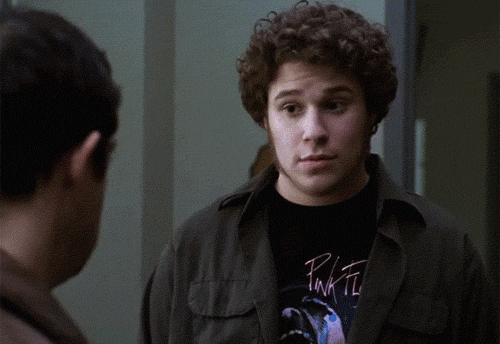 –
TRUTH
As we saw earlier with Hemsworth, Aussies make bank, y'all. The casting agent for Truth definitely had that impression, with lead actor Cate Blanchett flanked by Noni Hazlehurst, Steve Bastoni and Martin Sacks.
If your sense of moral outrage needs stimulating, here's your film. News producer Mary Mapes (Blanchett) is forced to defend her integrity – and that of legendary anchorman Dan Rather (Robert Redford) – after releasing a story on George W. Bush dodging the draft for Vietnam.
tl;dr Taking on our Cate? U MAD?!
–
And now for THE VERDICT – maybe you only get the chance to see one of these flicks on the big screen, and you don't wanna waste that night out. So, drum roll please…
This was actually a pretty great week! Truth is an excellent film, brilliantly acted, but it probably won't tickle those in the mood for entertainment. Krampus is a safe bet for those needing a little more Christmas chaos.
Until next week!
Write a Letter to the Editor
Tell Us What You Think