By virtue of this country's unique geography, Australian residents have access to a wondrous variety of cultural experiences and outdoor adventures without needing a passport. If you're a coastal urbanite seeking something different, a trip to the Northern Territory will feel like going to another country.
Although Darwin is home to more than 100,000 people, the NT is characterised by wide open spaces, fascinating native wildlife and landscapes that have an otherworldly appearance. Not to mention its deep cultural significance. Summer in the Northern Territory runs from November until April and it's a tropical summer, with plenty of sunshine and rejuvenating showers.
So, as the NT summer continues for a few more months, here are ten reasons to get away from the city and experience the Territory.
View this post on Instagram

Love Travel?

Get the latest Travel news, features, updates and giveaways straight to your inbox Learn more
Uluru
Most Australian residents will have been aware of Uluru for as long as they've been aware of Australia's geographical expanse. But despite how central the sandstone monolith is to our national iconography, many young travellers opt to take a 24-hour flight to Europe before ever visiting Uluru. 
A trip to Uluru is not only more convenient—a flight to Ayers Rock Airport will take just three hours from most major Australian airports—but the rusty rock satisfies on many counts. 
At its highest point, Uluru rises 348m above the ground (and 863m above sea level), all of which glows a majestic red at sunrise and sunset. Your body and mind will be suffused with a sense of sublime magic as soon as you enter the rock's vicinity. But don't take it from us—the local Yankunytjatjara and Pitjantjatjara people regard Uluru as a place where earth and memories exist as one. 
Kata Tjuṯa
If you travel 40km west of Uluru, you'll happen upon an equally stunning natural wonder, Kata Tjuṯa. Although not as widely recognised as its neighbour, Kata Tjuṯa is no less awe-inspiring. Kata Tjuṯa consists of a multiplicity of domed rock formations, the tallest of which reaches higher than the Empire State Building. 
Kata Tjuṯa comprises a total of 36 domes spanning an area of more than 20 square kilometres. Like Uluru, it glows a stunning red at sunrise and sunset, however a closer look reveals the rock formations to have a marbled, plum pudding appearance. That's a result of the conglomeration of pebbles and boulders, which are stuck together by sand and mud.
BASSINTHEGRASS Music Festival
BASSINTHEGRASS describes itself as Darwin's favourite beachside music festival and we're inclined to agree. Taking place on Saturday 21st May, 2022, this year's BASSINTHEGRASS line-up includes NT's own Jessica Mauboy, hip hop stalwarts Hilltop Hoods, Angus Stone's bluesy and psychedelic Dope Lemon project, classic soul revivalists The Teskey Brothers, avant-pop singer Montaigne, folk-pop humanist Xavier Rudd and plenty more.
14,000 people made the trek to Larrakia country for BASSINTHEGRASS 2021—the biggest turnout in the festival's two decade history. Final release tickets for this year's event are on sale now.
View this post on Instagram
Heli Pub Crawl
Darwin's heli pub crawl is exactly what it sounds like. Airborne Solutions, Darwin's helicopter specialists, have been conducting pub crawls by helicopter since 2007. The crawl takes place across seven hours and stops in at five pubs, while also giving participants an unmatched vantage point from which to appreciate Darwin's harbour and coastline, tropical savannahs, billabongs and creeks.
High-flyers will spend approximately one hour at each of the five pubs, including the coast-facing Lodge of Dundee, the secluded Crab Claw Island Resort and the Goat Island Lodge, which is located 65km south of the Darwin centre.
Florence Falls
Litchfield National Park is 100km south-west of Darwin. One of the park's many natural wonders is Florence Falls, where visitors will find two waterfalls cascading over brown rock into a swim-safe pool. 
The Florence Falls lookout is a three minute walk from the carpark. Here, you can look out over the gorge, surrounding monsoon forest and open valley below. Take the stairs down the gorge rim walk to be rewarded with the refreshment of the plunge pool. Alternately, try the Shady Creek Walk, a more scenic path to the plunge pool, which swerves through woodland and dense forest all the way to the pool.
Throw a rug down next the creek to enjoy a delightful picnic. Florence Falls is also more than charming enough to warrant spending a night or two in the nearby 2WD and 4WD campgrounds.
Top End Safari Camp
Finniss River runs west from Litchfield National Park into the sea at Fog Bay, just south of Five Mile Beach. The river figures prominently in the Top End Safari Camp; a curated tour of distinctly NT activities. 
Travellers can choose between a day tour or an overnight tour. Though, the latter is strongly recommended as glamping in one of the deluxe lotus belle tents is worth the price of admission alone. 
The tour adventures include air-boating down the Finniss River, going up in a helicopter to look over the floodplains, and getting up close with the local crocodiles for a feeding encounter. Tour participants are also provided with dinner on an open star deck, which includes a bar.
Yellow Water Cruises
Kakadu National Park covers close to 20,000 square kilometres in the northern part of the NT. The dual World Heritage-listed location is one of outstanding natural and cultural integrity. And while there's no easy way to experience it all in one go, Yellow Water Cruises provide an optimum introduction. 
Yellow Water (Ngurrungurrudjba) is part of the South Alligator River floodplain in the centre of Kakadu National Park. The Indigenous-owned Yellow Water Cruises showcase the park's rich wildlife, with a chance to witness 60 bird species and explore the many distinct and constantly evolving ecosystems that are found within the Yellow Water billabong.
View this post on Instagram
Natural Waterholes in the West MacDonnell Ranges
The MacDonnell Ranges feature prominently in the sublime watercolours of Arrernte painter, Albert Namatjira. If you're familiar with Namatjira's work, you'll know that the MacDonnell landscape is one of fascinating dualities: desert cliffs alongside bright, healthful flora; red rock surrounding valleys of water.
If you jump in a car at Alice Springs and head due west, you'll be in the MacDonnell Ranges within fifteen minutes. Ellery Creek Big Hole is an hour down the road and the site's known as much for its cold, deep water as its camp site, which includes free gas BBQs, shade shelters, picnic tables, showers and toilets.
Stick to the road for a bit longer and you'll come across Redbank Gorge, a near-permanent swimming hole 155 km west of Alice Springs. Redbank Gorge is at the base of Mt Sonder, the highest point in the West MacDonnell Ranges. There's plenty of exploring to be done before plunging into the Gorge's exceptionally cold water. 
Mindil Beach Casino Resort
Perhaps the idea of leaving creature comforts behind for a holiday of outdoor adventuring doesn't sound so appealing after a couple of years of COVID madness. If you're eyeing off a holiday centred on maximum relaxation and sun-bathed luxury, then the NT can also deliver.
Situated just minutes from the Darwin CBD, Mindil Beach Casino Resort offers luxury resort accommodation and excellent amenities. The complex includes several bars and restaurants, as well pools, spas and beachside walking and jogging tracks. 
The star attraction is the resort's 18+ Infinity Pool, which is part leisure pool and part beachside club and cocktail bar. The Infinity Pool offers food, drinks and ocean views, while also being a short walk from your sleeping quarters.
NT Summer Sale
NT Tourism are offering travellers the chance to save $1,000 off a Northern Territory holiday this summer. Choose from a selection of travel packages and make your booking by Thursday 31st March, 2022.
The options are plentiful, ranging from short stays in Darwin or Uluru; luxury hotel accommodation in Alice Springs with guided tours of Uluru and Kata Tjuṯa; and driving adventures through the Red Centre.
For bookings made through either NT Now or Viva Holidays, travellers will get $200 off for every $1000 spent (up to a maximum of $1,000 off a $5,000 package).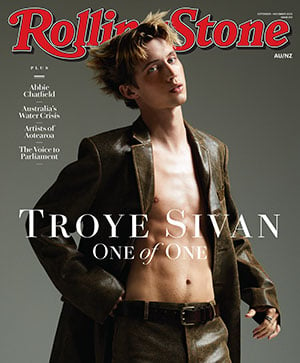 Get unlimited access to the coverage that shapes our culture.
Subscribe
to
Rolling Stone magazine
Subscribe
to
Rolling Stone magazine