40years ago, the Waratah Festival underwent something of a rebirth.
It was a far cry from Sydney Festival as we know it today – a three-week spectacle of hundreds of artists across hundreds of performances, from a variety of disciplines and nationalities – but the ethos has always been celebration and discovery; not just of Sydney and its relationship to the world, but Australian culture itself.
Enter Wesley Enoch. As the festival's new artistic director, he has managed to pull together an exceptional program, but one of the highlights is certain to be 1967: Music In The Key Of Yes. Commemorating 50 years since the referendum to remove language discriminating against indigenous Australians from the Constitution, it is a chance for some of our finest musicians – including Thelma Plum, Dan Sultan, Adalita, Leah Flanagan and Radical Son – to mark one of Australian history's finer moments.
"The way we keep talking about it," Enoch explains, "is that it's a concert of gratitude for the generation beforehand who fought for all the things we have. Here's some music from the period, some songs that celebrate that period, here's some footage from the time, so you can go back and remember what we were like 50 years ago as a nation. How 90.77 per cent of Australians voted 'yes' in that referendum, which is by far the most successful referendum the country has ever had. And this real notion that there was an embracing of what it meant to go through that.
"The '67 referendum was two years before I was born, and my career has paralleled the changes in government policy along the way, from education and health through to housing, through employment, the rise of the artist as a cultural voice. My career is absolutely affected by a celebration in the change of government policy. So this concert is as much a reflection on who we were, and how amazing we were as a country deciding this had to happen, but also as a sense of, 'Here's the gratitude we feel as this generation.' That they could make that change, and we could benefit from it."
"I think it's great that Wesley's there and we have this opportunity," agrees Radical Son (AKA David Leha). "My main experience working with Enoch is that he's very inquisitive. Even though he knows what he wants to do, he makes sure that everyone else has some input. Emerging artists can come and see this, not just indigenous [artists], and see the opportunities.
"I do hear that the live music scene in Sydney compared to Melbourne is bad now – there are a lot more things for emerging artists down there. As a performing artist, I don't do many gigs in Sydney at all. Most of my work is in other states. Not to say there isn't a live music scene here, but I hear it's hard."
It certainly is an interesting time to be celebrating art and culture in a city whose voice has been significantly restricted, but such is the passion of artist and audience alike that the commitment to supporting the arts has never been stronger. Events like Sydney Festival provide a chance to come together in celebration not only of what is, but of what could be.
"What festivals allow you to do is prototype change, to imagine things differently," Enoch says. "It's not about the everyday, it's not every artist or company doing what they've always done. It's a moment of ambition and looking forward, where both audience and artist can learn something from that ambition.
"To be critical of festivals, the danger up until recently is that they were becoming formulaic. What I love about what I'm seeing, especially with a lot of Australians now, is we're saying, 'Actually, this is what I want for a festival. Come and have a look at this!' At Sydney Festival, by asking questions, I was able to shape things. There are people [there] who have been working for a decade or more across different festivals, so they know what it needs, and they knew to ask me, 'What do you find fascinating?' That's what I love about good arts administration. It isn't about dictating what needs to happen because this is the precedent. They say, 'How are you imagining the future?' And that's what the program really represents."
For Radical Son, too, the future weighs heavy on his mind. As a family man, ensuring his morals as a performer and indigenous role model are supported by his daily life is crucial.
"I've got a 17-year-old who's just graduated high school. He's just started his first day of work as a teacher's assistant, and in December he goes for an Australian title in a mixed martial arts competition. And I was saying, 'There is no difference between you and what you do.' I want him to have passion in what he does, commitment, focus, and I think I was trying to show him that – that is me as Radical Son, and that is also how I wish to be as a man, be it as a husband or father. I could see that, that could benefit him. Be it martial arts, assisting primary students to be better, or just himself as a brother."
"Music is able to transcend a whole range of rules," Enoch concludes. "It speaks straight to your heart, and that's what I love about it. Like visual art. You don't always need to understand it intellectually. You can understand it on a very deep spiritual or cultural level. It can transport you in a way that nothing else can. Theatre can engage you in a certain way. Dance, you can feel an energy through that. But it's music that transports you.
"We all search for a soundtrack to our lives. We have a little playlist that we go to that says something about our lives. And that's what 1967 is really all about."
[Pictured above:Radical Son photo by Harvey House]
1967 To Now:
12 Significant Moments In Modern Indigenous Music
1967:
The constitutional referendum to recognise Aboriginal and Torres Strait Islander peoples as part of the Australian population passes with a 90.77 per cent majority.
1976:
The Aboriginal Land Rights Act is passed after the Gurindji Strike, led by Vincent Lingiari. Paul Kelly and Kev Carmody would later write 'From Little Things Big Things Grow' about these events in 1991.
1981:
Radio Redfern begins broadcasting on Sydney community radio station 2SER and serves as a voice of the Aboriginal community in Sydney, playing a vital role in protests against Bicentennial celebrations in 1988. In 2001, Koori Radio launches to give indigenous musicians a vital platform for their music.
1990:
Archie Roach releases 'Took The Children Away', a semi-autobiographical song about the Stolen Generations. The song is awarded two ARIA Awards and an international Human Rights Achievement Award – the first to be awarded to a songwriter for a song.
1991:
Yothu Yindi become the first indigenous band to achieve Top 40 success with their song 'Treaty' from their second album Tribal Voice. 'Treaty' won the 1991 ARIA for Song of the Year and Single of the Year, and Tribal Voice won Best Indigenous Record.
1992:
Hip hop collective South West Syndicate form, including indigenous rappers Munkimuk and Brothablack, who would become instrumental in pioneering the indigenous hip hop scene.
1995:
Christine Anu releases her version of Warumpi Band's 'My Island Home', becoming one of the first indigenous female artists to achieve mainstream recognition. The track wins Song of the Year at the 1995 APRA Awards and is nominated for an ARIA. It goes on to be listed in APRA's Top 30 Australian Songs of All Time.
1999:
Country singer Jimmy Little is inducted into the ARIA Hall of Fame and wins Best Adult Contemporary Album with Messenger. He also wins at the Deadly Awards for Best Male Artist and Best Single Release.
2000:
Midnight Oil perform 'Beds Are Burning' at the closing ceremony of the Sydney Olympics wearing black outfits emblazoned with the word 'sorry' – a protest against the genocide of indigenous Australians and the continual failure of the government to make any kind of apology.
2004:
The first annual NT Indigenous Music Awards are held at the Darwin Festival Club as a way to recognise indigenous talent and contributions to the Australian and Northern Territory music industry. They're now known simply as the National Indigenous Music Awards.
2008:
Geoffrey Gurrumul Yunupingu releases his debut album Gurrumul, sung in both Yolngu and English, and becomes a worldwide success. The album goes three times platinum and is certified silver in the UK.
2014:
Jessica Mauboy performs at the Eurovision Song Contest. Originally from Darwin, Mauboy was runner-up on the 2006 season of Australian Idol and has since released three platinum albums as well as starring in Australian films Bran Nue Dae and The Sapphires.
Ariana Norton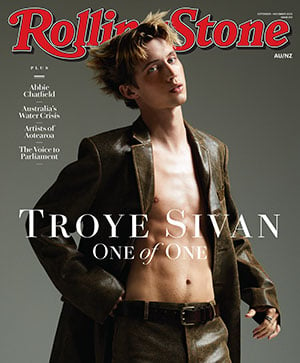 Get unlimited access to the coverage that shapes our culture.
Subscribe
to
Rolling Stone magazine
Subscribe
to
Rolling Stone magazine