As TikTok continues to grow, we're discovering it's not just weird dance trends and celebs getting on board – it's also a useful platform for discovering weird, wacky and wonderful items.
The platform is also chock-a-block with (mostly) useful hacks about everything from makeup and hair to general life tasks that have since proven to make our lives just that little bit easier amid the madness of today's world.
As a result of discovering some super useful products on the site, we've rounded up some of our favourite viral items from TikTok that we never knew we needed in our lives – until now.
You're welcome.
As someone who owns one of these godsends, I can tell you that this item will fast become your go-to loungewear staple.
Available in a variety of designs, each sweatshirt comes with a cozy sherpa interior, a fleece exterior, along with a hoodie and front-mounted kangaroo pouch pocket.
While it may look like something that would be worn by a cult member, the idea of a wearable blanket is truly as amazing as it sounds and I regret nothing.
Price: $39.99
It's hugely important to stay hydrated throughout the day, and this bottle from Amazon is perfect for those of us who are slack when it comes to getting enough H20.
The nifty marked waterbottle even features a time mark to remind you to keep on chugging, while offering cute little phrases like "You've got it" and "Remember our goal" to keep you motivated.
You can also choose from a whole range of sizes and colours.
Price: $28.38
Stop wasting your dosh on Starbucks with this trendy Mason Jar Cold Brew maker.
In case you haven't experienced the absolute delight that is cold brew coffee, it's smoother, less acidic, and it's easier on your tummy and teet than coffee brewed with heat.
Less acidity also means you can better taste all the subtle flavors—like traces of chocolate, fruit, and nut inherent in different beans.
Price: $43.56
Scrunch butt leggings have been asbolutely everywhere across the net, and whethere you love them or hate them, there's no question about how fabulous they make your derrière look.
Price: $25.90 – $28.25
Get gorgeous, flowing mermaid hair with this Triple Barrel Curling Iron that's a cinch to use.
With 1 inch triple barrels, the Alure ceramic curling iron is the perfect tool for creating beachy, professional-looking curls that apparently last all day. You can also use it as a '90s-style crimping iron for hair to change up your look without the hassle.
Price: $29.49
YouTube has the ring light, Instagram has a golden hour, and TikTok has has been dubbed "TikTok lights."
Change your room from drab to fab creative coccoon full of vibes with these multicoloured lights that are easy to install and use.
Hey, if we can't go out to clubs at the moment, why not bring the vibes to the comfort of your own home?
Price: $26.99
We've always known about silk pillows, but the luxurious bedroom additions have seen a major resurgence on TikTok. Not only are they great for keeping your hair frizz-free, they apparently help in preventing wrinkles.
One person reviewed, "I love the smoothness on my skin. It doesn't pull my curls. It's velvety to the touch. I sleep like a baby! I have washed them several times now and they still look and feel like the day I received them."
Price: $36.94
If you're a fan of Apple produts, you'll love this nifty organisational set-up.
It simultaneously charges your iPhone, AirPods, and Apple Watch all at the same time, giving you that fabulous feeling that you somewhat have your life in order.
Price: $36.99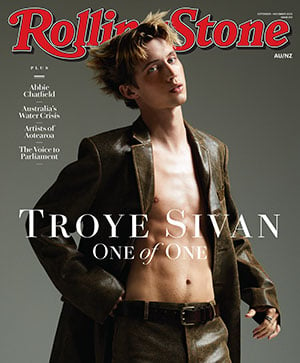 Get unlimited access to the coverage that shapes our culture.
Subscribe
to
Rolling Stone magazine
Subscribe
to
Rolling Stone magazine