Be warned: you might think twice about leaving a review on Google or Yelp again after reading this article. After opening late last year, things were going well for the fancy Bar Bambi. Located on the iconic AC/DC Lane in Melbourne CBD, the venue was the creation of former reality TV star Nick Russian and his wife Rozalia.
Bar Bambi soon became a place to see and be seen, with stars reality TV contestants, politicians, and footy stars mingling at the late-night spot.
However, not everyone has enjoyed the bar's atmosphere. As per news.com.au, Bar Bambi's owners are really not happy after several notable one-star reviews were left on Google about the venue.
According to the stinging reviews, the food was "bland, basic and overpriced"; the service was "horrendous"; one staff member was allegedly "judging everyone".
Clearly not one for criticism, Bar Bambi's management actually responded to one reviewer, claiming "maybe Smorgys (a notoriously bad former restaurant) will be a better option for you."
After reviewer Ruby Scerri blasted "would NEVER recommend Bar Bambi to anyone especially if you like good food and service," Bar Bambi yet again responded through Russian.
"Hi Ruby, all of our guests are treated with respect and equal, so your insecurities of being judged is rather contradictory whilst you've gone to the extent of being so judgmental in your bogus review." The response insisted that "$75 for 5 courses is beyond reasonable but obviously out of your budget."
Love Food & Drink?
Get the latest Food & Drink news, features, updates and giveaways straight to your inbox Learn more
Over on TikTok, Scerri read out other negative reviews about the Melbourne venue, and showed a private message she allegedly sent to Russian on Instagram that read "absolute PIG YOU ARE."
That unsurprisingly hasn't gone down well with Bar Bambi who informed news.com.au that it would be seeking legal action against Scerri and other reviewers.
"The lady in the TikTok has called Nick Russian "absolute Pig you are," they said. "This matter is now in the hands of Bar Bambi lawyers who will be taking action against the person who has created the TikTok account as well as the people who have created fake google profile reviews that is an orchestrated campaign against the venue."
On Scerri's TikTok, she received strong support in the comments. "Always thought the vibes looked off in there," wrote someone about Bar Bambi. "Feel like cancelling my reservation," claimed someone else. "If the owner speaks to customers like this imagine (the) workers," pondered another person.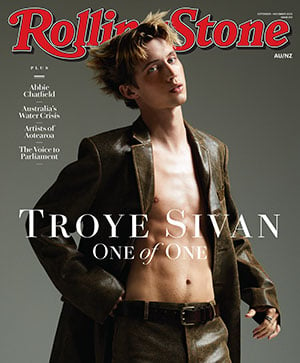 Get unlimited access to the coverage that shapes our culture.
Subscribe
to
Rolling Stone magazine
Subscribe
to
Rolling Stone magazine