Abbie Chatfield reveals one right-wing celebrity she never wants to see under the mask on The Masked Singer.
27-year-old Abbie Chatfield says she never wants to see celebrity chef Pete Evans ever again, and especially not under a mask on The Masked Singer. The reason Chatfield stands so adamantly against Pete Evans is his history of alt-right rhetoric and his recent posting of a neo-nazi meme. In 2020 Evans promoted conspiracy theories that simultaneously claimed the coronavirus is both fake and caused by 5G waves. Soooo, is it fake or is it real and caused by "5G"?
Evans has also expressed anti-vax sentiments throughout the pandemic. When rugby player Shane Warne died, Evans commented on the situation in a video in which he started off by saying, "who knows what the reasons [for his death] are and I can't comment on it," before continuing to go on talking about doctors that he's interviewed.
Pete Evans had a public zoom call earlier, here is his thoughts on Warne. pic.twitter.com/tiEYBiomjX

— Reptilian Overlord 🍓 🇦🇺🤝🇺🇦 (@LizardHumanoid) March 5, 2022
Abbie Chatfield's recent remarks made to Yahoo Lifestyle were in response to Evans' most recent controversy— the posting of a meme that contained symbolism used by Nazi Germany and the more contemporary Neo-Nazis.
'I narrowly missed having an interaction with him on I'm A Celebrity two years ago when he uploaded that Nazi meme, so I was hoping he wasn't back,' she told Yahoo Lifestyle.
Love Film & TV?
Get the latest Film & TV news, features, updates and giveaways straight to your inbox Learn more
"That was kind of the only person that I thought, 'God I hope it isn't Pete Evans'."
The meme contained the "black sun" symbol, which was originally employed in Nazi Germany and contains 12 radial sig runes, the same symbol used by the SS. The black sun symbol was used in the castle of Nazi and leader of the SS party, Heinrich Himmler, one of the main architects of the holocaust, a man who personally saw to and controlled the set up of both Nazi concentration camps and extermination camps.
The symbol was later used widely by neo-nazis, neo-fascists, and white nationalists who see the symbol as holding mystic qualities and believe it will help bring about the revitalization of the Aryan race. These groups have continued to use this symbol.
The meme shows a caterpillar wearing a MAGA (Make America Great Again) hat, a catchphrase used by former U.S President Donald Trump and his followers, talking to its evolved form— a butterfly sporting the black sun symbol. The caterpillar tells the butterfly they've changed and the butterfly says, "we're supposed to," implying there is a pipeline from MAGA fans to neo-nazis.
The meme is very mask-off about normalizing Nazi ideals and it's kind of surprising that Evans would use it so openly. He even doubled down in the comments, saying he was waiting for someone to see the black sun symbol and recognize its significance despite later saying that he didn't know what it meant when he got in trouble and his money was touched.
Evans was dropped by both Channel 10 and Seven, losing an $800,000 contract.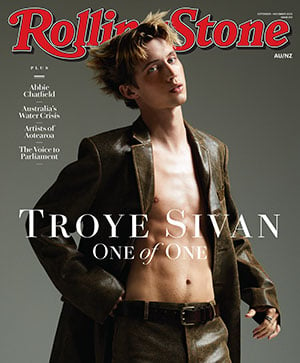 Get unlimited access to the coverage that shapes our culture.
Subscribe
to
Rolling Stone magazine
Subscribe
to
Rolling Stone magazine