Advance Wars 1+2: Re-Boot Camp is out now and worth paying attention to! Plus hands-on with Magic: The Gathering – March of the Machine, the PC version of The Last of Us Part 1, Dredge and Scars Above.
Announced way back in June 2021, it's been a hell of a wait for Advance Wars 1+2: Re-Boot Camp – Nintendo respectfully delaying the game due to the events in the Ukraine. More than 12 months later though, and the strategy classic has finally fired onto the Switch and the end result is bound to please strategy fanatics everywhere.
That's because for the most part, Re-Boot Camp knows the inherent magic within the Advance Wars formula and smartly leaves much of the original game's fundamentals untouched. If you're a total newcomer that means you'll still be able to enjoy the fun campy tale of the warring factions after you enrol in the Orange Star army and take control of Andy – working to fight off enemies like Blue Moon, Green Earth and Gold Comet. As the campaign progresses you'll gain the ability to swap COs and test out their various abilities, adding strategic complexity to Advance Wars' turn-based combat.
While there are plenty of quality of life improvements for returning players, interestingly, Re-Boot Camp's most controversial change is also its most obvious: visuals. As such, gone are Advance Wars' cartoony aesthetical, instead replaced with a new 3D render that almost makes each unit look like toy soldiers. Whether or not that was the intention of the redesign, it's a large departure from the original and isn't going to gel with everyone. That said, although I prefer the original look, I did get used to the update after a few missions and is hardly a deal-breaker when the underlying gameplay remains as rock-solid as ever.
If you like games like XCOM or Fire Emblem, Advance Wars is one of the best and Re-Boot Camp is a highly recommended way to revisit the GBA classics.
Advance Wars 1+2: Re-Boot Camp is out now for Nintendo Switch. You can buy it from Amazon here.
Also out now…
Magic: The Gathering – March of the Machine
With the release of Phyrexia: All Will Be One now but a distant memory, Wizards of the Coast is treating Magic: The Gathering to yet another set, and this one's a real doozy.
Love Gaming?
Get the latest Gaming news, features, updates and giveaways straight to your inbox Learn more
That's largely due to the fact that March of the Machine brings a close to the epic Phyrexian storyline that has weaved its way through the card game's last few releases. As a result, to put a stop to the Phyrexian threat you can expect some pretty epic team-ups that, without going into specifics, draw from Magic's popular roster of Planeswalkers.
But March of the Machine isn't just making waves with its story. The new set also introduces Battle, the first new card type to be introduced since 2007, and it adds further complexity to the game than ever before. Playing a dual-faced battle card, for example, might give you an initial benefit, but will then be quickly handed off to your opponent to "protect". Attack and defeat this card and it will flip into a pretty powerful new card and move back to your side of the table.
This unexpected switch-up adds a whole new level of mind games into each game. Will your opponent step aside and grant you some extra firepower so they can focus on their own strategy, or go into defensive mode hoping you'll foolishly focus all your attention onto the one tactic?
It's early days to see how Battle cards will affect Magic's overall gameplay, but we're excited to see how long-time players change and adapt. That's not to mention the addition of both Backup and Incubate, which only add more nuance to March of the Machine's launch.
It goes without saying then that there's plenty of meat on March of the Machine's bone that'll keep loyal fans satisfied for some time to come. And yet the introduction of Battle cards also feels like a great time for newcomers to join the fray as well and start strategizing from the ground floor.
We're keen to see what comes next.
You can pick up a Magic: The Gathering – March of The Machine Bundle from The Gamesmen for $64.95.
The Last of Us Part 1 (PC)
With the incredible success of HBO's adaption of the popular PlayStation game, it's a no-brainer that Sony has finally ported The Last of Us Part 1 to PC. Unfortunately though the stellar game hasn't quite managed a smooth transition – plagued with a large number of bugs since launch.
While the game has been pretty heavily patched since launch (and continues to be improved even now), my time with the game was hit with the occasional performance hitch and visual stutter (both on desktop and portably via the AYANEO Air) and certainly doesn't compare to the far superior experience available to PS5 owners.
If this is your only way to play through Part 1, you may very well get lucky and dodge the port's technical issues completely. But if you're understandably not quite ready to take that gamble, maybe give Naughty Dog a bit more time to patch the release so that you can play best single player games of the modern generation in its best possible state.
Dredge (Switch, PS5, Xbox Series X/S, PS4, XBO, PC)
Like all the best horrors, Dredge works best when it harnesses the paranoia of the unknown. That's because by day you're a regualr fisherman in the town of Greater Marrow hunting catches and cashing them in for upgrades to your boat.
So far, so not spooky.
But once the sun settles, Dredge takes off the gloves and opens the door for all manner of otherworldy shenanigans, and sometimes… it's just better off not knowing.
But while Dredge isn't soley focused on the horrific, you likely won't mind either way due to the game's simple yet engaging reward-centric loop and a smartly paced story that does well to keep you on the hook.
Dredge might not be the biggest game on your radar for 2023, and some of the mechanics can get a little repetitive and grindy towards its conclusion, but rest assured give it a few hours and it's bound to lure you right in.
Scars Above (PS5, Xbox Series X/S, PS4, XBO, PC)
With an interesting sci-fi set-up focusing on a scientist who wakes up in a dangerous new alien world, some strong enemy design and an interesting implementation of elemental-focused attacks, Scars Above certainly has plenty going for it. Unfortunately, though it's all a little undone by slightly one-note gameplay and occasionally sketchy performance.
Similarly, while the game borrows all manner of ideas from the likes of Returnal and Dark Souls (see: bonfires), the third-person shooter just isn't able to emulate the same quality output that keeps gamers engaged long-term.
If you're really keen for a new sci-fi romp, Scars Above does offer the occasional challenging boss battle, but outside of those instances the game just never manages to live up to its own ambition.
For more on this topic, follow the Gaming Observer.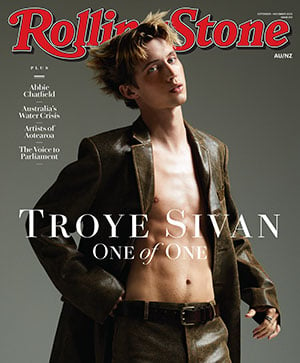 Get unlimited access to the coverage that shapes our culture.
Subscribe
to
Rolling Stone magazine
Subscribe
to
Rolling Stone magazine