After four years apart, Angus and Julia Stone have finally returned to produce Life is Strange – a video game album nobody expected.
It's been four years since we last heard from Angus and Julia Stone, with their last collaborative effort, Snow, releasing back in 2017. And while many fans have long been pining for their eventual reunion, it's doubtful that many would have expected it to come about thanks to a video game.
But alas, Life is Strange, composed and performed by the Aussie powerhouse will act as the musical backbone for the upcoming Life is Strange: True Colours. The game (available for PS5, PS4, XBO, Xbox Series X|S and PC on September 10) will see players take the role of Alex Chen, a young woman navigating early adulthood, all while struggling to accept a 'curse" she's dealt with all her life. You see, Alex possess the psychic power of 'Empathy', a supernatural ability that allows her to experience, absorb and influence the strong emotions of others – which she sees as blazing, coloured auras.
Choosing to be a part of such a project might seem like a bit of a leftfield option, but according to Angus Stone, it was an opportunity neither Julia or himself could turn down.
"You know, I was talking with a friend the other day," Angus Stone recalls. "And it's one of those things… Julia and I have been really lucky in the way that we've had these really incredible characters like [legendary record producer] Rick Rubin and now this Life is Strange project, and it's just something that, for us, sort of expands the way we can express ourselves with writing and it's a really interesting way to make records."
It also makes sense considering the fact that the dynamic duo has been involved in the Life is Strange franchise from the very beginning – their song Santa Monica Dream featuring in a pivotal scene during the series' debut episode. And while a single song could be easy to dismiss, according to Angus it really seemed to resonate with fans.
"It was an interesting one," he explains. "We'd be on to be on tour and eventually we'd have people come up to us and they're like 'Guys, you know, there's this amazing game and the song had this really, powerful effect on me, and thank you so much for that'.
Love Gaming?
Get the latest Gaming news, features, updates and giveaways straight to your inbox Learn more
Watch the trailer for Life is Strange: True Colours below"
"I think the last one we had of that experience we were in Switzerland, and this guy came up and he was telling us about what he'd gone through and how that song… discovering it from the game, and what he was going through, it sort of clicked. And we were like, wow, this this game is really touching people and is a big part of that gaming industry."
This kind of revelation was a major motivator for both Angus and Julia, so when the pair were approached to score the soundtrack for True Colours, they viewed the opportunity as an interesting concept.
But how does a multi-award-winning twosome switch up a tried and trusted formula and transform their head space for the video game industry? Was it business as usual or did they need to adopt a radically different approach?
"Yeah, we'd be sent a brief…" Angus breaks it down. "So when you're playing the video game, you'll hit a point in the game where you go into the story mode, which is like where it goes off into the movie section of the game and those moments are called Zen moments, and in the brief, the company would send what colours stylistically, and what emotions they wanted."
From there, as Angus Stone explains, with a fresh pot of tea in hand, both Angus and Julia would sit and chat about how they wanted to approach the different songs and the different scenes.
Comprising of 12 new songs, led by the track Love Song, it's an album that is described as a 'complexity of love between siblings, families and communities' – all themes that players will experience in the game. "I think it changes song to song," says Angus of his interpretation of the whole package.
"They're always reflective on love. Learning. Making mistakes. All the things that that we go through as individuals. I think Julia and I, we try to be as honest as we can when it comes to sharing those emotions, and I think it comes through in the music.
"…To be honest," he continues, "It's an album that we wrote for the character Alex, but at the same time it's very much an album we wrote for ourselves and the experiences that we're going through. The whole thing in the end is sharing your experiences with other people and, you know, this sort of personifies that."
So while nobody knows if Life is Strange is merely the mark of new beginnings for Angus and Julia Stone, just be glad that video games have brought them back together, if only for a little while.
"Video games are incredible," Angus gushes as we wrap up our chat. "They're worlds within worlds, and they truly are the most in-depth version of.. You know, a painting's a painting. But a video games are just an immense art form. It really is something special."
Don't we bloody know it.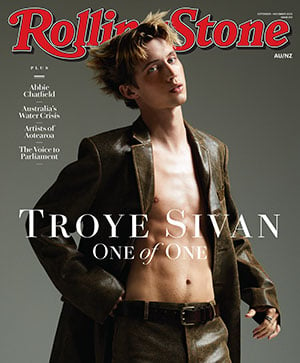 Get unlimited access to the coverage that shapes our culture.
Subscribe
to
Rolling Stone magazine
Subscribe
to
Rolling Stone magazine