The lads from Art vs. Science have just completed work on their second album, tentatively titled Create Control – and no pressure or anything, but the party boys promise that it's going to be the greatest record ever made.
"About a year ago, I decided that I wanted to make the best album that has ever been, ever, in all of pop history," says singer Dan Mac, tongue only slightly in cheek. "I wanted to make an album that would be number one in the US, in the UK, in Australia. I wrote all that down on a piece of paper, and it influenced a lot of decisions about the album, whether musical or lyrical. If we were trying to decide how long to make a bridge, we'd say, 'OK, eight bars is more fun, but four is more classic.'" Mac and the lads got to thinking about the greats – The Beatles, The Beach Boys, ELO; the makers of cool, timeless albums. One influence, however, stood out more than the others. "This will be a very funny quote for the interview and I'm not sure I should say it," Mac begins, "but going into this I said, 'Let's make the album Daft Punk should have made.'"
Realising what he's just said, and not wanting to insult the French robots, Mac goes into a bit of damage control. "Don't get me wrong," he laughs, "I absolutely love Daft Punk, and their albumis absolute genius. That song 'Giorgio' is my favourite." There is, he says, a touch of Random Access Memories robot disco on the new Art vs. Science tracks. "There's one track we made that's sort of like Pink Floyd's The Wall mixed with disco. That sound comes into play a lot on the album, actually. There are plenty of end-of-song jam-outs where we got to the end of the song and kept playing for a few minutes rather than doing a brutal '70s fade, and we'd end up doing something really cool, so we might end up leaving some of those big long tails on the album. Our main thing is that we wanted to write songs people could dance to. It's always about dancing; we're trying to maximise the amount you want to dance, with the minimum amount of loudness, if that makes sense."
Following on from the success of their 2011 debut album, The Experiment, the three members of Art vs. Science went their separate ways for a while – some travelling, others tinkering away on solo albums. This time spent apart brought a new vitality to the songwriting when they reunited. "For The Experiment, we only used songs we wrote together at the same time," says Mac. "When we started this album, I'd been away overseas for months, Jim had been recovering from an illness and working on an album for his side project, Vydamo, and Dan W. had been doing his thing too. We all had a lot of demos we'd written individually, so we brought them all to rehearsals and decided which ones we liked and would play, which we'd never done before."
Jim Finn's album as Vydamo had a far softer electropop sound than your typical rousing Art vs. Science track, and Mac says some of that softness has transferred to the new recordings. "Jim's songs are a little softer, while mine are a bit more disco and very heavily influenced by Daft Punk, but maybe a bit more synth-heavy than Random Access Memories. They had a lot of guitars and electric bass on their album, whereas we had keyboards and synth bass. There are a few bangers on there, but they aren't the sort of tracks that will tear your head off, like the ones that were popular when we released our first album. We have three or four of those…" he pauses – "I don't want to say 'bangers', because that's a terrible word, but it's that kind of thing. There are builds and crescendos, but we didn't want to make 'loud' music. We want people to turn the songs up, rather than just flooding the whole spectrum with noise from the outset."
Art vs. Science have been getting themselves back into the shape to play live, with a variety of low-key gigs around the country. Their New Year's Eve show in Sydney, however, will mark their official return to the city. I ask Mac if there are any new songs that he's particularly excited to play.
"Oh yeah, we've got a song called 'In This Together', which is based around the theme that basically, the earth is like a giant spaceship, very well appointed, and that we're all hurtling around the sun together. With that in mind, we probably shouldn't be fighting each other so much. It's not a political song, it's just fun. I've got this gnarly sound on my Yamaha DX21 keyboard and this great hi-hat pattern, and the drop is really simple, just bass and kick and some vocals. It's really groovy, and I think it's going to go well live.
"The new songs are all just fun," he continues. "When I sing, I don't want to close my eyes. I want to be staring at people in the front row and making weird faces. We're going to be playing the best of our new ones and some fun old ones, so it's going to be a really good time."
BY ALASDAIR DUNCAN
Photo: Cybele Malinowski
Art Vs. Science play NYE on the Harbour with Van She, Alison Wonderland, Bag Raiders, Gold Fields, Fishing, I Oh You DJs, Stoney Roads DJs, Elaine Benes, Bambii and Falcona DJs at Cargo Bar on Tuesday December 21.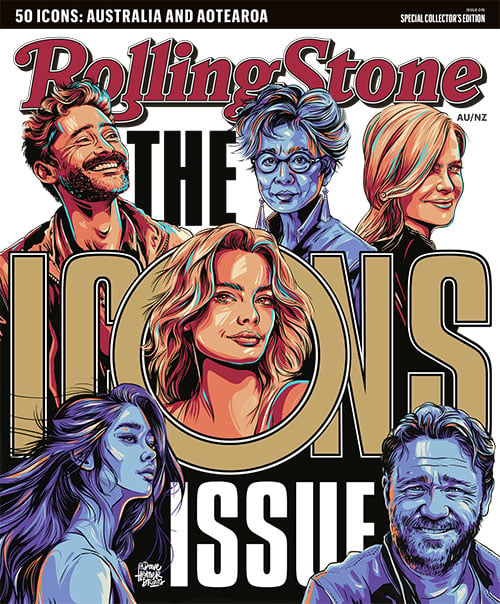 Get unlimited access to the coverage that shapes our culture.
Subscribe
to
Rolling Stone magazine
Subscribe
to
Rolling Stone magazine