Social distancing measures raise doubts about whether the Australian leg of hit show Hamilton will go ahead, says producer Michael Cassel.
If you are on the Australian Hamilton waitlist, then you have already experienced what Broadway anxiety feels like. It's intense, and comes as no surprise given that the recent Disney + release recently landed in Australia, and drove up app downlods by 74% in the US according to Variety.
It's time to #TakeYourShot – The Hamilton Australia pre-sale is almost here!

Stay up-to-date on the best way to access seats by visiting https://t.co/BUrscpvFz5

If you are signed up to the waitlist, all information on the pre-sale has been sent to your email! #HamiltonAU pic.twitter.com/nVrqbeFQQp

— Michael Cassel Group (@michaelcassel) August 11, 2020
From next Monday, August 24th pre-sale tickets are released, and will later be made available to the general public on Tuesday,  September 1st. From  Wednesday, March 17th 2021, Australian audiences will finally get to see the re-imagined story of America's founding father, with the titular role created by the talented Lin-Manuel Miranda.
Or at least, we hope they will. But there's no guarantee for now.
Unlike concerts or movies with social distancing, show producer Michael Cassel told The Guardian, "We need people sitting in the Lyric Theatre side by side," Cassel said. Social distancing would be "a deal-breaker".
Cassel then pointed out that air travel also operates in confined spaces. "We hope the same protocols that apply to air travel can apply to us. Air travel is very similar to theatre in many ways, with people seated side by side, facing in the same direction in an even more confined space, and that seems to be operating fine."
Also, if it's March next year and we're still treating the theatre like we do weddings and places of worship in NSW, then it's going to limit physical contact, voices and singing in rehearsals. Wind instruments also need to be separated, and orchestral members must maintain 1.5 metres spacing. It will be so obvious if there's a pre-recording to fill this gap.
Cassel will  be watching shows scheduled to open at the Lyric Theatre later in the year, including Pippin opening in the Lyric Theatre from Tuesday, November 24th; and Disney's Frozen, set to play at the Capitol Theatre from Tuesday,  December 1st.
I am more than happy to use these shows as COVID-safe guinea pigs (sorry, Frozen), and so is Cassel. "Things will evolve quickly and we'll be watching and learning," said Cassel. "If we can effectively communicate to audiences the ways in which we'll be looking after them during this pandemic, then I expect people will flock to the show. After all these months, we're all ready to share in these experiences and I think they will bring great joy."
Let's hope these restrictions are lifted faster than the rapping Hamilton cast.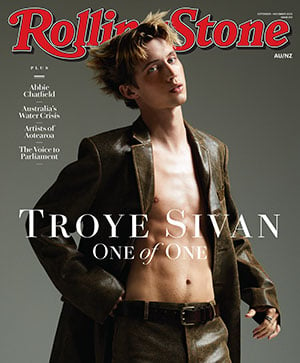 Get unlimited access to the coverage that shapes our culture.
Subscribe
to
Rolling Stone magazine
Subscribe
to
Rolling Stone magazine