Australian man Blake Johnston has surfed for 30 hours straight to raise money for a charity, and broken a Guinness World Record in the process.
Johnston hit the 30 hours and 11 minute mark at 7:11am AEST this morning and thousands of supporters showed up at Cronulla beach to watch him officially break the world record. However, he's not done yet, he plans to stay in the water until 5pm AEST to complete a total of 40 hours straight.  During his 30 hours and 11 minutes in the water Johnston had surfed a whopping 525 waves.
Johnston embarked on the challenge with the goal to raise $250,000 for mental health. As of now, he's raised $315,494 which will go to the Chumpy Pullin Foundation and towards youth mental health causes. The surfer lost his father to suicide 10 years ago, and has had three friends die from mental health conditions. You can donate here.
The Chumpy Pullin Foundation was created by the partner of the late Alex "Chumpy" Pullin, Ellidy Pullin and Johnston's brother Ben Johnston. Alex Pullin was an Olympic snowboarder who sadly drowned while spearfishing. He was 32 years old. Ellidy Pullin started the charity in his memory. The model and influencer had a "miracle baby" with her partner of over eight years by surgically retrieving sperm from him just hours after his death.
When Johnston hit the 30 hour and 11 minute mark this morning, he told  Nine he felt "pretty cooked".
"I still have a job to do. I will go and give it a crack. It is awesome. Thank you. I can't talk. Thanks, everyone. You're the best."
"Everyone deserves to feel awesome … deserves to take care of yourself," Johnston said before running back into the water.
Love Health & Wellness?
Get the latest Health & Wellness news, features, updates and giveaways straight to your inbox Learn more
Johnston met with doctors before undertaking the challenge, who told him that he'd face risks of possible blindness, infected ears, dehydration, sleep deprivation, hypothermia and drowning. Regardless, the athlete had faith that he'd be able to complete the task.
"I thought I could just do it. I can run for 40 hours," he said.
"But, this way, I can surf with people, bring in the community and make a difference for the future."
To support Blake Johnston's effort, you can donate here.
For more on this topic, follow the Health and Wellness Observer.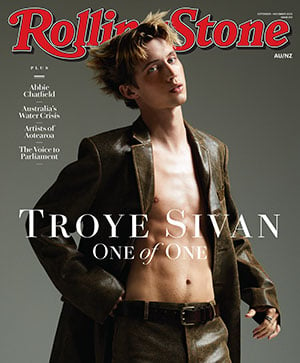 Get unlimited access to the coverage that shapes our culture.
Subscribe
to
Rolling Stone magazine
Subscribe
to
Rolling Stone magazine